Netflix has a brand new foreign Original – and it's Norway's turn in the spotlight. Ragnarok is a Norwegian superhero thriller that riffs on Norse mythology (and the climate change debate) – but don't confuse it with Marvel's Thor: Ragnarok and expect to see a Hemsworth. You will, however, enjoy the beautiful Norwegian countryside paired with beautiful Norwegian people, when the six-part series drops on Netflix on January 31.
What is Ragnarok?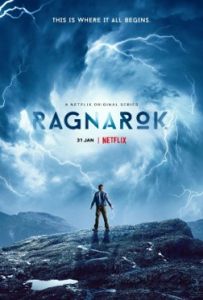 Netflix has seen success with foreign Originals – such as the Spanish Money Heist and Elite and the German Dark ­– but despite playing host to a small scatter of Norwegian shows, Ragnarok is the first fully-commissioned Norwegian-language Netflix Original.
Created by Scandinavian Adam Price, Ragnarok is set in the small fictitious Norwegian town of Edda, which is suddenly experiencing drastic climate changes. Melting poles, warm winters and violent downpours signal that the city is heading for another 'Ragnarok' – and citizens are preparing for the worst. That is, however, until two brothers arrive in town – Magne (David Stakston) and his younger brother Laurits (Jonas Strand Gravl).
The series is based on the 13th century mythological tale of Ragnarok in which the Norse gods battled the giants to prevent world destruction. However, in this modern-retelling, the 'giants' are corporate giants of their industry (as well as their rich and attractive offspring) and the world is well on its way to destruction as the giants destroy the planet via pollution and climate change.
Will I recognise any of the actors?
You may not – but almost the entire cast are superstars in their home country. Exactly half of the lead cast are former SKAM castmates – the Norwegian Skins-styled teen drama that unexpectedly blew up in its third season and put Norway television on the map – including the lead, David Stakston. You may recognise Magne's brother, who is played by the star of Paul Greengrass' Netflix movie 22 July, Jonas Strand Gravli.
What does the trailer tell us?
According to the trailer, Magne is introduced to his new class by his younger brother Laurits (Gravli) as having "other talents", and some of his classmates appear to catch onto these "talents" quicker than Magne does himself. It seems like the brothers have walked right into a battlefield, as their teacher explains how Edda was the original site of Ragnarok, that "the finale clash between Gods and giants happened right here".
Magne's high-society classmate Fjor, who is played by Norwegian teen heartthrob Herman Tømmeraas (SKAM alumni), and his family appear to be the giants and are preparing to go to war. "Those giants are still here. They are destroying the world. No one has taken the fight against them. Yet," a woman tells Magne.
It seems like Magne has stumbled into a you-are-the-only-one-who-can-save-us scenario. Fight or flight time, mate.
Hop on board the Norwegian band wagon when the series premieres on Netflix on January 31.
Sign up to Disney+
There are two plan options to choose from – a monthly subscription at $11.99 per month, or prepay for a year at $119.99 and save on the monthly cost. Both plans include the same features, with unlimited downloads and the ability to stream on up to four screens at the same time.
Brand
Subscription Type
No. of Screens

/same time viewing

Advertised Cost^^

/month or year

Stream the Disney+ library, including Disney+ Originals, Star Wars, Pixar, Marvel, National Geographic & Star
Watch on 4 screens at the same time
Add up to 7 profiles
Unlimited downloads of shows and movies on up to 10 devices

min. cost $11.99 over one month

4

$11.99

Get Deal

Canstar Blue receives a commission for sign-ups through Disney+ *

Stream the Disney+ library, including Disney+ Originals, Star Wars, Pixar, Marvel, National Geographic & Star
Watch on 4 screens at the same time
Add up to 7 profiles
Unlimited downloads of shows and movies on up to 10 devices
Prepay for a yearly subscription and save on the monthly cost

min. cost $119.99 over one year

4

$119.99

Get Deal

Canstar Blue receives a commission for sign-ups through Disney+ *

^^View important information