Devotees of the Riverdale series have been waiting with long milkshake spoons in hand and bobby socks on feet for the latest instalment of the young adult Netflix original series to return for its fourth season, writes Amanda Horswill.
Many a fan got hooked on the slick, dark, uber-teen-angst melodrama in season one of this nostalgic-contemporary take on the classic 1940s Archie comics, which stars a constellation of fresh-faced Gen Zers with ridiculously high Instagram engagement stats. Three of the main gang are former child stars – Archie is played by New Zealander KJ Apa (22, Shortland Street), Jughead by Cole Sprouce (27, The Suite Life of Jack and Cody), Betty by Lili Reinhart (23, Surviving Jack); while Camila Mendes (25), who plays Veronica, had her TV debut in Riverdale.
The cast is also stacked with concessions to any parents watching alongside their enraptured teens – Gen Xers will recognise starlets from their own teenagehood in the form of (the late) Luke Perry (90210), Molly Ringwald (Pretty in Pink, The Breakfast Club) and Skeet Ulrich (Scream, The Craft).
After loving the dialogue in season one, giving it the benefit of the doubt in season two and flat out fast forwarding most of last year's offering, this almost-lapsed fan is looking forward to the ridiculous Gargoyle King/The Body Farm storyline of season three being a distant nightmare.
However, this latest episode is a – necessary – stark departure from its usual flippant one-liners and supernatural-infused plots. It is the first time the show has addressed the death of Perry, in February this year from a stroke. It's a touching tribute, with just the right amount of reality mixed into fiction to perhaps lend a sense of closure to fans.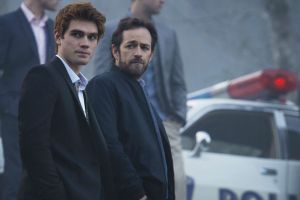 What happened in the first episode?
SPOLIER WARNING – it's intense
The fab four are reunited for the school holidays, gathering for a celebratory milkshake at Pop's Diner. But then the brief respite from drama is interrupted by a phone call, with tragic news. Archie falls to his knees. There is no explanation needed – the audience just knows. He has just been told that his dad – Fred Andrews (Perry) – is dead.
It's hard to watch from here without a lump in the throat, and without wondering how much the cast are struggling with emotion and how much is the craft of acting. Archie and his mum Mary learn from reformed biker gang leader-now sheriff FP Jones that Fred died in a car crash in a nearby town – a hit and run. Fred had stopped at the side of the road to help a stranded motorist who had a flat tyre, and he was struck by a car, which drove off at speed.
The undertaker tells them that Fred's body can't be returned until after the Fourth of July public holiday. Archie has a dream that night in which his grandfather tells him he must go and pick up his dad's body and bring him home to Riverdale. Archie gathers his friends, borrows a hearse, and drives to the town. There, the story shifts into a different gear – sadder, more real.
Riverdale season 4 premieres at 8/7c on CW tonight with a tribute to our beloved Luke Perry ❤️? Don't miss it ?❤️#lukeperry #riverdale #fredandrews #premiere #tribute @CW_Riverdale pic.twitter.com/AS28d44rBA

— Luke Perry Daily (@LukePerryDaily) October 9, 2019
Archie and his friends find Fred's pickup truck, parked where he died. Soon, another car pulls up and a woman gets out. She's carrying flowers, and kneels to put them down beside the road. She stands and it's only then that it clicks who she actually is – it's Shannon Doherty, who starred with Perry in the iconic 1990s series 90210. She was the woman Fred stopped to help. She tells Archie that Fred was the best of men, that he was proud of his son. And then the four friends join hands with Doherty, and say the Lord's Prayer. It's an invitation to fans to pay their respects, too, in that moment.
After that flood of tears has dried, Archie's returns to character and starts thinking of darker things. Who killed his father? And why hasn't he been caught? Archie – who over the seasons has proven himself to be all about justice – decides he must find and punish him, to even the scales of fairness. He learns the name of the hit-and-run driver – he's handed himself into police. Archie looks up his address and heads over, with murder on his mind. He bursts in to the house, roughs up the middle-aged man within but then a teen screams for him to stop. It's the man's son, who was the actual driver. He borrowed the car without his dad's knowledge, he doesn't have a licence, and his dad is covering for him. Archie's range dissipates, as he has a "that could so easily be me" moment.
The friends, with Fred's coffin on board, head home. They are stopped by FP on the outskirts of town. He wants to provide an escort. The cavalcade drives down the main street, and Archie sees just how much the town loved his good-guy father. They've lined the streets in a Fourth of July parade, holding signs in tribute to Fred.
The funeral is a similarly tear-inducing sequence, right up to the final moments, where a black screen simply states that the show is dedicated to "Luke Perry, 1982-2019".
Forever in our hearts… ??????❤️❤️?? #Riverdale #LukePerry pic.twitter.com/yozcn7EFMV

— K. (@karyv_mp) October 10, 2019
What will happen in season four?
It's impossible to tell where season four will go next. But with this major milestone navigated with sensitivity, it can proceed with a clear mind and, albeit, a heavy heart, and perhaps with renewed purpose. Perhaps with no cheesy musical numbers required.