Is anyone else struggling to keep up with Riverdale's recent crazy antics? What started as an innocent little plot set in high school has slowly but surely escalated into Black Hood killings, under-ground drug scandals, Archie trapped in a prison fight, the deadly role-playing board game Gryphons and Gargoyles, and please let's not forget Edgar Evernever, organ harvester and leader of The Farm cult.
What is Riverdale?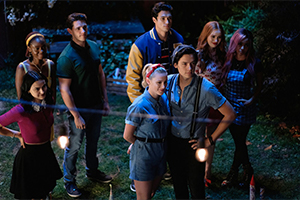 Based on the characters of the famous Archie comics, Riverdale is a high school teen noir that follows 'the core four' – Archie Andrews (KJ Apa), Jughead (Cole Sprouse), Betty Cooper (Lili Reinhart) and Veronica Lodge (Camila Mendes). Alongside Cheryl Blossom (Madelaine Petsch) and Kevin Keller (Casey Cott), the gang faces everyday teen stuff – relationships, family, school – all the while dealing with the dark twists and turns that threaten their town of Riverdale.
What can you expect from season 4?
Season three saw the resolution of the Black Hood (goodbye, Hal Cooper) and the Gargoyle King (further proof we didn't need that Chic is a psychopath) storylines – however there is still a lot left to be resolved.
Edgar's true intention with The Farm may have been revealed but we also saw Alice and Polly Cooper vanish into thin air with the 'Farmies'. Season four will likely wrap this up at the start of the season, but in saying that we have only just learnt that Alice was working undercover alongside FBO agent Charles Smith – Betty's real half-brother, who is alive and isn't Chic. Hmm. We're sure he will spice things up in the coming season, especially because he is also Jughead's half-brother (eek).
Speaking of Jug, the ending of season three left us feeling a little grim about his future after a flash forward shows Archie, Veronica and Betty covered in blood and burning their clothes in a bonfire in the woods. They vow 'never to speak of this again' and throw Jug's iconic beanie into the fire. Surely not? Unless…?
What about the season 4 trailer?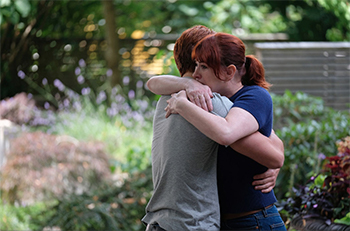 The trailer for season four opens with a frantic search party for, you guessed it, Jughead. Everyone's favourite Blue and Gold detective is definitely going to be AWOL for a little while, but we've got our fingers crossed that his partner-in-crime can work to solve his whereabouts.
When quizzed on the storyline by TVLine, showrunner Roberto Aquirre-Sacasa said that we should be "Very worried. Very worried." That has us very worried, to be honest.
The one-minute trailer flashes between the four toasting to their senior year, screams of 'Jughead!' in the woods late at night, crime scenes, scandal, and yep – more relationship drama. We're going to take a stab in the dark here and say that this probably won't be the easy, breezy senior year they're toasting to.
Aguirre-Sacasa has also been dropping some pretty big hints on social media. A recent tweet has sent fans into a frenzy, which features Cheryl morphed into two different versions of herself, accompanied by the word "Chimera: a single organism that's made of cells from two or more 'individuals'. Could this have something to do with Cheryl secretly abducting her twin brother's corpse?
The Chimera is coming. #Riverdale 408. Filming this week. ???☠️?⭐️ pic.twitter.com/lQvD0AFx3P

— RobertoAguirreSacasa (@WriterRAS) September 25, 2019
And the episode names?
The name of the first episode has already been released – 'In Memoriam' – which will honour the late actor Luke Perry, who unexpectedly and tragically died at the beginning of the year. Perry played Archie's Dad in the show, the lovable Fred Andrews, so it is expected that the episode will focus on giving Fred the send-off he deserves. It has also been revealed that Perry's 90210 co-star Shannon Doherty will guest star in the episode. A still from the episode was posted by CW, featuring an emotional Apa and Molly Ringwald, who plays Archie's mum.
And for fans that have been missing the 'old' Riverdale, fear not. In an interview with Extra, KJ Apa said: "We are going back to our roots this season. We are following the vibe of Season 1, where it was more getting to know, going deeper into the relationships between the core four and stuff."
Catch up with your favourite River Vixens and Southside Serpents every Thursday night on Netflix, starting on October 10, the day after they premiere in the US.
Sign up to Disney+ Australia
There are two plan options to choose from – a monthly subscription at $11.99 per month, or prepay for a year at $119.99 and save on the monthly cost. Both plans include the same features, with unlimited downloads and the ability to stream on up to four screens at the same time. This table includes links to a referral partner.
Brand
Subscription Type
No. of Screens

/same time viewing

Advertised Cost^^

/month or year

Stream the Disney+ library, including Disney+ Originals, Star Wars, Pixar, Marvel, National Geographic & Star
Watch on 4 screens at the same time
Add up to 7 profiles
Unlimited downloads of shows and movies on up to 10 devices

min. cost $11.99 over one month

4

$11.99

Get Deal

Canstar Blue receives a commission for sign-ups through Disney+ *

Stream the Disney+ library, including Disney+ Originals, Star Wars, Pixar, Marvel, National Geographic & Star
Watch on 4 screens at the same time
Add up to 7 profiles
Unlimited downloads of shows and movies on up to 10 devices
Prepay for a yearly subscription and save on the monthly cost

min. cost $119.99 over one year

4

$119.99

Get Deal

Canstar Blue receives a commission for sign-ups through Disney+ *

^^View important information