There's nothing the Brits love more than a cuppa. Luckily, we've got all the tea in the world to spill on the legendary US reality television show RuPaul's Drag Race first UK season. That's right, after 11 seasons, four All-Star spin-offs and two holiday specials – RuPaul is finally hopping across the pond in search for "UK's Next Drag Superstar". And the best part? The show will premiere on Stan the same day as the UK, on October 4. Start your engines!
What is RuPaul's Drag Race?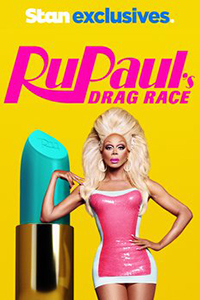 For those of you who are feeling a little lost, it's time for some Drag Race herstory (that's Ru's feminine reclamation of history, if you were wondering). The Emmy-award winning reality show (which recently picked up its second consecutive win for Outstanding Reality Competition and fourth consecutive win for RuPaul as Outstanding Host) documents RuPaul on his quest to find "America's Next Drag Superstar."
The show first began in 2009 to a very niche audience, however in recent years it has blown up and achieved global success. As a result, Drag Race has been a pioneer in bringing queer representation and drag culture to mainstream television and audiences.
Each week, hopeful contestants compete against each other in a mini and a maxi challenge, which test a range of skills (usually acting, singing, dancing, comedy, sewing, design, or makeovers). Most famously is the make-or-break 'Snatch Game' maxi challenge (an ironic take on 'Match Game') in which contestants dress up and impersonate celebrities.

The final aspect is the runway, where the queens create and present a look to the judges that ties in to the theme of the week (previous themes include post-apocalyptic, two looks in one, red for filth, death becomes her). A panel of esteemed judges (including RuPaul) critiques the girls, however it is ultimately down to Ru to decide the bottom two performers.
To save themselves from leaving the competition, the bottom two must battle in a Lip-Sync For Your Life – an improvised lip sync routine performed at the same time to the same song. RuPaul will then pick one girl to Sashay Away (hint: you don't want this to be you). To give you an example, here is one of the best lip syncs of all time, between season 11's Yvie Oddly and Brooke Lynn Hytes.
Who will star in Drag Race UK?
It's no secret that the queens on Drag Race US are known for their ridiculous and comedic stage names. The recent UK cast announcement has left us breathing a sigh of relief, with the 10 talented Brits proving that anything Americans do, they can do too. The contestants of the first UK season are:
Blu Hydrangea, 23. A queen of the make-up brush, her strength lies in her mug.
Baga Chipz, 29. If you didn't guess by the name, a comedy queen.
Gothy Kendoll, 21. Studied drag at university and can "sew anything".
Divina De Campo, 35. A singing queen known for her stint on The Voice.
The Vivienne, 27. We're expecting Kim Woodburn in Snatch Game.
Cheryl Hole, 25. Yes, she's a parody of Cheryl Cole.
Scardey Kat, 20. The youngest and first bisexual contestant on the show.
Sum Ting Wong, 30. A singing queen looking to inspire young British Asians.
Crystal, 34. A "freak show" who studied costume design and is originally from Canada.
Vinegar Strokes, 34. Another comedy queen who has performed on the West End alongside Michelle Visage.
Alongside Mama Ru, the panel of judges includes partner in crime Michelle Visage and much-loved talk show hosts Graham Norton and Alan Carr. Each episode will also feature a celebrity guest judge, and it's already been confirmed that we'll see GoT's Maisie Williams, Spice Girl Geri Horner, Andrew Garfield, Little Mix's Jade Thirlwall, Cheryl Cole, Michaela Cole and Dame Twiggy.
It's gonna be good
The promo trailer gives us some insight into what we can expect – aka, a whole lot of beat faces, sickening looks, reading (it's fun-damental) and snatched wigs.
As Ru would say, 'shante, you stay' – stay and watch every episode of UK RuPaul's Drag Race as it airs weekly on Stan, starting October 4, that is.