To us, the Santa Clarita Diet sounds like some sort of American fad diet – no gluten, no carbs, only lemon juice or something similar that's likely to make us hangry. But the actual Santa Clarita Diet is a lot more, well, bloody. And it's back for more flesh-eating drama in season three on March 29 on Netflix Australia – so you better watch your back.
What is the Santa Clarita Diet?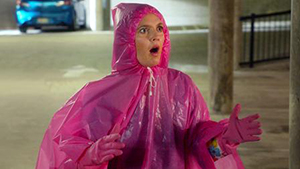 If you haven't yet jumped on the bandwagon, Santa Clarita Diet is Netflix's cannibalism comedy about husband and wife power couple Sheila and Joel Hammond (played by the epic Timothy Olyphant and Drew Barrymore, who should need no introduction) whose lives change forever when Sheila undergoes a dramatic transformation into a… zombie. Needing human flesh to survive, the two realtors by day become killers by night (but don't worry, they only kill bad guys).
A bloody good recap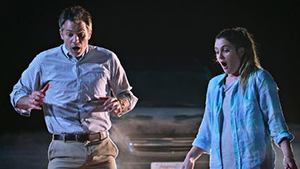 Season one focused on the Hammonds (along with their teenage daughter Abby, played by Liv Hewson) adjusting to Sheila's new, ah, diet – and we got to see her eat her first ever person, their neighbour Gary (whose head morphs into a chatty presence throughout the second season). The three of them, along with Abby's dorky but knowledgeable friend Eric (Skyler Gisondo) attempt to solve the case of 'undead' Sheila's deterioration – and it's the bile of a pure-born Serbian (not only disgusting, but also difficult to get their hands on). Season one ended with Joel locked up in a mental home for trying to steal some old lady's vomit and Sheila locked up in their basement for her own family's safety.
And season two?
Season two starts on a happier note, with Abby to the rescue with the bile (there's a sentence you never thought you'd read). Joel also makes a breakthrough about Sheila's 'condition' and traces it back to a specific type of clam she ate which came from a cave in Serbia. Although a step forward, Joel's discovery is also a step backwards – mysterious duo Paul and Marsha beginning shadowing the Hammonds who are determined to kill all 'undeads' – ah, you tried Joel. The series ends with police attempting to arrest Sheila and Joel for murder, only to be greeted by Gary (talking head, remember).
What can we expect in Season 3?
"I wanna be about more than just eating but I also just really enjoy eating people," says Sheila in the opening scene in the season three trailer. It appears that all is well and somehow (?) the two dodged a lifetime in jail for the murder of Gary. With that sorted, Sheila starts thinking long-term – and for her, long-term literally means forever. The trailer centres around her idea of biting Joel and turning him 'undead' as well – so that they can live happily ever after. We see him struggle with that idea (fair enough) which ultimately is going to create a fair amount of conflict.
So, what will Joel choose? To live forever or die a mortal saint (saint's a strong word – his kill count must be pretty high by now). Dig into season 3 of Santa Clarita Diet on Netflix from March 29 to find out.
Stream Sports with Kayo
Love streaming? Love sports? Kayo is a new streaming platform that provides access to a wealth of sports, from basketball to cricket, motorsports and soccer. Click 'go to site' for more details.
Brand
Subscription Type
No. of Screens

/same time viewing

Advertised Cost^^

/month

More than 15,000 hours of sport on-demand
Watch on 2 screens at the same time
14 days FREE trial (New Customers Only)

min. cost $25 over 1 month

2

$25
Go To Site

More than 15,000 hours of sport on-demand
Watch on 3 screens at the same time
14 days FREE trial (New Customers Only)

min. cost $35 over 1 month

3

$35

Go To Site

Telstra Exclusive Offer – Basic Subscription

Special Offer: Save $10/mth on Kayo for 12 months
Available to Telstra customers only. T&Cs Apply
Stream over 50 sports, Live & On Demand
Watch on 2 screens at the same time – Add up to 5 profiles

min. cost $15/mth first 12 months then $25/mth

2

$25$15

Get Offer

on Telstra's website

^^View important information