Is there really anything better than summer? The sun is shining in Hawkins, the whole gang is back together, eggos are plentiful, Billy is flaunting his perfect biceps as the new lifeguard, Steven and Dustin's bromance is blossoming… oh yeah, and we're pretty sure a giant, life-threatening monster is on the loose again. Of course, we're talking about Stranger Things, the sci-fi inspired series from the Duffer Brothers which unexpectedly exploded onto our screens (and into our hearts) in 2016.
If you're anything like us, you would have devoured season two way back in 2017, sort of the same way you eat a kebab after a night out – really fast, and with a hint of shame. Season three has been a long time coming, and we are beyond excited to have some of our burning questions answered. For those of you who are feeling a little dusty with the details, we've got your back – here's everything you need to know, and everything we know, about the upcoming season three premiering on Netflix Australia on July 4.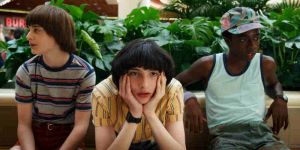 What is Stranger Things?
Stranger Things is a science fiction and horror television show set in the 1980s in Hawkins, Indiana. The show follows three young boys, Mike (Finn Wolfhard), Dustin (Gaten Matarazzo), Lucas (Caleb McLaughlin) and the dark secrets they uncover whilst searching for their best friend Will (Noah Schnapp) after he suddenly and mysteriously disappears. Winona Ryder also stars as Will's mother Joyce, with David Harbour starring as the troubled town cop Hopper.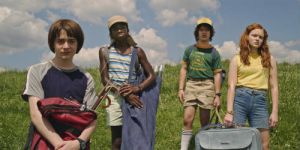 What happened in season 1 and 2?
Season one begins in November 1983, when researchers at the Hawkins National Laboratory accidentally open a portal to an alternative dimension named the "Upside Down", which leads to Will going missing. His three friends go searching for him, but instead discover a strange girl who calls herself Eleven (played by Millie Bobby Brown). Having escaped the laboratory, she sports a shaved head, hospital-style gown and psychokinetic abilities. Eleven becomes a vital asset in the boys' quest to find Will, learning she is the only one who can control and communicate with the Upside Down. Meanwhile, Joyce and Will's brother Jonathan (Charlie Heaton) are convinced that Will is alive, and enlist the help of Hopper, who is growing suspicious of the local laboratory.
The second season, set in 1984, sees the return of Will (woo!), a lot of pretty traumatised Hawkins residents and plenty of secrets from Eleven's past. Poor little Will once again finds himself the target of the Upside Down, and the gang must join forces once again to defeat evil. Season two also saw the introduction of Californian siblings Max (Sadie Sink) and Billy (Darce Montgomery) and the incredible redemption arc of Steve Harrington (Joe Keery) – which we were so here for.
So, what do we know about season 3?
Back in July 2018, Netflix released a teaser trailer, which was effectively an advertisement for Hawkin's new Starcourt Mall and featured fan-favourite Steve (plus newcomer Robin, played by Maya Thurman-Hawke) working as ice cream vendors over their summer. This doesn't tell us much, but a large chunk of the season is suspected to take place here.
Official Trailer
The official trailer for the highly-anticipated season was released in March – and gives a glimpse of what's to come. Billy is bitten, a giant horde of rats race through the 4th of July celebrations and, as per usual, there is a disgusting looking creature trying to eat everyone. Love it.
Season 3 Episode Titles
The episode titles for Stranger Things season 3 give us a hint of what's to come in the summer of 1985:
Suzie, Do You Copy?
The Mall Rats
The Case of the Missing Lifeguard
The Sauna Test
The Source
The Birthday
The Bite
The Battle of Starcourt

"One summer can change everything", and it looks like it will be an American summer to remember. All eight episodes will drop at once on Netflix on July 4, so get ready for some fireworks.