It's the Sex and the City and The Devil Wears Prada crossover that no one expected – but has fallen in love with. That's right, Scarlet Magazine is hitting the stands as The Bold Type returns for season three on Stan.
What is 'The Bold Type'?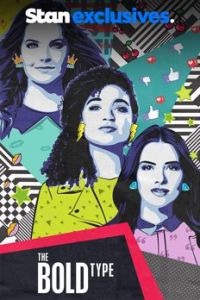 The Bold Type follows three best friends living in the Big Apple – navigating love, friendship and their blossoming careers at the popular and glamorous Scarlet Magazine. The lovable trio consist of ambitious and inquisitive journalist Jane (played by Katie Stevens), Scarlet's social media director Kat (Aisha Dee) and assistant-turned-fashion-guru Sutton (Meghann Fahy).
Much like The Devil Wears Prada, the show is inspired by the life of Joanna Coles, former editor-in-chief of Cosmopolitan (who also serves as a producer on the show). But fear not, the Miranda Priestly in The Bold Type is the kind who does smile – and is played by The Office's Melora Hardin.
Season two recap
The finale of season two left us with a lot to think about. Arguably one of the greatest episodes of the series so far (bar the first season's emotional finale), 'We'll Always Have Paris', saw the gang jet off for, you guessed it, Paris Fashion Week.
We saw Kat and Aden fighting (again) – and to be honest, we're hoping this previously-delightful-turned-toxic relationship is left behind with season two. Jane made a major life decision to freeze her eggs as a result of her BRACA-positive diagnosis, but is left frustrated when the company's health insurance won't cover it.
Luckily she has two alternative options in A) Ben: Australian doctor boyfriend who offers to become domestic partners to take advantage of his clinic's family discount or B) Ryan, aka Pinstripe, aka the one who let Jane get away, who offers to pay for her egg freezing with the advance from his mega book deal (whilst pleading for her back).
We also saw Sutton living her absolute best life in Paris assisting Oliver at Fashion Week, made even better when ex-Scarlet-legal-boss-boyfriend Richard flies to Paris to get her back. Awesome.
So… what can we expect in season three?
After that whirlwind, of course we're left pondering what's to come in season three. Luckily for us a trailer (and multiple) mini teases have been released for us to devour before the start of season three.
By the looks of things, things with Richard and Sutton are better than ever – he even asks her to move in with him! Hooray. Sutton also reveals that she wants to become a designer – she of all people deserves this and season three is looking bright and peachy for her.
Jane too, seems to have decided on her man – but is it Ben or Pinstripe? (Team #Janestripe). As for Kat, she seems to have landed herself in hot water when she attends a City Council meeting, but leaves as a running candidate. The most important plot of season three however, comes in the name of Patrick Duchand, hired by Scarlet to take over Jacqueline's job – and no one is having any of it, us included.
Flick through the pages of the first episode of The Bold Type season three on the 10 April on Stan, or treat yourself to the first two seasons, you deserve it.