There are spooky parallels to current events and The Commons. Amanda Horswill takes a walk through the near future and finds it's all a bit too close for comfort.
Hordes of sweaty bogans, backpacks swinging off $5 Kmart t-shirts, mill about in a swanky looking lobby. A middle-aged man sits on the floor, mopping his brow with an old hanky, smiling as the cold of the marble begins to work its magic. A couple of barefoot kids dodge in and out of the crowds, their red-faced, exasperated mum yelling at them to simmer down or she'll send them outside. This sorry, soggy lot of heatwave refugees soak up the free aircon and wait for the sun to go down before milling off to their mundane, only-the-bedroom-has-an-aircon lives.
This could be a scene at the food court at the nearest Westfield last Saturday in any major Australian city. But what it is, instead, is an eerie prediction of the not-too-distant future in the disturbingly uncomfortable-for-all-the-right-reasons eight-part series The Commons, now streaming on Stan. For in the series, these people are climate refugees, leaving their horribly inefficient hotbox homes in the suburbs, and gaining special permission to go through the tightly controlled gates of the city to find respite in the hallowed halls of residential skyrises, the homes of the rich and extremely comfortable. The "have nots" visiting the "haves".
What is The Commons about?
If you want to see what a climate change-denying Australia will look like in five or so years, brace yourself and check this series out. Blending science fiction with science prediction, The Commons explores how everyday people cope living in a world that is stuffed. That means relentless heatwaves; storms so severe they displace entire regions; electricity "brownouts" thanks to an overburdened grid; immigration permits required for rural people to move to the city; detention centres for desperate international climate refugees; water rationing; and acid rain. However, this is made all the more real as this adaptation is overlaid on what we could consider a "normal" life – kids go to school, adults go to work, society functions at almost normal – in the cities, anyway. This is a pre-apocalypse scenario, and a scary one at that because it's completely believable.
While the subject matter is bleak, at its heart is something more upbeat – hope. The series is built around the age-old question: How can people hang on to that particular gem and not just survive, but thrive, despite the world falling down around them?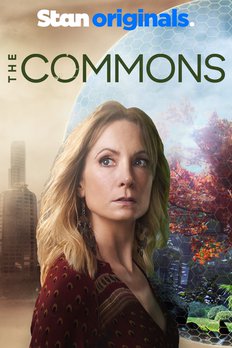 Warning: Spoilers, not just of the show but of our possible future
The Commons tells the story of Eadie (Joanne Froggatt, Downton Abbey), a neuropsychologist, who is desperate to have a baby with scientist husband Lloyd (David Lyons, Revolution). Eadie is on the final round of IVF before turning 38, which is the government's cutoff for financial help for assisted fertility.
So when the pregnancy "fails" – she is told it's no longer viable via a data patch embedded in her stomach and linked directly to her private health insurer – she decides to go to a clandestine clinic to have her final fertilised embryo implanted. The catch is that she has to take dangerous immunosuppressant drugs. She does this without telling Lloyd, for fear he would stop her. Instead, she enlists the help of Lloyd's best friend and work partner, Shay (Ryan Corr, Ladies in Black), to beat the data patch.
Meanwhile, Lloyd and Shay are working on finding out how to stop the exotic Kissing Bug – which has adapted beautifully to Australian conditions from its native South America – by killing everyone. The bug crawls out at night and onto the faces of sleeping people, bites them, and infects them with a parasite that kills most people and leaves the remainder with facial deformities. It's called Chagas Disease. It's real. It's spreading across USA. It's terrifying.
To repay Shay for his help, Eadie agrees to take on his national service duties – yes, the government enlists everyday citizens for mandatory service, helping in the massive and ongoing operation that is climate disaster mitigation. As she is a doctor, Eadie is enrolled to work at one of the many immigration and detention centres around the city.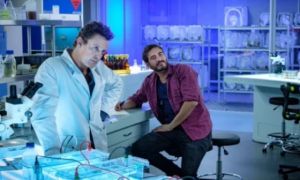 Eadie's rich and connected brother, Dominic (Rupert Penry-Jones, Spooks) offers to pull some strings and have her excused from service. Eadie insists she wants to serve, out of fear that Dominic would discover her deception. Dominic, who runs a security/relocation/chartered aircraft/disaster mitigation business, lives with his well-groomed wife and entitled, spoiled tribe of children in the tall, perfectly designed skyscraper in the city (the one those climate change refugees were visiting in their Kmart tops).
Dominic is best buddies with the state's disaster minister, which proves very handy when it comes to winning contracts and buying shares of companies about to benefit from government contracts. But how far will Dominic go to keep his lifestyle? And what toll is it having on the seemingly unflappable, strapping hero-type?
The plot thickens when Lloyd and Shay find what could be a way to control the bugs from reproducing, and announce it to the world. What ensues is part who-done-it, part disaster flick, part romance rollercoaster, part action movie. But it's all heart. And completely heartbreaking. Take, for example, the scene where rebellious, depressed and despairing teenager Ivy, Lloyd's daughter and Eadie's stepdaughter, finds out one of her neighbours is actually a climate change denier who was responsible for influencing government policy and community opinion a decade ago. Ivy confronts him, with his only defense is to say he did what he thought was right, at the time. He walks away. What else is there left to do when a teenage girl asks if destroying her future was intentional?
The details:
Show: The Commons
Platform: Stan
Series: 1
Worth watching? Yes, as a half-open window to the future
Suitable for: Adults – there are some thoroughly depressing scenes relating to climate change
You could also try: Years and Years on SBS on Demand
Sign up to Disney+
There are two plan options to choose from – a monthly subscription at $11.99 per month, or prepay for a year at $119.99 and save on the monthly cost. Both plans include the same features, with unlimited downloads and the ability to stream on up to four screens at the same time.
Brand
Subscription Type
No. of Screens

/same time viewing

Advertised Cost^^

/month or year

Stream the Disney+ library, including Disney+ Originals, Star Wars, Pixar, Marvel, National Geographic & Star
Watch on 4 screens at the same time
Add up to 7 profiles
Unlimited downloads of shows and movies on up to 10 devices

min. cost $11.99 over one month

4

$11.99

Get Deal

Canstar Blue receives a commission for sign-ups through Disney+ *

Stream the Disney+ library, including Disney+ Originals, Star Wars, Pixar, Marvel, National Geographic & Star
Watch on 4 screens at the same time
Add up to 7 profiles
Unlimited downloads of shows and movies on up to 10 devices
Prepay for a yearly subscription and save on the monthly cost

min. cost $119.99 over one year

4

$119.99

Get Deal

Canstar Blue receives a commission for sign-ups through Disney+ *

^^View important information