Hold onto your hat, because we're about to do some interdimensional travelling with Netflix's second instalment of sci-fi drama mystery, 'The OA'. If you don't know what 'OA' stands for… don't worry, we won't spoil it, but you do have a duty to yourself to catch up before the second season, which launches on Netflix Australia on 22 March.
What is The OA?
Dubbed one the "strangest" shows on Netflix, season one of The OA tells the story of Prairie Johnson (played by Brit Marling, co-creator, writer and producer of the show – heck yeah) an adopted, BLIND young women who resurfaces seven years after her disappearance – along with her eyesight. She calls herself the "OA" and refuses to tell her adoptive parents, or the FBI, where she has been. Instead, she confides in a group of misfits (five high school kids and one school teacher – very 'Stranger Things') and asks for their help to save other missing people she believes she can rescue through opening a portal to another dimension.
We eventually learn her disappearance was a result of a kidnapping by Dr. Hunter Aloysius "Hap" Percy (played by Jason Isaacs, Lucius Malfoy on Harry Potter) a researcher obsessed with studying the effects of near-death experiences and their potential to open other dimensions.
The OA Part II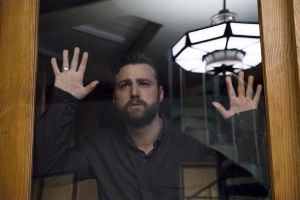 The end of season one left us scratching our heads as Prairie attempted to travel to another dimension to prevent a school shooting. The final scene saw a bullet pierce OA's chest – and in typical trippy The OA nature, we have no idea if the entire plot was a fabrication of her mind or if she really pulled it off.
Fans of the show have been waiting to solve the mystery as season one dropped more than two years ago, and the second season was actually announced in February 2017 (we guess good things come to those who wait?
The trailer for Part II was released at the end of February (2019) and gives us a slight insight into what we can expect in this highly anticipated second instalment. The trailer opens with Prairie wakening in a hospital bed, with a gun wound in her chest – which suggests she did succeed in travelling to another dimension. However, when the doctor asks her who the president is, she receives blanks to her "Barack Obama" reply – indicating she's woken up in an alternative universe where Obama was never president at all.
Hurrah! No more Hap? Apparently not – in this universe, he still seems pretty keen on exploiting Prairie for his own research. This dimension will also feature a new central character whose path crosses with Prairie – private investigator Karim Washington who is searching for a missing teenage girl. Throughout all this commotion, her little gang of misfits are searching for her back in one of the other dimensions (honestly, we're losing track by now), whilst trying to unlock the mystery behind interdimensional travel.
Confused? You betcha. Excited? Duh. Catch all eight new episodes on Netflix Australia from 22 March.
Stream Sports with Kayo
Love streaming? Love sports? Kayo is a new streaming platform that provides access to a wealth of sports, from basketball to cricket, motorsports and soccer. Click 'go to site' for more details.
Brand
Subscription Type
No. of Screens

/same time viewing

Advertised Cost^^

/month

More than 15,000 hours of sport on-demand
Watch on 2 screens at the same time
14 days FREE trial (New Customers Only)

min. cost $25 over 1 month

2

$25
Go To Site

More than 15,000 hours of sport on-demand
Watch on 3 screens at the same time
14 days FREE trial (New Customers Only)

min. cost $35 over 1 month

3

$35

Go To Site

Telstra Exclusive Offer – Basic Subscription

Special Offer: Save $10/mth on Kayo for 12 months
Available to Telstra customers only. T&Cs Apply
Stream over 50 sports, Live & On Demand
Watch on 2 screens at the same time – Add up to 5 profiles

min. cost $15/mth first 12 months then $25/mth

2

$25$15

Get Offer

on Telstra's website

^^View important information
Picture credit: Nicola Goode/Netflix