Are you ready for the female-led 'Lord of the Flies' adaption you've secretly always wanted? Yes? Well, strap yourself in for this one – because Netflix's new series 'The Society' is delivering. With a terrifying mix of missing parents, unsupervised teenagers, and privileged frat boys with too much power – it's giving us massive 'LOTF' vibes. Due for release on May 10, The Society looks like, to be quite honest, absolute mayhem.
What is The Society actually about?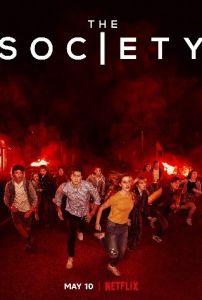 The show, which also draws similarities to modern shows Pretty Little Liars and Gossip Girl, follows a group of teenagers who are mysteriously transported to an alternative version of their wealthy New England town West Ham. Everything is the same – except their parents are nowhere in sight.
It starts as a big fat party, but then their newfound freedom becomes dangerous. It's kind of like when your parents start letting you go to bed whenever you want – you stay up really late for a few nights but then after a while, you just want a full nine hours. The fun wears off as the teenagers struggle to figure out what has happened to the adults and how to get them back; and the grim reality of being forced to operate in a society run by kids their own age.
What can we expect?
Not much about the show has been released, however the trailer above has given us a glimpse into the lives of the teens of West Ham. The trailer features the voice of Allie (Kathryn Newton, Big Little Lies), a girl who has lived her entire life in her older sister Cassandra's (Rachel Keller, Legion) shadow. "Mum, it's me again. Where is everyone? It's been nine days. We're all alone. Some of us thought it would be fun to be in charge of ourselves. But things got bad. If you hear this, please come find us," pleas Allie.
While she speaks, scenes flash quickly before us – robbery, fires, chaos, fear, violence and even death. Much like Lord of the Flies, the trailer shows the teens forming dangerous alliances and attempting to establish order – but we all know that's easier said than done.
The show is created by show runner Chris Keyser (Party of Five) and produced by Marc Webb (The Amazing Spider-Man) and will feature ten, hour-long episodes packed with preppy girls and boys like you've never seen them before – desperate. Catch the full series when it drops on Netflix May 10.