History tells us that Aussies love a good ol' underdog: The song Waltzing Matilda is about a cattle duffing vagrant; the ballad Wild Colonial Boy is about the death of a bush ranger; and our ultimate anti-hero, Ned Kelly, is the stuff of legend that every Australian knows. But will Australia love this particular retelling of Ned Kelly's life? Amanda Horswill speculates.
What is the True History of the Kelly Gang?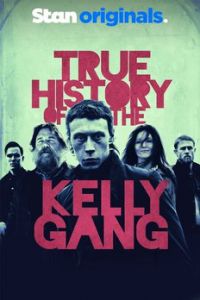 With guns blazing and blood flowing, True History of the Kelly Gang debuted on Stan, befittingly, on Australia Day. However, those mullet-and-double-plugger-wearing Aussie Day couch surfers expecting a dry, factual retelling of one of Australia's favourite rogue anti-heroes could have been left staring into the bubbles on top of their VB, a tad confused.
Based on the celebrated Peter Carey book by the same name, this version of Ned is descended from a long line of Irish rebels who wear dresses in combat to confound their enemies. And director Justin Kerzel (The Snowtown Murders, Assassin's Creed) has incorporated theatrics usually seen on stage, such as strobe lighting to convey desolation, and highly figurative visual narratives, such as Handmaiden Tale/Superman-esque glowing capes to signify a line of seemingly never-ending troops.
Polarised audiences are going to see it as either a daring gamble or a visual jumble; madness or brilliance; strange or ground-breaking. Whatever it is, it's definitely not a true, historical account of Ned Kelly's life. But – in this proud double-plugger-wearing couch surfer's view – it is bound to become a modern-day classic, just like the novel it's based on has become.
While the film is emotionally powerful and visually beautiful, unfortunately, the storyline lacks the subtle finesse of Carey's novel. It's missing huge chunks of narrative essential to sew it all together to its bloodthirsty and inevitable conclusion (we all know how the story ends, don't we?). Perhaps it should have been a streaming series – maybe two or three eps in a limited series would have covered it (you listening Stan?).
Rough beginnings
The film begins with Ned as a child, sensitive but tough, born into a squatter's life – dirty, hungry and violent. His mother, Ellen, (the brilliant Essie Davis, unrecognisable from her Miss Fisher's Murder Mysteries days), sells her body to men – in their family home – in order to afford to buy food for her many children. One of her customers, Sergeant O'Neil (Charlie Hunnam, Sons of Anarchy), a member of the hated British constabulary, tells Ned (this younger version of the main character is played so well by Orlando Schwerdt, in his second credited role) that his father is a mad drunk who was caught roaming the fields, wearing a red dress – and all that implied in that time.
When Ned's dad comes home with a bottle of rum instead of the meat Ellen had sent him to buy, she beats him up and banishes him to sleep outside. The next day, Ned – covered in blood – drags the hind leg of a beast home and his mother declares him "man of the house". This sets into motion a chain of events that would shape Ned's life.
To summarise – Ned's dad dies and Ned suspects Sgt O'Neill. Ellen's then suitor, Henry Power (Russell Crowe) takes Ned under his wing to supposedly teach him to be a man. Instead, Ned finds out his mum actually sold him to Henry, who is actually a bushranger who expects Ned to kill. Ned's not having any of it. To try and break him, Henry traps Sgt O'Neill, and tempts Ned to shoot him in revenge. Ned does, but then threatens to kill Henry, and runs home. Ned is captured, jailed and when released, becomes a boxer.
This is where we first see the truly talented George MacKay (Peter Pan, Captain Fantastic) at work as Ned. In the first scene, he has contorted his, quite frankly, epic body so that it is bent backward, his head at the same level as his buttocks. It's disorientating and perhaps purposefully so. MacKay uses his body like a circus performer imbued with the spirit of the late Heath Ledger. In one scene, towards the end, he actually speaks only a few words with his lips, the rest of the work is done through body language – banging his head on a table, throwing a chair across the room, kissing his captor – and it's a beautiful, harsh thing to watch. It looks all improvised, too. Expect to see more of MacKay.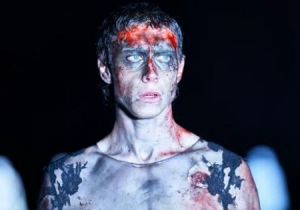 Such is Life
From here, Ned is on the slow road to his death. Ned goes home to a lukewarm reunion. He finds his mum shacked up with a younger man George King (Marlon Williams), who has started a horse-stealing racket with Ned's younger brother Dan (Earl Cave) and one of his friends. Later, Ned wakes to find his brother and mate wearing dresses while mustering a huge herd of stolen horses. He is perplexed, and takes the dresses back to where Dan stole them from – the local bordello. There, he meets another copper, Constable Fitzpatrick (Nicholas Hoult, Warm Bodies), who he sort-of befriends but doesn't trust. Ned observes that the constabulary always want something from the Kellys.
This turns out to be Ned's little sister. He says that if Ned lets him "see" her, then an arrest warrant for Dan will disappear. This culminates in a family fraccas, where Ellen hits the constable with a shovel, and Ned shoots him in the wrist to stop the policeman from killing Ellen. Ned doesn't want to kill, so he lets Constable Fitzpatrick go, even though he knows it means a horde of police will return to arrest him and his family.
Ned, Dan and their two friends flee. They come across a company of troopers sent to kill the embryonic Kelly Gang. The story becomes so complex and fractured from here, but, in a nutshell, Ned eventually decides that he needs to form an army of people who hate the police. He also takes hostages, one of whom is an English school teacher, who offers to help Ned write his history. Ned has a plan to derail a train full of policemen and kill them all, but the teacher escapes and warns them.
Then the army deserts Ned, and it's just he and his two friends facing off against a huge gang of policemen. Ned's mates are slain, and he is captured, only to be reunited – briefly – with his mum in prison. It's left to the English teacher captor to tell the world Ned's story, and his famous last line "such is life".
So, if you are curious about what all the fuss is about, True History of the Kelly Gang is worth a watch. It's not, however, for the fainthearted, or for those expecting to see Australia's rebel icon displayed in a narrow-minded world view of authority. It's not about that. It's really, I think, a study about what happens when generations of people are oppressed, maltreated and then betrayed by the people who are supposed to be looking after them. It's about how criminals are made, not born. And it's about some interesting actors, doing interesting things, in an interesting film.
The details
Show: True History of the Kelly Gang
Platform: Stan
Series: Film
Worth watching? Yes
Suitable for: Adults only, bring an open mind.
You could also try: Ned Kelly (2003) starring Health Ledger and Orlando Bloom; Ned Kelly (1970) starring (albeit oddly) Mick Jagger.
Sign up to Disney+ Australia
There are two plan options to choose from – a monthly subscription at $11.99 per month, or prepay for a year at $119.99 and save on the monthly cost. Both plans include the same features, with unlimited downloads and the ability to stream on up to four screens at the same time. This table includes links to a referral partner.
Brand
Subscription Type
No. of Screens

/same time viewing

Advertised Cost^^

/month or year

Stream the Disney+ library, including Disney+ Originals, Star Wars, Pixar, Marvel, National Geographic & Star
Watch on 4 screens at the same time
Add up to 7 profiles
Unlimited downloads of shows and movies on up to 10 devices

min. cost $11.99 over one month

4

$11.99

Get Deal

Canstar Blue receives a commission for sign-ups through Disney+ *

Stream the Disney+ library, including Disney+ Originals, Star Wars, Pixar, Marvel, National Geographic & Star
Watch on 4 screens at the same time
Add up to 7 profiles
Unlimited downloads of shows and movies on up to 10 devices
Prepay for a yearly subscription and save on the monthly cost

min. cost $119.99 over one year

4

$119.99

Get Deal

Canstar Blue receives a commission for sign-ups through Disney+ *

^^View important information