Staying safe inside can have some major drawbacks – namely that you're inside pretty much all the time. But while you can do those DIY projects that you've been meaning to do for ages, that puzzle you started a few months back, as well as the potential to learn a new skill, the call of the outside world can drive you crazy. Thankfully there are plenty of things to do online besides another Netflix binge, with a number of virtual tours for you and the family to get involved in. Read on to find out what tours are available.
Museums and Galleries
If you're in need of a bit of culture during your isolation and would like to look at walls outside of your own home, here are some museums and galleries around the world that are offering virtual tours.
The Met, NYC
If you're still down about the postponement of this year's Met Gala, then a tour of the iconic gallery itself might just be enough to lift your spirits. The Met 360° Project is an award-winning series of videos which showcase the gallery and allow you to explore the empty gallery from your couch, while you're dressed in couture of course, for the full effect.
Rijksmuseum, Amsterdam
If you have some serious spare time, or just a huge cultural craving that needs to be quenched, then why not take a nice virtual tour of the collection of art and historical objects which are displayed across 80 galleries in Amsterdam's Rijksmuseum. Aside from the stunning virtual tour, the website is chock full of videos, online exhibits and fun facts so that you can delve a little deeper.
The National Cowboy Museum, Oklahoma
Whether you have an interest in the cowboy chronicles of America's wild west or not, this museum in Oklahoma has been gaining notoriety for its wholesome Twitter presence, or more specifically, the man running it. The museum's lovable head of security, Tim, has been put in charge of social media while the museum is closed and the results really are magical, dad-jokes and all!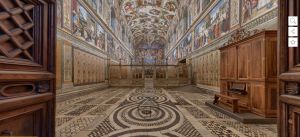 The Vatican Museums, Rome
The Vatican in Rome is home to many things: the epicenter of Roman Catholicism, the various Popes and of course Michelangelo's masterpiece which adorns the ceiling of the Sistine Chapel. Take a look at some of the virtual tours available through the wings, rooms and chapels of the Vatican so you can explore the amazing architecture and historical artefacts for yourself.
Musee D'Orsay, Paris
Originally a bustling Parisian railway station and hotel, the Musee D'Orsay – housed in the former Gare d'Orsay – is a must-see on many a tourist's bucket list. The museum's virtual tour takes you through the world's largest collection of impressionist and post-impressionist works of art, including those from French masters such as Monet and Cézanne.
The Great Outdoors
As the grip of stir-craziness is starting to take hold, crack a window and venture through some of these outdoor experiences, without breaking your quarantine.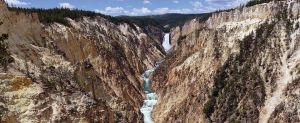 Yellowstone National Park, Wyoming
As the world's first national park, Yellowstone has a rich ecological and cultural history which spans centuries. Yellowstone National Park offers virtual tours of some of the park's main attractions and also provides you with some information for visiting each site in person, so you can start planning an itinerary for a real-life visit in the future!
Mt Everest, Nepal
Climb the world's tallest mountain without breaking a sweat thanks to an interactive map by Mount Everest 3D, which provides you with a 360-degree view from the summit. You are also able to explore some of the surrounding base camps and other nearby peaks, as well as embark on further exploration of the Himalayas from ground level.
Houston Zoo, Texas
Get in touch with your inner animal lover and check out some of Houston Zoo's live streams, straight from some of its most popular enclosures. Some of the sights include watching the giraffe's being fed, following frolicking chimpanzees via the Chimp Window Cam and the Leafcutter Ant Cam is great for some truly tiny action.
Disney Theme Parks
You can now visit Disneyland, even though the gates are closed, thanks to some magical panoramas available through Google Street View. The 360-degree interactive tours venture through a number of Disney theme parks so you can explore to your heart's content, without the infamous waiting lines.

Cliffs of Moher, Ireland
Take a trip to the land of luck and leprechauns with a virtual tour of the iconic Cliffs of Moher. The tour lets you look out over the Atlantic from multiple viewing areas along the cliffs, without leaving you windswept or queasy from the 200 metre heights.
Home Grown Attractions
If you're keen to set your sights on somewhere a bit closer to home, here are some of the virtual tours available for Aussie attractions.
National Museum of Australia
If you want to know more about our sunburnt country but aren't too sure where to start, the National Museum of Australia is a good place to dip your virtual toes. The website allows you to take a virtual tour through some of the exhibitions, explore defining moments of Australian history like the Eureka Stockade and the founding of BHP, and listen in on the museum's curators as they talk you through the exhibits.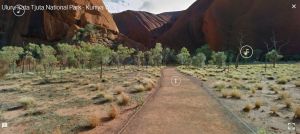 Uluru-Kata Tjuta National Park
In collaboration with Google Story Spheres, you can take a wander around Uluru, and the key sights which surround it, in the heart of Australia's red centre. The virtual story spheres allow you to discover sights such as the Kuniya Walk and Mutitjulu Cave, hear the songs of native birds and share in the local indigenous culture, thanks to stories and knowledge from traditional owners.
Lone Pine Koala Sanctuary
While not necessarily a 'tour', the Lone Pine Koala Sanctuary in Queensland has several webcams set up around the place that live stream the antics of its inhabitants, including koalas, dingoes, reptiles and platypus, at all hours of the day and night. Perfect for when you need a quick wildlife fix or if you'd like to learn a bit more about some of our Australian natives.
The Australian National Surfing Museum
The Australian National Surfing Museum, which is based in Torquay, has a bunch of online exhibits and stories for you to dive into. Chronicling Australia's unique surfing history, as well as our contribution to the world of surfing at large, the website has everything from vintage surfing memorabilia and online exhibits exploring some of the country's most inspiring surfers, all the way to a virtual tour through the museum.

Umoona Opal Mine
Always wanted to explore an underground opal mine in the Australian desert to get your claustrophobia tingling? Yeah me neither. Luckily, the Umoona Opal Mine and Museum in Coober Pedy has a 360-degree virtual tour of its underground gallery for you to peruse at your own leisure, all while remaining safely above-ground and in isolation.
What other virtual tours are out there?
With many museums and exhibitions having to close due to the COVID-19 outbreak, virtual tours have become the order of the day, meaning you can still get your cultural fix from the comfort of your couch. While the above tours and guides will certainly whet your appetite, there's plenty more out there, from local museums all the way to the NASA Langley Research Centre, giving you plenty to see and do. And of course, you can also tune into live streams to keep yourself entertained, so be sure to check out our guide here for some more ideas for your time at home.

Photo credit: Metmuseum.org, museivaticani.va, nps.gov, cliffsofmoher.ie, parksaustralia.gov.au, umoonaopalmine.com.au