Set your socials to private, purchase some curtains, avoid bookstores, and maybe move cities – Penn Badgley is back and he's creepier than ever as the serial killer we all loved to hate (and hated to admit we sometimes loved) in Netflix's addictive thriller and surprise hit of 2018, You.
Joe (portrayed by Gossip Girl's Penn Badgley) has clearly learnt nothing from the events of the season one finale as he moves to Los Angeles and recommences stalking chicks, making poor decisions (usually involving murder), receiving visits from 'dead' exes and just being all-around psychotic in season two, which drops on Netflix on December 26.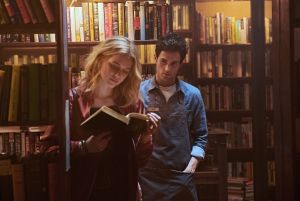 Hold up, what was 'You' season one about?
If you haven't seen the first season (which is based on the novel of the same name by Caroline Kepnes) and have no idea what we're talking about, you need to leave right now. This is about to be spoiler city. Okay let's start from the beginning – when we first meet Lonely Boy 2.0. Sorry, but it's hard not to draw parallels with Badgley's iconic role from Gossip Girl, Dan Humphrey. He even narrates the entire series to expose the audience to the inner thoughts of Joe – which is fantastic, because honestly, who's better at creepy voice overs than XOXO Gossip Girl himself?
Joe is a 20-something manager of a bookstore in New York called Mooney's. By an (unfortunate) chance, a budding young writer named Guinevere Beck (Elizabeth Lail) – who simply goes by 'Beck' – enters Mooney's and engages in brief flirtatious small talk. Joe, of course, becomes infatuated and thinks it was fate that they met – let it be known that she gave him no indication whatsoever she wanted to be further pursued – and the stalking begins.
At first it is just on social media (who hasn't done that?) but he quickly begins following her around, breaking into her apartment and even stealing her phone to "protect her". Alas, it doesn't take long for him to become a full-blown psychopath as he is "forced" (he tells the audience via his voiceover) to kill Benji, a guy Beck is casually seeing, in order to "eliminate obstacles".
From here, things start going simultaneously excellent for Beck (her and Joe enter a relationship and he's seemingly the perfect boyfriend) and horribly wrong for anyone Joe poses as another obstacle. Friends who become suspicious – aka Shay Mitchell's (Pretty Little Liars) Peach Salinger – receive the same fate as Benji, and for a while there you really think Joe is actually going to get away with it. Oh, hang on – he does. Again, and again, and again. And then just as Beck catches on, Joe captures her and locks her up in a cage in the basement of Mooney's, before he brutally murders her.
Joe's 10-year-old next door neighbour Paco is the only witness – he hears Beck's cries for help – but idolises Joe way too much to say anything (Joe is surprisingly sweet to him, rescuing Paco on multiple occasions from his mother's abusive boyfriend). So, yep, that's the end. Joe pins the murder on Beck's therapist Dr. Nicky, (he almost killed him, too) and gets away scot free. Once again, the woman doesn't win, as much as you wanted her to.
It's also important to note: throughout the series we see hallucinatory flashbacks in Joe's mind of his ex-girlfriend, Candace. It is strongly implied throughout the entire series that Joe murdered Candace for cheating on him with a music industry executive (he murdered him too) and is updating her Instagram himself to keep suspicions from Beck at bay. However, in the final scene of the season, Candace re-appears in the bookstore.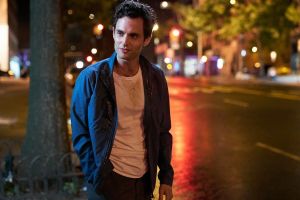 What can we expect from season two?
After that ridiculous first season, we've got a lot of questions we need answered. What is Candace doing back, and why isn't she dead? Paco moves to Los Angeles at the end of season one, does this mean he'll be back in the second season? He is the only one who witnessed Joe in action, but would he really snitch on the only dependable person in his life? Peach Salinger's family have hired a PI to investigate her death, could that come back and haunt Joe? Will Dr. Nicky get his revenge? Luckily, we don't have to wait too long for answers, but here's everything we know so far.
There's a new city
It's been revealed that the second season is loosely based on Kepnes' sequel novel to You, Hidden Bodies, in which Joe leaves New York for sunny Los Angeles in an attempt to flee the scene(s) of his damage.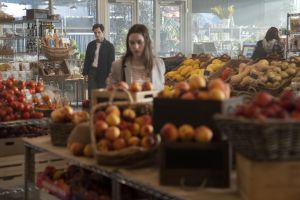 There's a new cast
The new city (and the fact that Joe has killed half of New York) means that the majority of season two's cast will be fresh faces. On November 21, Netflix released the first two different stills from season two and one teaser trailer. The first photo shows Joe lurking in the background, watching a girl doing her grocery shop. It's been revealed that new girl's name is Love Quinn, a new obsession for Joe, and she is played by Victoria Pedretti (The Haunting of Hill House). It has been hinted by showrunner Sera Gamble that Joe's attraction to Love is more so due to shared grief. "It's not that simple love-at-first-sight he might've been looking for a couple of years ago," she explained.
The second still confirms the return of Candace played by Ambyr Childers who has been promoted to a season regular – which means we'll be seeing a lot more of her this time around. The majority of the supporting cast is totally different; Jenna Ortega (Jane the Virgin) plays Ellie, a teen who "grew up fast in the big city,", James Scully (Heathers) plays Forty Quinn, a privileged and charming bully who is brother to Love Quinn and Cemela Zumbado plays Delilah Alves, an investigative reporter who may scream trouble for Joe. Comedian Chris D'Elia also posted an Instagram photo of himself and Badgley on set, confirming he is playing a famous comedian in L.A. And as for hot therapist Dr. Nicky, John Stamos' name has appeared under 'recurring cast' lists, so hopefully he's back to set the record straight.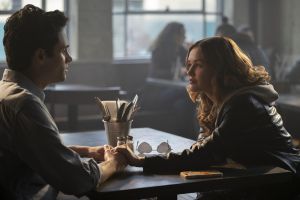 The truth could come out…
Fans have been speculating that Joe will be caught out for his actions in season two. He's left some pretty loose ends at his crime scenes, (especially at Peach's house), so it will be interesting to see whether they're will be some justice for his victims – if the Salinger's PI, the investigative reporter and Dr. Nicky come together than who knows what could happen? It has also been revealed that season two will delve deeper into Joe's traumatic childhood and the way he was groomed and treated by Mr. Mooney.
Is there a trailer for 'You' season two?
You're in luck, a trailer has just dropped, with Joe (like everyone else in L.A.) reinventing himself to become: Will.
The only Christmas present I need is approximately 10 hours alone in my room to binge watch the entire second season of You when it premiers on December 26.