There's no denying it – the introduction of music streaming has completely changed the way we access and listen to our music. Even iTunes, the online media library juggernaut of the 2000s, has fallen victim to the sudden rise of streaming, with Apple announcing its termination. And with so many great music streaming platforms and services on the rise, it's easy to understand why. But with so many options available, which one should you be using when it comes to your tunes?
With Australia no stranger to music streaming services, with the likes of Spotify, Apple Music and other services like Tidal and Google Music all available, there doesn't seem like there's much room left for other brands. Well you'd be wrong, with global heavyweight Amazon establishing itself in all areas of entertainment, including music, with Amazon Music, and Amazon Unlimited Music. But what are they, and are they worth it? Find out in this Canstar Blue review.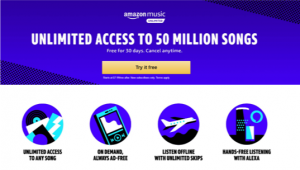 What is Amazon Unlimited Music?
Not to be confused with Amazon Prime Video, Amazon Unlimited Music is a separate, premium subscription service which offers millions of songs to consumers across the world. Much like Spotify, Amazon Music Unlimited provides unlimited (obviously) plays to any song, on demand and ad-free listening. It can be used offline with unlimited skips, and features hands-free listening with Alexa. Users can create personalised playlists for any occasion, whether you're looking for something to keep you motivated at the gym or get you pumped to hit the dancefloor.
What music is on Amazon Unlimited Music?
With Amazon boasting more than 50 million songs on its database, you'd likely be able to find what you're looking for on Amazon Unlimited Music. Along with the search function, users can also search for music via 'stations', which focus on specific genres or artists, making it a useful option if you're in the mood for something in particular.
Despite this, there's no list of what Amazon Unlimited Music does and doesn't include in terms of artists and albums, meaning you'll have to do a bit of digging if you're after that particular song. But with streaming services such as Tidal holding exclusive rights to albums and artists, there'll likely be a few gaps in Amazon's library.
Is Amazon Unlimited Music available in Australia?
Yes, Unlimited Music is now available in Australia. While some of Amazon's services still aren't readily (or cheaply) available in Australia, Amazon's entertainment branches launched in Australia in late 2016, meaning those Down Under have access to the Amazon music library.
How much does Amazon Unlimited Music cost?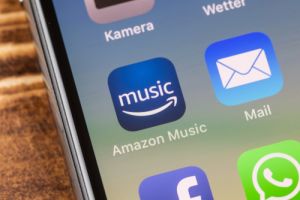 While you'll have access to some music if you're already an Amazon customer, if you're after the Unlimited Music service, there are a number of plans available, including:
Unlimited Individual Plan – $11.99/month for a single device.
Unlimited Family Plan – $17.99/month for up to six devices to access music at the same time. All family members must reside in the same country.
Echo Plan – $4.99 to link Amazon music with an already purchased Amazon Echo, Echo Dot or Echo Plus.
If you are already an Amazon Prime member, Prime music will automatically be available to you at no extra cost. However, Prime Music only offers 2 million songs (only!), compared to the 50 million delivered by Unlimited Music, meaning you might not be able to find all your favourite artists. But if you're not looking to spend any more on your music streaming, or you're not looking to expand your audio horizons, Amazon Music may suit just find.
Does Amazon Music Unlimited offer a free trial?
Luckily for you, yes, Amazon offers a 30-day free trial in which you can stream unlimited songs on your devices, and can cancel anytime, giving you a taste of what is on offer without committing to a subscription. Sign up is available online, where you'll be asked to create an Amazon account if you don't already have one.
What devices support Amazon Unlimited Music?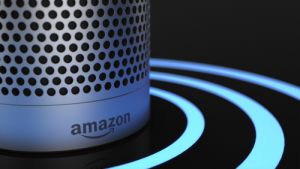 Amazon Unlimited Music is web-based and therefore can be used on basically any device that can be connected to the internet. The streaming service can be cast to:
Apple devices
Android devices
Amazon Alexa devices
Chromecast
Desktop (via the Amazon Music app)
Is Amazon Unlimited Music worth it?
With the music streaming industry a competitive market for both the casual listener, as well as the hardcore musician, it can be tough to differentiate what's available on the market. While which one you'll sign up to will likely come down to price and what music is actually available, it's best to look into all your options as one may fit into your lifestyle and listening habits more than others. Similarly taking advantage of the free trials, as well as looking at whether or not your phone plan offers music streaming, may also help make the decision easier.
At the end of the day, it all comes down to preference. If you are already an Amazon member, or own an Alexa device, Amazon Unlimited Music may be a switch worth making, while a 50 million song database might be too hard to pass on for non-Amazon members. Regardless of your music tastes, Amazon Unlimited Music is worth investigating if you're new to the music streaming world, or you're looking for that new band or sound to get you moving.
Picture credit: Africa Studio/shutterstock.com, Nicole Lienemann/shutterstock.com, ClassyPictures/Shutterstock.com, Charles Brutlag/Shutterstock.com