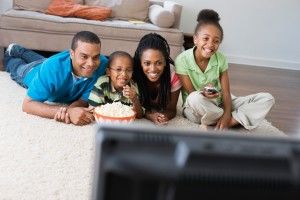 Fighting over the TV remote is becoming a thing of the past in many Australian households. But how many televisions is too many?
According to the Australian Communications and Media Authority (ACMA) there are about 18.7 million working TVs across this great land, with an average of 2.2 in each home.
So it seems that gone are the days when the family would crowd around the TV of an evening, watching the latest must-see show. Instead, with 55% of households owning two televisions or more, Aussies are pretty much getting to watch what they want, when they want – and of course they have more choice than ever before.
But with this living room peace, are we actually missing out on something more important? More than half of respondents to a Canstar Blue survey on the subject said that watching TV with the family was 'an important bonding ritual'. However, roughly a quarter of respondents said they owned three TVs, while one in 10 said their home had four, and 5% said they had five or more.
The latest Australian Multi-Screen Report, by audience measurement research firm OzTAM, claims the average Aussie watches 93 hours and 16 minutes of broadcast television each month. And we don't just watch television on TV anymore – a recent report by the ACMA showed that 5.2 million Australians watched professionally produced video content (better known as catch-up TV) online in a six month period last year.
It's hard to see where the family fits in anymore.
And while they are costing Aussies their family time, TVs are also starting to contribute more and more to the average household energy bill. According to yourhome.gov.au, a large screen (106cm) TV with an energy efficiency rating of three stars – on for seven hours a day – uses around 450kWh a year. That's more than an average sized family fridge (420litre) with a three star rating, which uses about 410kWh a year.
Don't we miss those days of arguing with our brothers and sisters over what to watch, and fighting over the remote control to the point where you parents would end up just turning the TV off anyway?
So if you're starting to see more of your evening news reader of reality TV host than you are your own family, maybe it's time to permanently hide the remote and spend some quality time together, without the TV.
Or at least get yourselves around the one box – because what's the point of watching something great on TV if you've got no one to talk to about it?