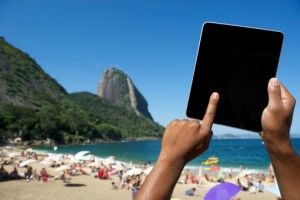 As every avid tablet or laptop users knows, internet access when travelling or out and about can be a real nuisance. Without the connectivity of a smartphone, many people find it difficult to use their other devices to keep in touch with their family or workplace.
Thankfully however, salvation is now at hand for road warriors and their ilk: many businesses and institutions now offer free Wi-Fi for use by the general public, and the number of Wi-Fi hotspots is growing every day.
If you're savvy enough and don't mind a little extra effort, it's possible to avoid ever losing your connection by taking advantage of Wi-Fi and mobile broadband wherever you go. Check out our tips on how to stay in touch on your Wi-Fi device.
Cafés, fast food outlets and retail stores
The most common providers of free Wi-Fi are, of course, businesses. Many cafes, restaurants, fast food chains and retailers offer free Wi-Fi as an added incentive to come pay them a visit and buy their products (though whether you do or not is up to you). The extent of internet access often varies from business to business, with some allowing unlimited access and others enforcing limits on time or data for their users.
City centres and public areas – council Wi-Fi
Many city centres and areas of interest, including museums, galleries and the like, are kitted out with free Wi-Fi to encourage you to visit them or use their services. This also goes for some public transport systems in capital cities such as Sydney and Brisbane. Brisbane City Council is even trialling free public Wi-Fi access in the busiest parts of the CBD – so even if you're out having lunch, you can still keep in touch with what's happening at work or at home.
Hotels
Just about every modern hotel will offer free or paid internet access to their guests, and many offer free (albeit limited) Wi-Fi access in the lobby. Even if you're not a guest, a hotel lobby is the perfect place to sit down, connect and do what needs doing.
Eduroam
For anybody affiliated with a university or research institution, such as students and academics, this option is particularly useful. Eduroam is an organisation which provides a common authentication method for the wireless networks of participating institutions, allowing affiliates of one organisation to securely access wireless internet at any other organisation around the world that also uses Eduroam. This allows the high-speed internet of universities and other institutions to be used more efficiently; instead of a university's network being accessible only by their students, Eduroam allows for a huge number of potential visitors to securely access it as well. Eduroam is even accessible on some council or government-maintained public networks, such as public transport Wi-Fi. If you're a student or academic travelling abroad, then Eduroam is by far the best way to access the internet for free.
Mobile broadband
If all else fails and your search for Wi-Fi access turns up nothing, then your best option is to purchase a mobile internet subscription. Most mobile phone providers also sell mobile broadband subscriptions on a prepaid or plan basis, and you can access the internet using one of three things: a SIM card which can be used in your tablet, a USB modem which can plug into your laptop, or Wi-Fi modem to which you can connect multiple Wi-Fi devices. The main downside of mobile broadband is that it's quite expensive, and your data allowances are usually quite limited. For more information on mobile broadband, take a look at our buying guide.
Phone tethering
Similarly to dedicated mobile broadband, many mobile phones have a setting that turns your phone into a mini Wi-Fi hotspot to which you can connect your other devices – this is known as tethering, and it uses your phone's mobile data connection. Mobile phone subscriptions tend to have even less data than mobile broadband subscriptions, however, so you should only use this for short periods. If you're planning on using your phone's internet, current mobile phone provider ratings for mobile phone service providers to find out more.