It seems every other person has got a tablet computer of some kind – whether it's a dinky little iPad Mini for the kids, or a more powerful Windows device used for work purposes. Because of their near-ubiquity in the modern age, a lot of articles get written about the cheapest tablets you can buy, or the best 'budget tablets'. But what if we go the other way? What about the most expensive tablets?
We did a bit of searching and compiled a list of the priciest tablets money can buy, including a gobsmacking one-off luxury tablet.
Price $1,699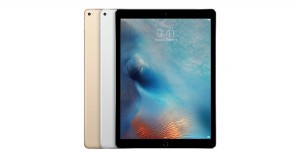 The most powerful tablet that Apple makes, the iPad Pro, image courtesy of Apple, is designed to provide (relatively) immense computing power in a portable form. The iPad Pro boasts nearly double the CPU performance of other iPads and also has the highest-resolution Retina display of any iOS device, with 5.6 million pixels. It also costs more than some of the laptops Apple makes. The iPad Pro was designed to fill the gap between tablets and laptops, and for some people may even replace the latter, with Apple CEO Tim Cook claiming that the iPad Pro "is a replacement for a notebook or desktop for many, many people."
Price US$3,099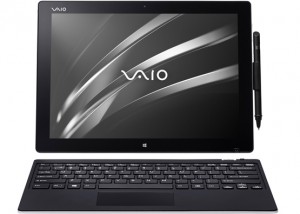 Owned partially by Sony, Vaio is a computer and laptop company that manufactures this rather expensive piece of portable tech, image courtesy of Vaio. With a whole terabyte of solid-state drive storage, this tablet has more storage than many laptops, and the same can be said for its 16 gigabytes of memory. It comes equipped with a detachable keyboard and boasts a 4th gen quad-core Intel Core i7 processor, the crème de la crème of Intel chips. This device's processor and its RAM and storage puts it on par with some of the most powerful laptops commonly available, and head and shoulders above most laptops and notebooks. It also weighs about a kilogram and a half, and is 0.7 inches thick, making it incredibly portable.
Price $3,399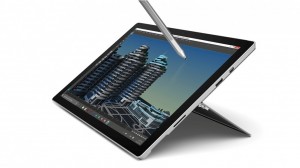 Another tablet billed as a laptop-killer, the Surface Pro 4 from Microsoft, image courtesy of Harvey Norman, weighs in at 786 grams, making it the lightest device on this list. It comes with a detachable keyboard, touch screen, and a Microsoft Surface Pen for those who prefer writing over typing. This configuration comes with 16GB of RAM (more than most laptops), 512GB of solid-state drive storage, and an Intel i7 chip, which as mentioned earlier is the most powerful processor Intel makes. This is the most advanced Microsoft tablet currently available and it shows in every part of the product, including the price tag.
Price US$5,999.95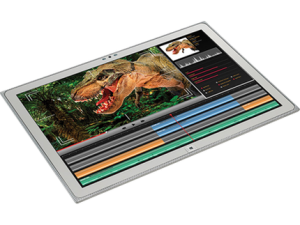 The most expensive conventional tablet currently on the market, the Toughpad, image courtesy of Panasonic, is entirely different from any other model on this list for a few reasons. For one, the thing is 20 inches long, compared to the other models which generally measure closer to 13 inches. Panasonic also claims that the Toughpad is "the world's only 4K tablet", and we can't find anything that would prove otherwise. For those unaware, "4K" refers to the resolution of the tablet's screen – 4K being shorthand for 4000 pixels. As with most devices labelled as having 4K resolution, the Toughpad actually falls slightly short, having a 3840 x 2560 resolution, but as mentioned this is fairly standard and not indicative of inferior resolution.
Price £5,000,000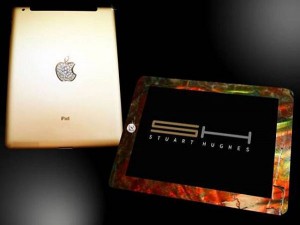 This one's pretty simple. It's a standard iPad 2, but given the Pimp My Ride treatment, decked out in gold, diamonds and dinosaur bone, image courtesy of Stuart Hughes. That's not a euphemism or slang by the way – this iPad is literally framed partially in dinosaur bone. To be specific, the front frame for the iPad is made from Ammolite, with sections of T-Rex thigh bones "shaved into the Ammolite". It also features an 8.5ct diamond on the home button. All told, the iPad has been decorated with 16.5ct of small diamonds, an 8.5ct single diamond, 57 grams of T-Rex bone, 750 grams of Ammolite stone, and 2000 grams of solid 24ct gold. Only two have been made, and it doesn't look like either has sold.
Worth the money?
So at the end of the day, if you're looking for a new tablet and are looking to spend some serious cash, you're not short on options. While we concede that a diamond-encrusted dinosaur bone framed iPad is possibly a bit far out of most people's price range, some of the other slightly more conventional tablets on this list do look like good value for money. Happy tablet shopping!
Other articles you might like
The cheapest NBN plans on offer