Enough with 'reality': Aussies are content with a good laugh
We've always thought Australians are a funny old bunch and now we finally have the survey results to prove it.
Canstar Blue asked just over 1,000 adults what their favourite type of TV show is and comedy (57%) was a popular winner, followed by drama (54%), news and documentaries (51%).
Who are the country's biggest comedians? Victorians (66%) believe it or not.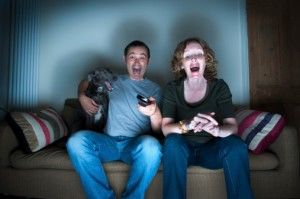 What do we collectively think about reality TV? You can hardly avoid the latest singing, dancing or dating shows whenever you take a load off. Well, a whopping 78% of Aussies have had enough, declaring there are too many shows of this type on TV.
But OMG did you see what happened on Big Brother last night? (jks)
How much TV is too much?
But the time we spend watching TV is no laughing matter. According to the Australians Bureau of Statistics, Aussies spend one month a year sitting down watching the box, compared to only half an hour of physical activity.
This is probably a good time to mention that two thirds of adults we spoke to said they would rather spend an evening at home watching good TV than going out.
A quarter of respondents told us they have vowed to cut back on the amount of TV they watch, and 69% of them were successful in doing so.
So when we park ourselves in front of the TV for an average of 13 hours a week, what do we like to watch the most? Well, apart from comedy, drama, news and documentaries, it turns out we also enjoy a good thriller, mystery, and historical shows. Oh and we're also dead keen on sports.
Comedy shows were most popular amongst Gen Y and Gen X viewers, while Baby Boomers prefer to catch up with the day's news.
You might say there are some fairly predictable differences between the sexes, with men far bigger fans of sports, news and historical shows, while women clearly prefer their dramas, romance and reality TV.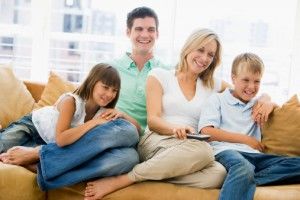 But what about our favourite free to air networks?
Seven (58%)
Nine (48%)
ABC (45%)
Ten (44%)
SBS (30%)
While Channel 7 came out on top overall, it's worth pointing out that Channel 10 was the first choice of our Gen Y respondents, while the ABC was very popular with Baby Boomers.
Whatever channel or type of show we enjoy watching the most, almost half of our survey respondents told us that gathering round the TV is an important bonding ritual for their family.
If you're looking for a new TV to enjoy watching your favourite shows on with your loved ones, you might want to check out our latest Televisions ratings to see which brands are exciting consumers most.
Around two thirds of Aussies believe the quality of Australian free to air TV is good, while 68% told us they tend to flick through channels when the adverts are on, and 4 out of 5 think it's annoying when TV shows don't stick to their advertised scheduling time.