Aussie 4WD drivers love their rally driving because they love an adventure and they love a hot contest. We've racked up a list of some of the biggest and best 4WD rally driving competitions in Australia. You can also ask your local 4WD or rally driving club about joining their events during the year.
Competitions cost anywhere from $150 to $5,000 and upwards. Most competitions require that you have a GPS so you can reach the necessary GPS points, essential recovery equipment for your vehicle (snatch strap, tow point), and food and water for the day's driving. You won't usually need any extra modifications to your vehicle, but some comps are specific to certain types of vehicles.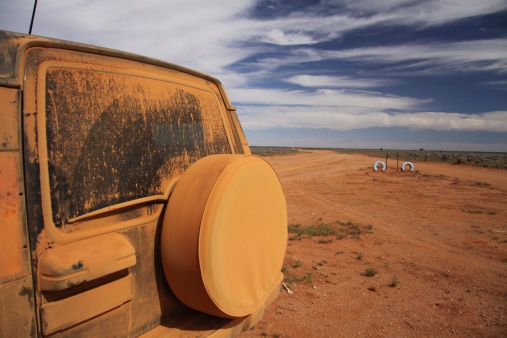 National championships
Australian Rally Championship (ARC)
Started in 1968, the Australian Rally Championship is a national rally competition run by ARCOM (Australian Racing Commission) and sponsored by companies including Channel Ten, Coates Hire, and Polaris Off-Road Vehicles. They have their own YouTube channel (EngineBlockTV) where you can watch videos of past races, an Instagram account with amazing photos of individual racing moments, and their honour board of past champions (here).
The ARC has different rally groups for each state, listed below. You can take a look at their 2015 season of events here, then call 0467 871 796 or email admin@rally.com.au for more information.
Australian Off Road Championship (AORC)
The Australian Off Road Championship is held over a different venues in each state, listed below.
Queensland
International Rally of Queensland (ARC)
This Queensland rally, known as IROC, centres around the Kenilworth and Imbil State Forests and covers many different races at varying levels of driving expertise. Race headquarters are in sunny Caloundra. Supported by Tourism and Events Queensland.
Australian 4WD Action
These guys post regular updates for amazing upcoming 4WD rally competitions on their Facebook page and their website, from the Polaris Competition to Skamper Campers. Our favourite was the Cheap Truck Challenge that starts at Landcruiser Mountain Park and ends at Teewah Beach, Queensland. The trip is only open to 4WDers who have bought or built their truck for less than $5,000. From the homebuilt chassis to the second-hand headlights, we look forward to seeing a few more dints added over the course of this run!
NSW
TLCC 4×4 Willowglen Challenge
The TLCC 4×4 Willowglen Challenge is held in NSW over the October long weekend every year. More than 20 teams of 4 cars are registered every year from various 4WD clubs. The weekend concludes with the epic Mud Hole. Entry opens in July 2015 and the event is run by the Toyota Land Cruiser Club of Australia.
Rally NSW
Rally NSW runs four main races each year: Techworkz Development Rally Series ("DRS"),Hyundai Rally Series ("HRS"), Pacenote Rally Series ("PRS") and NSW Rally Championship ("NSWRC"). The DRS/HRS combined are an amateur-friendly series that runs on Saturday afternoons and evenings. The entry is cheaper, regulations are less strict, and the focus is on having fun and building your skill level. NSWRC is the next step up, and PRS is a series for experienced drivers.
Rally Australia (ARC)
Held at Coffs Coast, the Coates Hire Rally Australia is a separate race to the WRC happening over the same time period. Supported by the NSW government and Coffs Harbour City Council.
Victoria
4×4 ORC (Offroad Clinic) Handicap Navrun
Navrun is a yearly contest run in September in Erica. It started in 2002 and with over 100 events run to date, they are the most experienced 4WD competition directors in Australia. One vehicle per team, and you can bring anyone you want, from professionals to your kids. There is a zero alcohol tolerance for all competitors during the event.
Mildura (AORC)
The Mildura AORC race happened in April 2015 with great success. The track ran 55km west of Mildura at Lake Cullulleraine, running through Keera Station, which thoroughly tested man against the elements. Camping and cabins was available at the Lake for competitors.
South Australia
Scouts Rally SA (ARC)
Held in October 2015, the Scouts Rally SA is a sprint event. This rally is run by Scouts SA, an organisation that prepares young people for business and community leadership. Competitors can get a free entry by doing fundraising for the rally's official charity – in 2015, this is the Childhood Cancer Association.
Waikerie (AORC)
The Waikerie Riverland Off Road Association holds the Waikerie race over the July long weekend. Located two hours east of Adelaide, the Riverland area boasts much more to see and do than just the races, so you might want to book a longer stay.
Western Australia
Australasian Safari
2015 marks the 28th anniversary of this Aussie endurance adventure, which began in 1985 as the Wynns Safari. The Australasian Safari showcases the incredible diversity of WA and tackles many different geographical challenges in one long-distance race. It comes in two modes: the Adventure Tour dirt biking off-road race, and the Dakar Challenge 4×4 rally for amateur or young drivers. Supported by Tourism Western Australia.
Quit Forest Rally (ARC)
Quit Forest Rally is an event in Busselton run by the West Australian Car Club Inc. Because of its sponsorship by Quit, this is a smoke-free and sun-safe event. This race has the lowest entry fee in the ARC, thanks to significant sponsorship by Healthway and the Quit Smoking campaign, the City of Busselton and Tourism Western Australia.
Northern Territory
Finke Desert Race (AORC)
The Finke Desert Race is an annual off-road motorsport event held out of Alice Springs for everything from cars and bikes to buggies and quads. There's a lot you need to know for this race, from fire safety in the desert (keep an eye on your campfire at all times) to respecting the privilege of traveling over traditional landowners' properties. The Girl Guides are present at the event to make sure everybody takes home their rubbish so that our wilderness remains free of manmade trash.
Tasmania
Targa Tasmania
It might not be strictly "off road" since this is a tarmac rally on closed roads, but this competition is worth a mention as one of the most expensive rally competitions in Australia. The April 2016 event marks the 25th anniversary of Targa Tasmania. Supported by Events Tasmania.
ACT
National Capital Rally (ARC)
The National Capital Rally is held in May each year. Equally exciting, if you volunteer to help out at any of the events, you'll be given a private spectator point for the duration of the race. Check out the video below from the 2013 race to see how not to tackle the infamous Mineshaft point.
Other places to find event listings
Off Road Racing Australia keeps a listing of all of the 4×4 events for the year with useful info, including maps of where the comp will be held and contact details to join in.
4WD TV shows up at a bunch of 4×4 events over the course of the year, and you can find out when and where they'll be on their website.
The 4WD Guys have a great list of competitor and spectator events here.
4WD adventure parks
Want freedom to roam in a crazy environment while staying near enough to help if you need it? Have you always wanted to go further but not sure your own truck is up to the challenge? You might want to visit a dedicated 4×4 adventure park or go on a guided safari.
Options include:
4WD exhibitions, shows and other comps
There are stacks of 4WD exhibitions and shows out there for you to check out other 4×4 clubs, see some spectacular stunt driving, and grab some bargains on the best gear and truck accessories. One of these exhibitions is Raw 4×4's Adventure Shows, with shows in Sydney and Perth in 2015.
The internet boasts endless free comps you can enter to win truck accessories, boats and fishing gear, or guided 4WD safari trips, including the Ultimate Escape by 4WD Touring Australia.
Then there are a stack of rally driving competitions where you can go as a spectator and cheerleader for the teams competing. But if you look through our list of competitions you could drive in yourself, would you really settle for just cheering?