We love our Dads, but let's face it – mums are a lot easier to shop for! Dads are funny creatures; they argue that if they wanted something, then they'd have already bought it themselves, and if they don't have it then they probably don't need it. While you can usually satisfy Mum with flowers, candles or a nice bath bomb, Dads are likely to look at you twice for this sort of stuff. They often want something a lot more mundane, but highly practical, like a beanie with a torch built in to it. We know Father's Day is not until the 4th of September, but it might help to start thinking about gifts now.
It's often easiest to settle for some ties, undies or socks from the department stores, but what you might not have thought of is your local auto store.  If you're a newcomer to these shops, you'll realise they seem to be organised in the strangest way. Buying online is much easier and convenient for a gift for Dad. We found five cheap gifts you can pick up for the Dad who already has it all.
Who's your Daddy?
In 2013, Supercheap Auto won our Canstar Blue customer satisfaction award for auto stores, and it's no wonder when they have so many gift ideas for every type of dad. They surveyed Aussie dads in 2013 asking whom they most identified with:
Home handyman Scott Cam from The Block: 28%
Tim the Toolman Taylor – all the gear, no idea: 15%
Self-proclaimed geek David Koch: 10%
Gadget-loving prankster Phil Dunphy from Modern Family: 10%
Joker dad Karl Stefanovic: 10%
51% of dads said they preferred a practical present, and 10% wanted a tool for the shed, while another 10% said they would love a gag gift. 1 in 3 even said the essential socks, jocks and ties were a still good option because they forgot to buy these for themselves. It's entirely possible those socks and undies are bearing holes and are over two years old.
What category does your Dad fit into? Buy something along the lines of his alter ego. You can browse Supercheap Auto online or at your local store. They are sure to have something for every alter ego.
1. LED work light (SCA), $15.99
This handy LED light has a hanging hook so you can rig it up above the barbie when you're grilling after sundown, or above the workbench. This torch eliminates that argument, and will shine the beam perfectly into any nook and cranny your Dad so desires. This could include engines, under the car or in the shed looking for that mysterious widget. This is perfect for the Dad who only gets time to do things after sundown, or one who likes working in the garage.
2. Jumper leads (SCA), 400 Amp, 3m, $24.98 to $34.98 each
No one ever plans on a flat battery, but you can help your Dad be prepared. This size is suitable for small to medium 4-cylinder cars. For vehicles with higher Cold Cranking Amps (CCA) such as 6-cylinders or 4WDs, you'll need the 750 Amp version ($110 set); and motorbikes need the smaller 200 Amp version ($31.98 each). You can also get an intelligent version that tells you when the battery is fully charged.
A great gift for the Dad who gets frustrated quickly, to make sure he'll never be stranded for long… also the one that doesn't like relying on roadside assistance. They are also a great gift for the Dad who likes to help out whenever he sees someone stuck on the side of the road.
3. Camping chair (Ridge Ryder Kimberley), $28
Perfect for the Dad who likes to sit down with a rod and reel, or the dad who likes a bit of bush bashing or beach camping… or simply sitting out on the back verandah watching the sun go down with a tinny in-hand. Help him relax around the campfire in style with the fully padded seat and backrest and a VB in the built-in cup holder. This chair has a strong, steel frame suited for up to 175kg, so even if your Dad has had too many barbecues and beers over the years, this chair is surely sturdy enough to hold him.
4. Gator 4.3" Rear View Camera System – $219.95
As a kid, you were probably made to get out of the car and help your Dad sight to reverse the trailer as it slowly ambled down the boat ramp. If your Dad has recently bought a new boat, car or trailer and isn't yet used to its blind spots and length, having this camera handy could save you and your Dad a headache, or worse still, a trailer ending up in the river! This could also work for a large trailer, caravan or horse float, for those Dads who love getting out on the land on a weekend. Your Dad just might enjoy using this easy-to-attach rear view camera and display. This takes over your job of waving him back slowly and saying "Little bit, little bit, STOP".
5. A Gift Card
We know you're rolling your eyes right now, as gift cards are often a cop out. That is, for anyone but your Dad. Dads love the practicality and flexibility of a gift card. This way, if they are already thinking of getting something, they can march straight into the store, or look it up online and buy it faster than he can make the lamest Dad Joke. You can also purchase e-gift cards, which can be sent straight to their email account making it even more convenient! As Supercheap Auto says, "If it's all too hard, get them a gift card". Gift cards may be the taboo area of gift giving for your Mum, but Dads are sure to love it.
And when in doubt…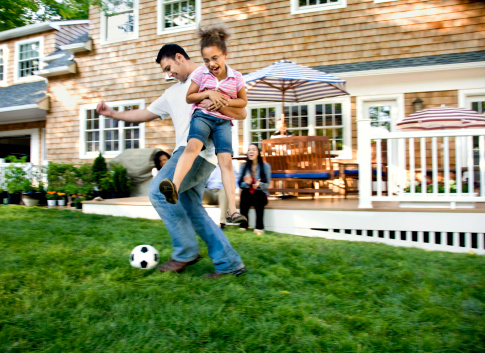 Just ask him what he'd like! Most Dads can name at least one item that could add to his happiness. He'd rather you ask so he knows exactly what he's getting and can get excited for it, rather than you buying the XYZ doo-hickey and later realising he already has that said doo-hickey.
But remember that you don't need to break the bank to make Dad feel appreciated. The most memorable gifts are often related to an activity you can do together. 40% of Aussie dads told Supercheap they think the best gift is quality time with the family. So, maybe get a gift that's the best of both worlds – good for him, and something that you can bond over.