The BMW i3 hatchback has over the years established itself as a mainstay of the BMW 'i' brand, with the release of upgraded i3 and i3s models towards the end of 2018 – powered by a new generation of high-voltage batteries – enhancing the line's capabilities and introducing a number of new features.
Originally launched in 2013, BMW had upon commencement of the i3 series production hailed its entry into "a new era in automotive construction", with the i3 bringing together emissions-free driving and a range of smart features, and built with a focus on sustainability and resource efficiency.
Upon the introduction of the new-generation i3 and i3s last year, BMW noted that since market launch the storage capacity of the i3's battery has doubled – and, with the new models having landed in the Australian market, an enhanced driving range and fast-charging capabilities are among the headline features.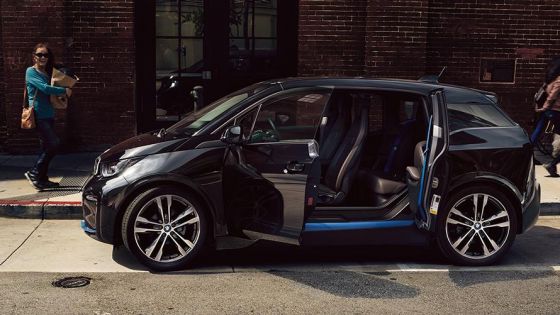 BMW i3 & i3s 2019
BMW took the wraps off its BMW i3 120Ah and BMW i3s 120Ah in September 2018, sporting new-generation batteries with a 120 Ah cell capacity and a gross energy content of 42.2 kWh, advising that in everyday use the two models are able to cover a distance of 260 km.
The enhanced driving range represents an increase of almost 30 per cent over the previous generation, while the size of the battery, installed deep in the floor of the vehicle, remains unchanged.
The new models also see the introduction of a new body finish, the option for adaptive LED headlights, optimised controls and connectivity, including an optimised menu display for the iDrive operating system, and the option for wireless mobile phone charging with compatible devices.
Further detail on the range of i3 and i3s specs can be found below.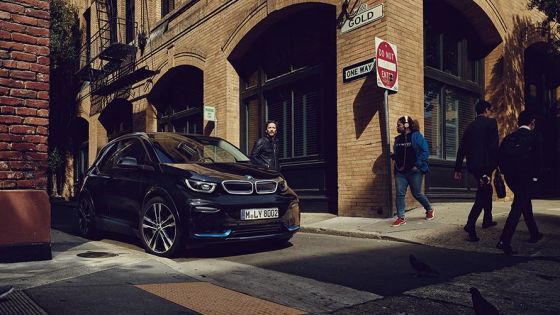 BMW i3 & i3s Review: Battery evolution key to electric future
Driving range is, of course, a priority consideration for consumers weighing up the pros and cons of an electric vehicle, and the enhanced capabilities of the current-generation i3 and i3s, in conjunction with a range of charging options, are a significant upgrade for the line.
As battery technology continues to evolve, manufacturers are developing increasingly capable vehicles sporting ever-improved specs, and BMW points to the integral role its high-voltage batteries play as part of its eDrive technology, utilised in its i3 and i3s, and across its range of BMW i vehicles.
Meanwhile, BMW advised this year that it is expanding its range of electric vehicles, with it planning to offer five fully electric series production vehicles within two years, and at least 25 electric models (half of which will be fully electric) by 2025, as part of its global electric initiative.
Like many manufacturers, BMW is positioning itself to cater for future electric mobility – and, while the Australian market is still in its very early stages, the enhanced capabilities of the i3 and i3s will doubtless provide further incentive for those considering going electric.
BMW i3 & i3s Pricing
The BMW Australia website lists the following recommended drive-away prices for the following postcodes:
| Postcode | BMW i3 | BMW i3s |
| --- | --- | --- |
| Sydney (2000) | $74,789.30 | $76,049.30 |
| Canberra (2600) | $72,301.00 | $73,501.00 |
| Melbourne (3000) | $75,755.90 | $77,018.30 |
| Brisbane (4000) | $73,302.15 | $74,526.15 |
| Adelaide (5000) | $74,682.90 | $75,930.90 |
| Perth (6000) | $76,407.22 | $77,731.14 |
| Hobart (7000) | $74,662.89 | $75,910.89 |
| Darwin (0800) | $73,960.30 | $75,196.30 |
Source: BMW, May 2019.
Further information on the breakdown of pricing can be found via the BMW Australia website, along with local dealership contact details.
BMW i3 & i3s Specs
Equipped with BMW's fully electric eDrive drive train, the i3 and i3s feature:
| BMW i3 | BMW i3s |
| --- | --- |
| 0 to 100 km/h in 7.3 seconds | 0 to 100 km/h in 6.9 seconds |
| 125 kW power | 135 kW power |
| 250 Nm torque | 270 Nm torque |
| Real-world driving range of up to 260 km | Real-world driving range of up to 260 km |
Source: BMW, May 2019.
BMW advises that a low weight and low-lying centre of gravity boost agility and range, with intelligent energy management delivering flexibility and efficiency in city traffic and on longer trips.
Other notable i3 and i3s features include:
Navigation System Professional with iDrive 6 – including an iDrive touch controller, high-resolution, built-in 10.25-inch colour display, 3D map view and an integrated hard disc for navigation, including 20 GB storage for audio files.
Instrument cluster – a 5.7-inch digital colour display, which displays a range of information.
LED lighting – including headlights and daytime running lights, turn indicators and interior light elements in the front, rear and luggage compartment.
Safety and driver-assistance features include:
Six airbags – encompassing an airbag for the driver and front passenger, front airbag integrated in the steering wheel hub and instrument panel, curtain airbags and side airbags.
Central locking – with an electronic immobiliser.
Dynamic stability control – with an anti-lock braking system, brake assist and cornering brake control.
Driving Assistant Plus – a camera-based system consisting of active cruise control with stop and go function, speed limit information, forward collision warning and pedestrian warning.
Meanwhile, the i3s additionally features:
Driving Experience Control, including Sport mode – with sport steering, sport suspension lowered by 10 mm and new traction control.
Parking Assistant – making it easier to park in spaces parallel to the street, parking automatically.
20-inch BMW i light alloy wheels – along with sport exterior design elements on the front bumper, and A-pillar and roof trims in black high-gloss.
BMW describes the exterior of the i3, which features dual-colour painted surfaces and short projecting edges, as communicating "sportiness from the very first glance", with coach doors providing entry to a "unique and spacious interior", decked out with four seats.
The i3 and i3s are available in six colours: Capparis white with highlight BMW i blue, fluid black with highlight BMW i blue, imperial blue with highlight frozen grey metallic, mineral grey with highlight BMW i blue, Melbourne red with highlight frozen grey metallic and Jucaro beige with highlight frozen grey metallic.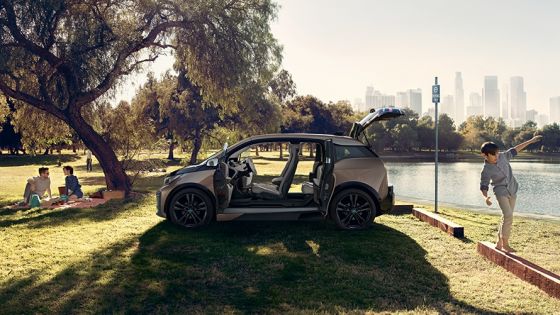 How do you charge the BMW i3 and i3s?
BMW advises that the i3 and i3s charging cable allows for battery recharge employing a conventional household socket, with the 5 m cable providing maximum power of 1.8 kW, and stowage provided in the cable box underneath the engine compartment lid.
The i3 and i3s are equipped with a Type 2 CCS charging socket, delivering up to 7.4 kW 1-phase AC, 11 kW 3-phase AC and 50 kW DC charging capabilities, with BMW additionally offering its i Wallbox, i Wallbox Plus and i Wallbox Connect residential charging equipment.
BMW advises that, using an i Wallbox Plus, the models can charge 80 per cent of the battery in approximately three hours, while the BMW Australia website features a calculator, allowing users to calculate how quickly they can charge at home via the i Wallbox Plus and a household power socket.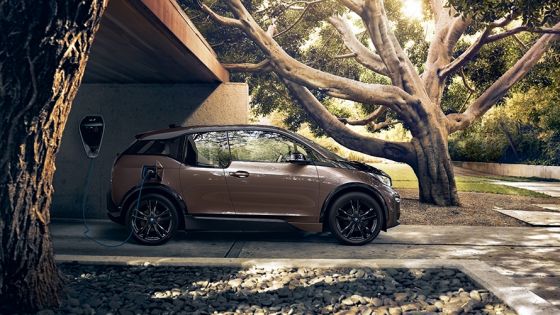 BMW i3 & i3s Ratings
The i3 and i3s have received generally favourable ratings over the years, and it is worthwhile assessing local reviews of recent models in gaining an understanding of what is on offer from the line.
A range of features have been maintained and have evolved across the different generations of the i3 and i3s, and previous reviews provide insight into what can be expected from the most recent models.
Of course, it is worthwhile keeping in mind the additional features that come with the latest-generation models, with the upgraded battery technology and enhanced driving range key features to consider.
Are the BMW i3 and i3s worth the money?
The i3 and i3s carry a price tag very much above entry-level electric vehicle pricing, and may well appeal to consumers who are keen to go electric and who are seeking a more premium driving experience.
The additional driving range offered by the most recent models could be the incentive needed for consumers who fall into this bracket and, sporting a unique, compact design, the i3 and i3s may well appeal to city-based drivers seeking an electric vehicle to tackle the daily commute.
Consumers weighing up purchase of the i3 or i3s should also keep in mind the long-term value provided by an electric vehicle, anticipated running costs over the term of ownership and the cost of any additional charging equipment that may be required.