About Holden Hatchbacks
Holden has been an iconic Australian brand for over 150 years, starting out as a saddlery business in Adelaide in 1856. It seemed like a natural progression for James Alexander Holden's business to move from saddles, to car upholstery, to full scale production of vehicles. His business was moving with the times and the changes in transport.
In 1924, Holden became the sole Australian supplier for General Motors, and was also making tramcars for the city of Melbourne. Holden and GM merged in 1931, running operations from Fisherman's Bend in Port Melbourne.
During World War Two, Holden continued making vehicle bodies, and added weapons, aircraft and engines to its production. After the war, things returned to normal, and the company also began making car bodies for Buick, Chevrolet, and Vauxhall.
The iconic Holden FX was unveiled by PM Ben Chifley in 1948; it was the all-Australian motor vehicle, a family sedan that was robust and built for Australia.
From the 50s through to the end of the 70s, Holden dominated the Australian market, introducing the FJ in 1953 and the Commodore in 1978. The company fell on hard times in the 80s along with the rest of the automotive industry, but still managed to release three new Commodore models, and reclaimed its lead in the industry by the end of the decade.
This was the end of the glory days for Holden, as their share prices and success have fallen slowly since the 1990s. While they currently remain in Australia, local operations are set to wind down in 2017, marking the fall of an iconic Australian brand
Their Hatchbacks
The Holden hatchback range consists of eight models:
Barina Spark
Barina CD
Barina CDX
Barina RS
Cruze Equipe
Cruze SRI
Cruze SRI-V
Astra
The design of the hatchbacks range from sporty to sophisticated and you really do have a lot of options with Holden, so you can find the hatchback that is just right for you.
While a long list could be made of all the different features you can get in your Holden hatchback, the most important feature has got to be safety. Holden is big on safety, and have packed as many features as possible into their little cars.
All hatchbacks have 6 airbags, electronic stability control (so you never lose control), anti-locking brakes, traction control system, and high ANCAP safety ratings on all models. These cars look good, but these safety features that come standard across all models make them look even better.
There are loads of optional extras that come along with the various Holden hatchbacks, so see their website for more details and to compare hatchbacks.
Other hatchbacks we rated
Canstar Blue commissions Colmar Brunton to regularly survey Australian consumers across a range of categories to measure and track customer satisfaction. The outcomes reported are the results from customers within the survey group who had recently bought a hatchback.
The other brands in this year's survey are:
Ford
Honda
Mazda
Hyundai
Toyota
Volkswagen
About the author of this page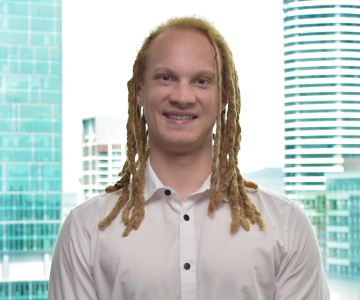 This report was written by Canstar Blue's Content Projects Lead, Dean Heckscher. He's our resident expert on all things automotive, health & fitness, streaming and more. Dean is also one of Canstar Blue's customer research report producers, helping to turn complicated subjects into easily-digestible information for our readers. He's passionate about helping consumers make better-informed purchase decisions on all manner of consumer goods and services.