Dash cams seem to be everywhere you look these days. You only need to fire up the nightly news and one of the leading stories will be about 'dangerous truckies caught on dash cam footage' or 'drunk driver ousted by dash cam' and so on. Though, there's a bit more to dash cams than selling footage onto hungry newsrooms. Dash cams can come in handy for various reasons other than entertainment purposes. Read on to find out why dash cams are important, as we review some of the best products on the market.
What is a dashcam and why are they important?
The beauty of dash cams is that they are rather simple devices. Dash cams – or 'dashboard cameras' – are small cameras stuck atop your vehicle dashboard that continuously record what's happening beyond the comfort of your own cabin. This footage is usually stored onto a memory card, which can then be ejected and reviewed when you need the footage. Other features include:
Recording of speed, GPS location, time of day, date etc
Recording in 1-3 minute segments for ease of playback
Some cameras have automatic zoom to record escaping perpetrators
G-Force sensors can sense an event even when the car isn't running (e.g. if you are parked at a shopping centre and someone backs into your car and drives off, you'll likely have footage)
With the popularity of dash cams on the rise, Canstar Blue surveyed about 2,000 Aussie motorists on driving habits. The results may provide the answer as to why dash cams are so popular: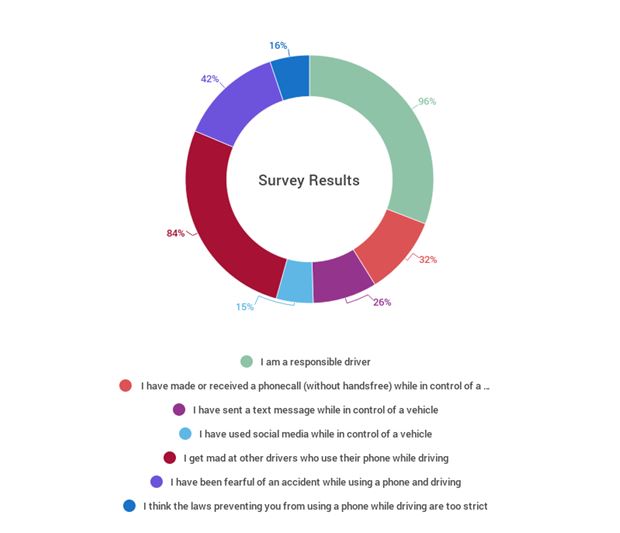 While these results may not surprise some people, it will shock many others about how much of a plague inattention is on our roads. The overwhelming majority of survey respondents believe they are responsible drivers, yet a large portion uses their mobile phone in some capacity while driving. This gap between driver self-awareness and bad habits can be alarming. Though, unfortunately, it only gets a bit more unsettling if you're a cyclist sharing the road with motorists: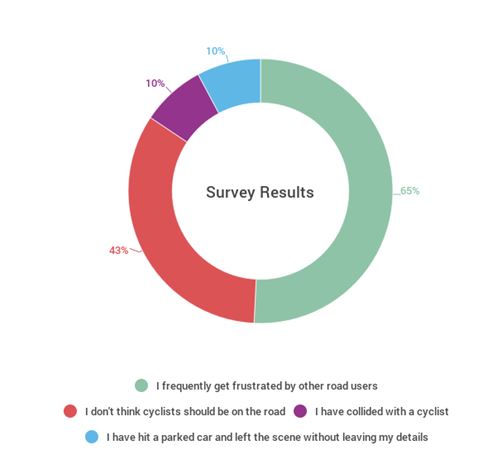 The oft-held belief that cyclists shouldn't be on the road, combined with the high likelihood of road rage means, that cycling to work can be a battleground. Also alarming is that 200 respondents have collided with a cyclist – you could assume that for every 10 cars you pass on the way to work, one has possibly had a run-in with a cyclist in the past. It's a hairy situation, but that doesn't mean that cyclists are always innocent. Accidents with cyclists often result in heated arguments, and deciphering who's at fault can be tricky.
Can dash cams help with insurance claims?
In the event of an accident, proving who is liable can be made much easier with a dash cam. A lot of motorists have realised this, and some even have two or more cameras installed in their car to cover various angles! Dash cams make dealing with insurance companies easier, and it can allow them to process your claim quicker because they have access to handy footage, but it doesn't guarantee a successful claim.
Dash cams and insurance
Dash cams provide an insight into the accident from the driver's perspective and insurers will accept this as a piece of evidence when assessing the claim. The dash cam will only make up one piece of the evidence due to it only showing that one perspective. Therefore it can assist in a successful claim, however just because you have dash cam footage, it does not guarantee a definitive success. In the UK, insurers offer discounts to consumers who are using a dash cam. This goes to show that it is a positive having a dash cam as it would remove a lot of guess work and trust issues from the insurer's side if there are conflicting arguments about what actually happened.
Meanwhile the RACQ states: "If it gives you peace-of-mind to capture additional information that may help your claim, then go ahead and get one."
Finding the right dash cam
Purchasing a dash cam can be a valuable investment, so we've compared some of the top dash cams on the market today. If you've decided to load your car with a dash cam or two, read below for a review of popular products.
At a mid-range price, the DOD packs a punch. It boasts on-video time and date stamping, a heads-up display (HUD) for features like GPS and speed, motion detection, and automatic loop recording. All of these factors make for an easy, fuss-free dashcam experience. Additionally, the DOD's 1080p HD video recording makes deciphering details in videos a breeze. Impressively, the DOD also features G-Sensor technology, which automatically stops the loop of recording and saves surrounding video clips should the dash cam detect a collision. This ensures those vital seconds of footage won't be overwritten, and your insurance claim could be easier to process with the right footage. The DOD is a great mid-priced option with a suite of nifty features you'd want in a dashcam.
The MINI is a viable contender for your money if you're on a budget. It features a wide dynamic range, with a viewing angle of 120°. This ensures you'll capture a wide plane of what's happening in front of you, and this could give you evidence of:
What happened in the lead up to an accident
How the accident occurred
What happened immediately after
The MINI also features a built-in GPS, motion detection, G-sensor, and parking mode. As mentioned earlier, parking mode enables you to capture any footage while parked with the car off. This is especially handy for those annoying shopping centre hit-n-runs. Overall, the MINI, while somewhat limited in features, has everything you need for peace of mind with a budget price point.
Coming in at the high-end of the market, the Blackvue has a suite of features that may tempt you into spending a little more on your dash cam. It comes with both a front and rear camera. It is both Windows and Apple compatible for video processing purposes, and also links up with a smartphone app where you can easily manage all settings, download footage and view a live feed through the cam's in-built Wi-Fi. As well as this, the camera barrel is fully rotatable, which allows the camera to discreetly sit behind your rear-view mirror. Not only does this eliminate distraction for the driver, it also enhances the camera's view of the road. If you're looking to go high-end, then the Blackvue is a strong contender and is a popular choice among dashcam enthusiasts.
What's the verdict on dash cams?
Until recent years, not many everyday drivers had dash cams installed, or saw the importance of them. Most of the time, you only saw them on police and emergency vehicles. Though, since people have realised that it can be handy to have one on board, the market has exploded and there is a choice suited for nearly everyone.
Their first and foremost purpose is for accurate recording of traffic accidents. Having a dash cam record your incident can mean the difference between getting the number plate details of a hit-n-run driver, and paying the excess on insurance because the culprit could not be found. Dash cams are your 'eagle eye' while driving, and can be a powerful tool in the case of a crash.