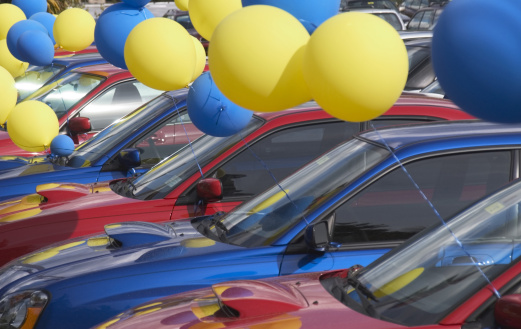 You've got your driver's license, you've saved up some money, you're ready to hit the road. Well, just as soon as you buy a car, anyway. If you are looking to buy a second-hand car, here are a few tips to help make the process a little bit easier.
Oh, and whatever you do, don't make an emotional decision. It's easy to get a bit carried away, especially when it's the first car you've bought. But if you just pick the first one you like without shopping around, you'll probably regret it. That's why we recommend that you take someone more experienced with you whenever you go to look at or buy a car.
Check the Personal Property Security Register online or by phoning 1300 007 777, to make sure that the vehicle you're buying is not stolen, has no money owing on it, and has not been written off in an insurance claim. For extra peace of mind, you can get a Car History Report. Private sellers aren't regulated like dealers are, so you don't have as much legal protection for these types of sales.
Does the number of kilometres on the odometer match the car's log book if it has one?
Pick a safe car. Take a look at RACQ's Used Car Safety Ratings (UCSR).
Take it for a test drive.
Check the safety certificate. It must be current and have sufficient time remaining so that it will still be current after the sale when you can get the car registered in your name.
Get a safety inspection – a "roadworthy" – from an independent, qualified mechanic before you buy it. A safety certificate or Statutory Warranty isn't enough. Put it in the contract that the sale is conditional on the inspection, so you don't have to buy if the car doesn't pass or you are not satisfied with the report. You don't get a warranty from a private seller, so you want to be sure it is in the best possible condition. You can get a safety inspection from RACQ or any other independent, qualified mechanic.
In Queensland, a used car has a "3-month or 5,000km" statutory warranty if you buy it from a licensed dealer or a licensed auctioneer. The car must be younger than 10 years old and the odometer reading must be less than 160,000km. There is no statutory warranty when you buy from a private seller.
Any agreement must be in writing to be enforceable. Get a copy of the contract and the safety certificate.
If you buy a used car from a licensed dealer, there is usually only a cooling-off period of 1 day after signing the contract, during which time you can still cancel the contract. If the contract does not mention a cooling-off period, then the statutory cooling-off period is 7 days.
Buying at an auction is cheaper but you don't get a warranty, a chance to test drive it, a safety inspection, or a cooling-off period.
For more information, read the Office of Fair Trading's page on what to look for when buying a second-hand car. It even tells you how the brake pedal should feel when you press it!
You may have this car for quite a while – make it a good investment.