Driving can be a unique joy, but is also fraught with unavoidable risk. That being said, the future is bright for new car safety features, as we discovered in the latest round of Canstar Blue Innovation Excellence Awards.
Let's take a look at some of the automotive products that aim to keep you safe on Aussie roads.
NUVIZ Ride:HUD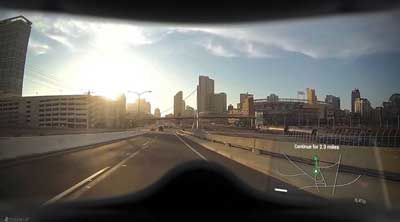 When you take up motorcycling, you need to make certain sacrifices. For example, say goodbye to air conditioning, and chatting with others while you drive, or even (comfortably) using a GPS. NUVIS has taken steps to bridge this gap.
The Ride:HUD is a 'heads up display' unit housed on your motorcycle helmet. It displays things like your speed, your location on a GPS map, and directions – all shown on your visor as if it's hovering right in front of you! It can be operated by remote control to change music, and it can spot weather systems that may other impact your glorious Sunday ride. All of this runs in sync with an application on your smartphone.
What we really like about this product is that you no longer need to look down at the speedo, or pull over to check where you are. The Ride:HUD keeps your eyes on the road, where they belong.
Bosch Back Over Avoidance System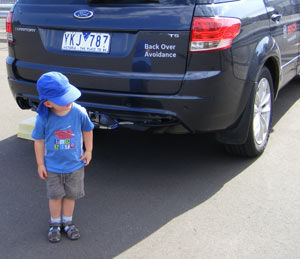 Using radar and ultrasonic sensors housed to the rear of your vehicle, Bosch's back over avoidance system is rather simple. If there's a small object behind your car, it'll detect it, and apply the brakes automatically if you do not. The system was designed by a group of Australian engineers whose aim was to reduce the number of deaths on driveways.
Especially interesting is that the system can distinguish between humans and miscellaneous objects, so it won't prevent you from leaving the driveway if you've neglected to clear the leaves and twigs out of the way. It's a sweetener for any new car purchase, and a comfort to any family who has kids that play in the front yard.
MyKey by Ford
Understandably, teenagers tend to get quite excited about their provisional license, and so they should – getting that 'plastic' means both independence and freedom.
But provisional drivers are typically not nearly as experienced, and sometimes not quite as responsible, as those on their open licence. Ford developed the MyKey to encourage young drivers to use their vehicle responsibly.
Essentially, Mum or Dad gets a key, and your child gets a key. Theirs can be programmed to employ a set of rules, such as:
The sound system is muted when the seatbelt isn't buckled.
The sound system volume cannot be raised to maximum output, to minimise distractions.
Speeds can be limited up to 130kmph, and as low as 100kmph.
Electronic stability control and the emergency assist cannot be disengaged.
While it's unlikely that something will come along and completely mitigate any danger your child may face on the road, the MyKey gives you a certain measure of control to enforce good driving behaviour.
Suburu EyeSight Technology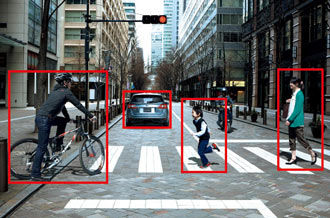 Unexpected things happen quickly on the road, and it pays to have a second pair of eyes searching for danger ahead. Happily, those eyes are built into your windshield if you buy a Subaru.
Two cameras are programmed to scan the road (up to 80 metres ahead of your car) using advanced object recognition software. Subaru EyeSight will flash warning lights and sounds if it detects anything considered dangerous (e.g. a person, an obstruction). In the event you do not respond to these warnings, or the danger doesn't recede, it will apply the brakes for you, or throttle down. It can also provide steering assistance, if the situation calls for it.
Not only has Subaru has given you another set of eyes on the road, but also a little extra muscle.
Volvo IntelliSafe System
IntelliSafe is Volvo's answer to utilising radar technology to solve multiple problems. Using this technology; you can avoid small bumps when parking, scraping other cars when changing lanes, and potentially nasty frontal collisions if a car in front unexpectedly changes speed.
Volvo's active and passive safety systems consists of a series of radar sensors built into the body of your car – all around it, in fact. With these, it can perform a number of functions to protect you from harm:
Adaptive cruise control: Has that car in front of you decided to drop his speed by 10kmph? Your Volvo will moderate your car's cruising speed accordingly, without any necessary input from you.
Lane-keeping aids: Having trouble staying between the lines? Your vehicle will alert you if you need to take better control of your car.
Blind spot lights: Changing lanes? The blind spot lights will let you know if there's something lurking in the unseen corners behind your car.
Hands free parking: Are you a little shaky on reverse parking? Volvo will park the car for you – all you need to do is brake.
That's not all of them though! Check out the entire the Canstar Blue Innovation Excellence Awards here.