Normally, Australia Post will recycle their old postie bikes for parts and scrap metal, but this year they have done something different with them.
Rather than leaving the former electric-assisted bicycles to go to waste, Australia Post had them refurbished, and then gave them to charities that support refugees and asylum seekers.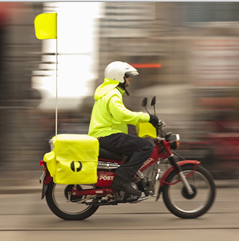 110 bikes were upcycled and given a new lease on life before being donated back in June.
These once old and work out contraptions were given a complete overhaul, getting new tyres, brake pads, and seats, as well as a polish to make them look like new.
All of the Australia Post logos were taken off, but there are still helpful carrier trays on the bikes.
The red bicycles are now in safe working order and are ready to be sent off to suburbs in Melbourne, Brisbane, and Adelaide.
To accompany the old postie bikes, the RACV has donated bike helmets, because safety is of the utmost importance.
Four charities will receive allocations of bikes and helmets; Melbourne's Asylum Seeker resource Centre (Footscray) and Springvale Community Aid and Advice Bureau (Dandenong), Brisbane's Romero Centre in Dutton Park, and the Bikes for refugees charity in Campbelltown, Adelaide.
While it may not seem like much to some, the bikes are a huge help to those in need, as they are an easier way of getting to work and essential medical and welfare appointments.
It is expected that this supply of upcycled bikes will last the charities through the next twelve months; hopefully there are more bikes to come for those who need them.