The Hyundai Ioniq Plug-In Hybrid hatchback brings together a conventional petrol engine and an electric motor, with the combination of the two technologies allowing for both electric and hybrid mode driving, and is decked out with a range of smart technology, connectivity and safety features.
The Ioniq Plug-In was originally launched in 2016 as part of Hyundai's Ioniq line (also including electric and hybrid options), with Hyundai describing its particular approach as delivering "an uncompromising design and driving experience through innovative technology".
The Ioniq Plug-In became available locally in 2018, adding further diversity to the evolving Australian electric vehicle market, and providing an additional option for consumers weighing up the range of new electric and hybrid vehicles on offer.
Hyundai Ioniq Plug-In Hybrid 2019
The Ioniq Plug-In is available in the Australian market in two different variants – the Elite and Premium – each sporting the same 1.6L petrol engine and electric motor technology, with the Premium coming with a number of additional features.
Hyundai states that the Ioniq Plug-In "combines the qualities of a conventional petrol engine with an electric motor vehicle", with it primarily using charge from the battery when driving in electric mode and capable of covering a range of 63km.
The Ioniq Plug-In's technology features include an 8-inch touchscreen multimedia system, with Android Auto and Apple CarPlay compatibility, plus its range of safety features include Hyundai's SmartSense technologies.
Further information on the Ioniq Plug-In's specs can be found below.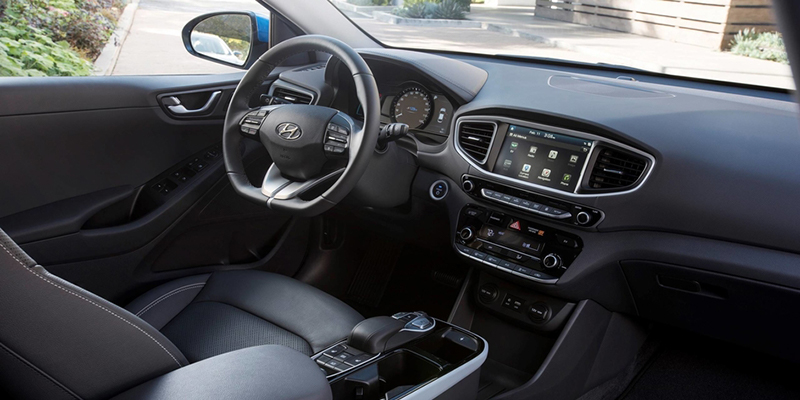 Hyundai Ioniq Plug-In Hybrid Review: Electric and hybrid in concert
Bringing together its petrol engine and electric motor technologies, the Ioniq Plug-In is designed to switch between driving modes, with Hyundai advising that when driven in hybrid mode it sports a combined system output of 104kW power and 265Nm torque.
When its battery is fully charged, the Ioniq Plug-In operates in electric mode by default, primarily utilising the electric motor, offering a driving experience similar to that of a pure electric vehicle, with the petrol engine only running if additional power or torque is required, such as when tackling a steep hill.
When used as a conventional hybrid electric vehicle, the Ioniq Plug-In draws on both the engine and the electric motor (and can utilise both at the same time), according to the level of power required.
Hyundai advises that hybrid mode automatically activates when the battery is depleted, or when sport drive mode is selected, with the vehicle driven primarily using the petrol engine power, with the electric motor providing additional assistance.
Hyundai Ioniq Plug-In Hybrid Pricing
The Hyundai Australia website lists the following estimated drive-away pricing for the Ioniq Plug-In when the following postcodes are entered:
| | Elite | Premium |
| --- | --- | --- |
| Sydney (2000) | $45,262.30 | $49,945.30 |
| Canberra (2600) | $44,154.40 | $48,654.40 |
| Melbourne (3000) | $45,196.10 | $49,880.90 |
| Brisbane (4000) | $44,657.80 | $49,247.80 |
| Adelaide (5000) | $44,979.90 | $49,659.90 |
| Perth (6000) | $45,435.51 | $50,472.06 |
| Hobart (7000) | $44,967.89 | $49,647.89 |
| Darwin (0800) | $45,078.30 | $49,713.30 |
Source: Hyundai, June 2019.
A number of additional accessories are available, with pricing dependent upon colour options, and a breakdown of pricing is available via the Hyundai Australia website, along with local dealership contact details.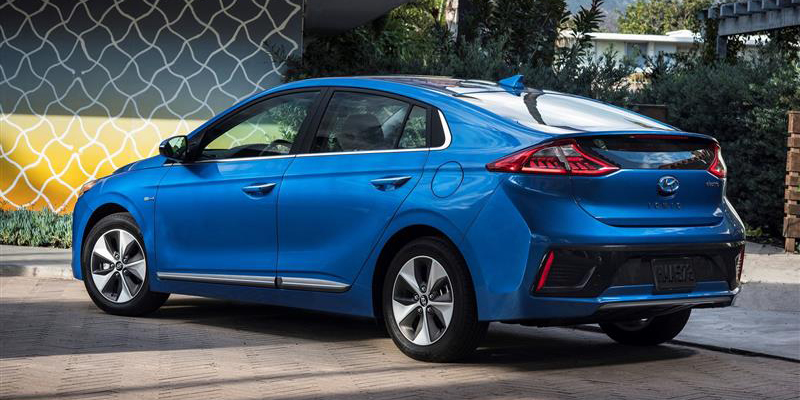 Hyundai Ioniq Plug-In Hybrid Specs
Hyundai describes its Ioniq line as "lively and responsive to drive", with the Ioniq Plug-In featuring:
A 1.6 L Atkinson GDi plug-in hybrid engine – with maximum power of 77 kW at 5,700 rpm and maximum torque of 147 Nm at 4,000 rpm.
Electric motor – with maximum power of 44.5 kW and maximum torque of 170 Nm.
Combined system output – maximum power of 104 kW and maximum torque of 265 Nm.
360 V lithium-ion polymer battery – with 8.9 kWh capacity.
Electric range – 63 km (ADR 81/02 and NEDC standard).
Hyundai advises that the Ioniq Plug-In's six-speed dual-clutch transmission is designed to provide "rapid feedback for a sporty and efficient driving experience", with one clutch operating odd-numbered gears and the other even-numbered gears, delivering "faster responsiveness and a more dynamic overall experience".
The Ioniq Plug-In's other noteworthy features include:
Multimedia system – an 8-inch touchscreen with a range of connectivity features, including Android Auto and Apple CarPlay compatibility.
Supervision cluster – a 7-inch TFT colour LCD  display for the Premium variant, and a 4.2-inch TFT colour LCD display for the Elite variant, with trip computer and digital speedometer.
Rear-view camera – designed to ensure driver awareness of blind-spot obstacles when in reverse.
The Ioniq Plug-In's safety and security features include: anti-lock braking system, brake assist system, electronic brakeforce distribution, hill-start assist control, traction control system, vehicle stability management, smart key remote, anti-theft alarm and central locking.
It is additionally equipped with Hyundai SmartSense safety technologies, including:
Forward collision avoidance assist – utilising a camera and radar to help detect potential collisions, alerting the driver or auto-applying the brakes.
Blind-spot collision warning – if a vehicle is present in the Ioniq Plug-in's blind-spot, an alert will be issued should the driver begin to change lanes.
Smart cruise control – monitors vehicles ahead, automatically maintaining a safe distance to the vehicle ahead up to a preset speed.
Hyundai describes the Ioniq Plug-In as sporting a "smooth silhouette" and mouldings designed to keep air close to the body, with its interior conveying "clean simplicity", delivering drivers the convenience of integrated technology.
The Ioniq Plug-In is available in the following colours: polar white, platinum silver, iron grey, intense blue and fiery red.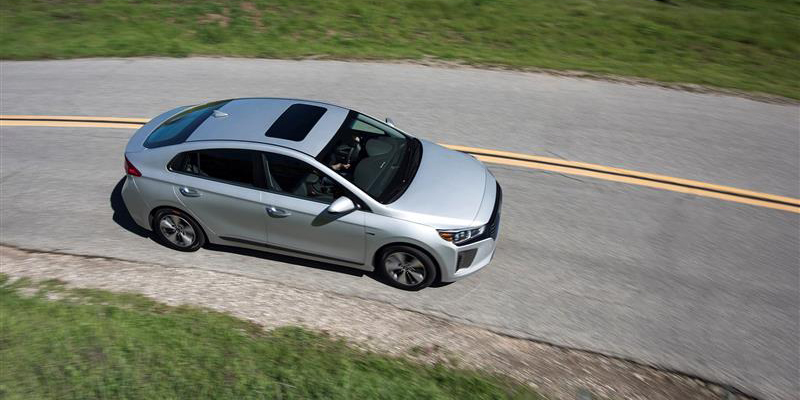 How do you charge the Hyundai Ioniq Plug-In Hybrid?
The Ioniq Plug-In is equipped with a 3.3 kW onboard AC charger, with three LEDs on top of the dashboard gradually lighting up when it is successfully plugged in, allowing users to check its charging status.
Hyundai advises that consumers can separately purchase a Delta In-Home built-in wall charger, which can provide a 100 per cent charge in 2 hours and 15 minutes, and which has the option of scheduling charge times during off-peak hours.
An emergency cable equipped with a regular 3-pin connector is also available for purchase separately, providing for charging via standard household charging points, delivering a 100 per cent charge in 6 hours.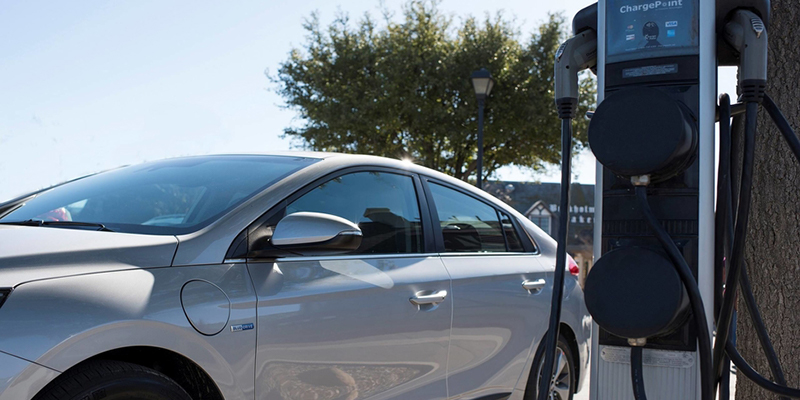 Hyundai Ioniq Plug-In Hybrid Ratings
The Ioniq Plug-In has received generally favourable ratings across a variety of reviews, with its safety pointed to as a positive:
CarAdvice earlier this year gave the Ioniq Plug-In Premium a 7.9/10 rating, commenting that it delivers a decent pure electric vehicle driving range, however noting that it still represents a sizeable premium over internal combustion engine cars.
CarsGuide gave the Ioniq Plug-In an 8/10 rating towards the end of last year, highlighting its safety as a positive, however noting the absence of rear media/power outlets.
Carsales gave the Ioniq Plug-In a 78/100 rating towards the end of last year, noting it rides and handles well, however pointing to a clunky dual-clutch transmission.
Is the Hyundai Ioniq Plug-In Hybrid worth the money?
The Ioniq Plug-In's combination of a petrol engine and electric motor may well appeal to consumers keen to get behind the wheel of a vehicle with electric capabilities, which is also supported by traditional technology when required.
The Ioniq Plug-In's 63 km of range when in electric mode will likely go a long way to tackling daily commutes, while the petrol engine is at the ready to assist when battery charge depletes or additional power is required.
Consumers should consider the range of options available – including electric, hybrid and conventional vehicles – in weighing up the Ioniq Plug-In's pros and cons, and should factor in considerations such as anticipated maintenance and running costs over the course of ownership.