Research from Canstar Blue has revealed that in 2014, a significant amount of people valued cheapness over quality/value when it came to getting their car serviced.
Approximately 38% of all respondents said they 'shop around for the lowest quote' when looking to get their car serviced, and breaking it down by state – South Australians were least likely to be bothered by price with only 29% bothering to investigate prices, whereas New South Welshmen and Victorians were most likely to be wallet-conscious with 40% each.
Gen X was the most likely of the age groups to look for the cheapest quote, with 48% compared to Gen Y's 46%, and Baby Boomer's 29%. This represents a slight change from 2011, where Gen Y were the most likely to shop around (53%), and Gen X were second-most likely to shop around (38%). However both years saw Baby Boomers as least likely to shop around, with only 23% of Baby Boomers looking for the cheapest quote in 2011.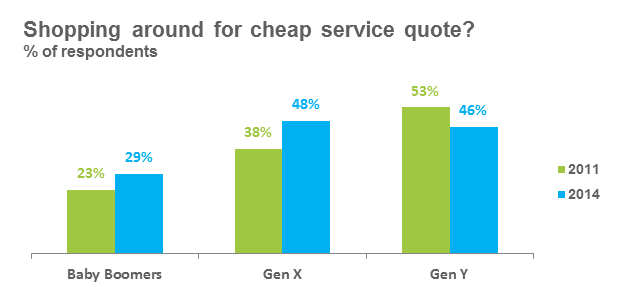 Source: Canstar Blue research, conducted by Colmar Brunton, October 2011, n= 1,751 and October 2014, n= 1,805.
Independent garage vs dealer servicing
Car manufacturers would like you to think that only authorized dealers can service your vehicle, but the truth is that the Competition and Consumer Act 2010 prevents this kind of exclusive dealing. By law, you can have your vehicle serviced at any garage or dealership without fear of your warranty being voided.
However what can void your warranty is failing to maintain your vehicle properly, along with consequences stemming from having your car serviced by an external garage. For example if the garage fits a non-genuine replacement part to your vehicle, and it causes damage or malfunction, that can result in your warranty being voided.
Also important to note is the point that non-dealer garages can't do warranty work, so in the case of your vehicle being faulty under warranty you'll still have your choice of garage, but you'll have to pick a dealer-authorised garage to do the repairs.
You can compare car servicing brands at CANSTAR Blue.
Other articles you might like
Drivers keen to downsize
Do you check the air pressure in your tyres?
Motoring innovations that could save your life