The Nissan Leaf stands out as one of the more instantly recognisable cars in the emerging Australian electric vehicle market, and with the latest-generation model set to make its local debut in August, Nissan is banking on a greater battery capacity, increased power and a range of smart features to get consumers behind the wheel.
Of course, the local electric vehicle market is very much in its early stages, and most consumers will need significant incentive to part with petrol/diesel to join the electric brigade. Time will tell whether the new-generation Leaf can sway those considering making the switch, however it arrives in Australia bolstered by Nissan's expansive local network and a strong international reputation.
Indeed, earlier this year Nissan marked a significant milestone, as the Leaf became the first electric car to surpass 400,000 global sales, following the model's 2010 debut. Meanwhile, Nissan is laying the groundwork at a local level, last year advising that during its current mid-term plan, one third of its Australian volume will include electric technology.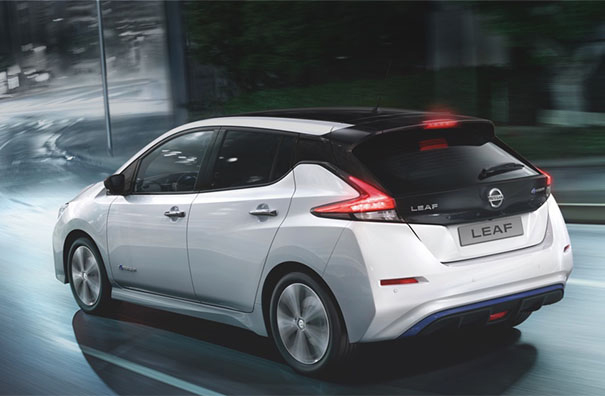 Nissan Leaf 2019
The current-generation Leaf was originally launched towards the end of 2017, with Nissan advising that it embodies its Intelligent Mobility vision for the future of motoring, having "been reinvented to offer greater range, dynamic design, advanced driver-assistance technologies and enhanced connectivity".
As is to be expected, the latest model sports a range of upgrades that set it apart from its predecessor – including a greater battery capacity, and increased power and torque – with its suite of new smart features also a notable selling point.
Arriving in the Australian market in a single high-spec grade, among its headline features, the Australian-spec Leaf is equipped with Nissan's e-Pedal driving technology, along with Apple CarPlay and Android Auto in-car connectivity, and will be available in a range of colours.
Further information on the Leaf's specs and colour options can be found below.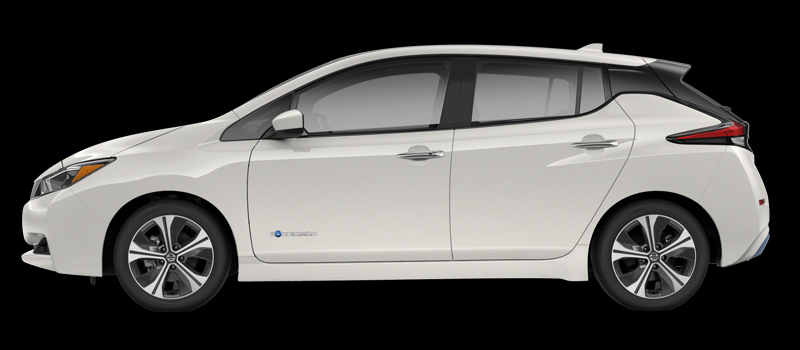 Nissan Leaf Review: Are we entering the age of the electric vehicle?
The Nissan Leaf arrives in Australia at a critical time for the local electric vehicle market, which is seeing increasing activity across a range of fronts, but which is yet to gain the sort of traction seen in other worldwide markets.
Sales of the first-generation Leaf, initially sold at 12 Nissan dealerships nationally, totalled 635 units – and, as Nissan looks towards the release of its second-generation model, backed by its nationwide network, it will doubtless be expecting significant gains.
The time may well be ripe for further market forays, with a Nissan-commissioned Kantar TNS study, conducted among more than 500 people who intend to purchase a new car in the next three years, last year finding that 63 per cent of Australians feel the move to electric vehicles is inevitable, with 29 per cent of consumers already considering buying an electric vehicle.
Nissan Leaf Pricing
Nissan has advised that the 2019 Leaf will be priced from $49,990 (MSRP), plus on-road costs. When it comes to the drive-away price, Nissan advises that pricing will be impacted by state-specific stamp duty, insurance and registration fees. Consumers can enter their postcode via the Nissan Australia website to get further specific information on pricing.
As a guide, the Nissan Australia website lists the following drive-away price ranges when the following postcodes are entered:
Sydney (2000) – $54,482–$55,522
Canberra (2600) – $54,949–$55,999
Melbourne (3000) – $54,511–$55,543
Brisbane (4000) – $53,198–$54,208
Adelaide (5000) – $54,225–$55,255
Perth (6000) – $55,573–$56,627
Hobart (7000) – $54,165–$55,195
Darwin (0800) – $53,659–$54,679
Consumers are currently able to register their interest or pre-order a new Leaf via the Nissan Australia website, while the Leaf will be sold in 89 Nissan dealerships nationwide.
Nissan Leaf Specs
The new-generation Leaf's upgraded battery capacity and power represent a significant step up over its predecessor. Powered by Nissan's e-Powertrain system, the Leaf features:
A 40 kWh battery – up from the first generation's 24 kWh
110 kW of power – up from 80 kW
320 Nm of torque – up from 280 Nm
The Leaf has a 270 km indicative driving range (WLTP combined cycle), with Nissan promoting it as an ideal option for city-based Australians (further information on the driving range can be found at the Nissan Australia website).
Among the Leaf's other headline features are:
e-Pedal – allowing drivers to start, accelerate, decelerate, stop and hold via the accelerator pedal alone, without needing to use the brakes.
Shift-by-wire drive selector – electronically controlled gear-change.
Intelligent Key with push button start – allowing for push-button ignition.
Apple CarPlay and Android Auto – with the two in-car connectivity systems accessible via an 8-in touchscreen display.
A 7-in Advanced Drive-Assist Display and satellite navigation aids drivers, while a heated leather steering wheel with tilt adjustment, black leather-accented seats, heated front and rear seats, and climate control add to the comfort factor.
The Leaf additionally features a range of safety technologies, including: Intelligent Around-View Monitor with Moving Object Detection, Intelligent Cruise Control, Intelligent Emergency Braking with Pedestrian Protection, Predictive Forward Collision Warning, and front and rear parking sensors.
Nissan describes the Leaf as sporting "a contemporary exterior and interior design", and having "ample space for five", with it available in six colours: Arctic white, ivory pearl with black roof, magnetic red, pearl black, platinum and gun metallic.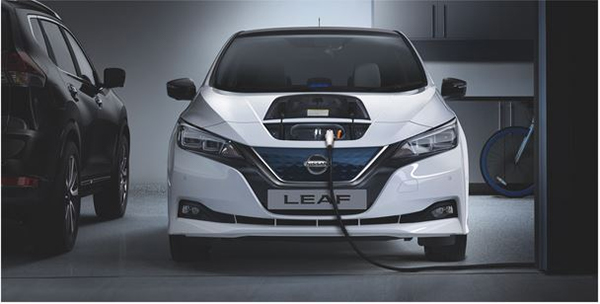 How do you charge the Nissan Leaf?
Electric vehicle charging facilities and battery life are active concerns for consumers, with the Kantar TNS study revealing that 74 per cent of consumers fear there is a lack of public charging infrastructure, with 73 per cent having concerns about how far they can drive on a single battery charge.
Leaf owners will be able to charge their vehicle at home or at one of the national network of charging stations, with the Leaf equipped with AC Type 2 and DC CHAdeMO charging ports, while charging times will vary dependent upon the equipment used.
Nissan advises that the Leaf can be fully charged within 24 hours, dropping to 7.5 hours for households with the latest 7 kW home charger, and via a CHAdeMO rapid charger get from 20 to 80 per cent charge in around 60 minutes (with all times depending on charging conditions).
The Leaf also sports bidirectional charging capabilities (which Nissan states it is working with its partners to realise in Australia), allowing owners to use the charge from their car to power their home or business, or return electricity to the grid.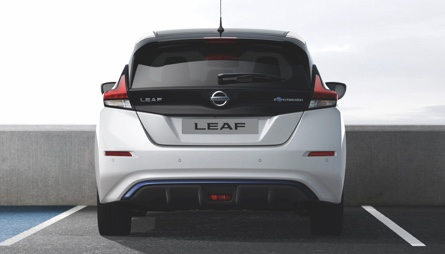 Nissan Leaf Ratings
The Leaf has enjoyed a generally favourable reception, with early reviews out in Australia ahead of its upcoming release. Among these reviews:
CarAdvice last year conducted a pre-launch review, giving the Leaf an 8.2/10 rating, and labelling it "a much improved and revised version".
CarsGuide earlier this year gave the Leaf a 6.9/10 rating, noting that while it was smooth to drive, it only had just enough range.
Practical Motoring earlier this year gave the Leaf a 4/5 rating, stating that while it delivers on performance, space and features, the price premium over conventional cars will be a barrier to its appeal.
Is the Nissan Leaf worth the money?
In terms of new vehicle pricing, the Leaf sits at the lower end of the electric vehicle price spectrum, however the competition is stiff when compared to traditional alternatives, and consumers will need to consider a number of factors in determining whether it ultimately represents value for money.
Of course, beyond the upfront costs of a new vehicle, it is worthwhile taking a long-term outlook, including weighing up the costs of charging the Leaf and filling up a petrol or diesel alternative, along with prospective maintenance costs.
On this note, consumers seeking to speed up charging times at home should also factor in the cost of the purchase and installation of any additional charging equipment.