Children need extra protection to keep them safe in case of a car crash. That's why it's important to choose the right car seat and restraint. According to Kidsafe Australia, properly fitted and used child restraints may reduce the risk of death or serious injury from car accidents by as much as 70%!
It's also important to keep children comfortable and happy when they're in the car. Nothing's worse than an upset baby in an uncomfortable car seat, especially on long drives when kids just want to sleep. Your choice could mean the difference between a soundly sleeping angel and a monster unleashed every time you strap your baby in. Let's explore what kinds of baby car seats there are, and how to find the best one for you and your child. But first, let's go over Australia's child restraint rules and regulation.
Baby car seat rules and regulations
Recently standardised national child restraint laws set a clear standard for minimum requirements to keep children and babies safe while travelling in cars. Baby car seats and child restraints must be fitted in the car using either existing adult seat belts or ISOFIX anchorage system.
The standards are quite detailed, including requirements such as:
There must be upper tether straps to reduce a child's head jolting forward
Forward-facing restraints must have a minimum five-point harness
Suppliers must test impacts from all directions using test dummies which meet particular requirements
National rules on what kind of restraint must be used for children in cars depend on age:
Children up to the age of six months must be placed securely in an approved rear-facing restraint
Children six months to four years old must be in either a rear or forward facing approved restrain with inbuilt harness
Children four to seven years old must be secured in either a forward facing restraint with inbuilt harness or approved booster seat. Booster seats must be used with an approved lap-sash type seatbelt or approved child safety harness.
However, exceptions are made where a child is too large or too small for the restraint type for their age.
What is ISOFIX?
A new method of installing baby car seats in vehicles has recently been developed, which works independent of the vehicle seat belt. The ISOFIX system involves attaching the child seat to special attachment points built into the car. These attachment points have only been included in vehicles produced within the last few years – and not all vehicles at that. ISOFX
Both the seat belt and ISOFIX anchorage systems are equally safe, but the ISOFIX provides more choices for those with ISOFIX compatible vehicles. Not all baby car seats are ISOFIX compatible, but all baby car seats built to Australian standards can be fitted using the vehicle seat belt and top tether strap.
Types of baby car seats
There are different types of appropriate car seats depending on both the age and size of the child. Every child is different, so the recommended car seats for each age group aren't necessarily strict.
Generally speaking, it's time to move your child to the next type of car seat when they no longer fit in their current child seat. Many seats come with shoulder marks – these are a good indicator of whether or not your little boy or girl has outgrown their current seat. By the same token, if your child is too small for the type of restraint recommended for their age, you should prioritise the right size fit.
Don't rush the transition. Every time your child moves onto the next type of child seat, they lose some protection. If your child still fits in their current child safety seat category, they're best off sticking with it no matter how old they are.
Car seats for newborn children to aged 6 months
What type? Type A – rear-facing seat.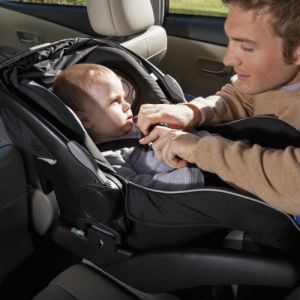 These are usually baby capsules or carriers, which is an easily removable unit with handles to carry your baby from house to car to stroller without picking them up and potentially waking them. It includes a five or six-point harness, seat belt connector and top tether strap. This offers better protection compared to forward facing restraints, as long as the child fits in it. Some convertible design seats can also transition from rear-facing to forward-facing, with adjustable components to expand as your child grows.
When to upgrade? When your baby is aged between 6 to 12 months and can hold their head up properly, they can move onto a forward-facing car seat.
Car seats for children aged 6 months to 4 years
What type? Type B – forward-facing seat.
Forward-facing child car seats, much like rear-facing ones, include a five or six-point harness, seat belt connector and top tether strap. Convertible designs may involve a combination rear/forward system, or a forward-facing safety seat which can be converted into a booster seat once your child grows too big for the harness.
When to upgrade? It's time to upgrade to a booster seat when your child's shoulders no longer fit, their eye level is higher than the back of the seat, the top insertion slots for the shoulder straps are lower than their shoulders, or their shoulders have passed the shoulder marks.
Car seats for children aged 4+
What type? Type E – booster seat used with a lap-sash (standard adult) seatbelt.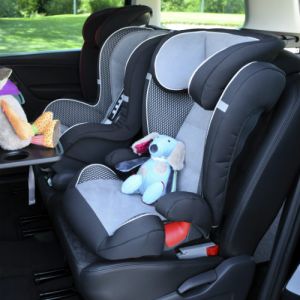 Booster seats are designed to be used with the standard car seatbelt which goes across both the lap and chest. These seats provide extra height and support so your child can be properly secured by the seat belt. Without a booster seat, small children can be injured by adult seatbelts in the event of a crash.
When to upgrade? Once your child becomes too tall for the booster, they can start using a regular seatbelt without a child seat at all.
Car seats for children 145cm or taller
What type? Children this height and taller are able to use a standard adult lap-sash seatbelt without additional safety support.
How much do baby car seats cost?
The price of children's car seats varies generally based on the quality and level of comfort provided, plus any extra features. All child restraints and car seats must meet Australian safety standards, so provided you buy from an Australian retailer, the car seat will be safe.
More expensive baby seats and child restraints tend to feature more comfort features and add-ons, such as cup holders. If you want a good quality seat without the associated price tag, have a look at what accessories can be purchased separately. It may be more financially feasible to start with a basic model and add extras later. Here is a guide to what you can expect to pay for different kinds of car seats.
Type
Low end
High end
Capsules (newborn to 6 months)

Easily removable and portable, with carry handles

$249
$579
Convertibles (newborn to 4 years)
Can be adjusted to be backward or forward facing, can be changed to fit as the child grows
$139
$749
Booster car seats (4 years +)

Without harness, uses standard car seatbelt to restrain the child

$49
$389
Booster seats (4 years +)

With harness

$119
$549
Car seats you shouldn't use
It's recommend that a baby seat or child restraint is not used if it:
Is over 10 years old
Has been in a moderate to high intensity crash
Has any signs of damage, cracks or frays in the seat, straps, harness, or any other component of the seat
Seats that have any of the traits listed above should be thrown away. If you're considering using a second-hand child car seat, it's important to know the full history of the seat and make sure that all correct fittings are present and undamaged.
Should I buy a cheap baby car seat?
Cheap baby car seats are still safe, thanks to Australia's product safety standards. Don't think that you can grab a bargain overseas though. Australian standards are amongst the most stringent in the world. Unlike the European Standards, baby car seats sold in Australia must be impact-tested from the side and front, and must include a top tether strap.
Check the product label on the seat – it should state that it complies with AS/NSZ 1754. It's illegal to use a child car seat that does not comply with this standard.
Even the cheapest seat on the market must be safe if it passes Australia's legal standards. It just might not be too comfortable.
How to find the best baby car seat
Given the importance of keeping your child safe and comfortable in the car, you should think carefully about what you and your child need in a child restraint. Some of the questions you may need to ask include:
What's the right size car seat for my child?
Do I need a restraint that can easily be removed from the car? (E.g. am I likely to use more than one vehicle to transport my child?)
Will my child need extra comfort? (E.g. if you drive long distances and want your child to be able to sleep well in the car)
Do I want a capsule which can combine with a pram system?
Do I want a seat that can recline?
What are my long-term child restraint needs?
One website that can help you find an appropriate car seat which meets the Australian and New Zealand Standard is the Child Car Seats website. This website is a project by the Child Restraint Evaluation Program, made up of a number of government agencies and motorist organisations working together to improve child safety in vehicles.
It can be a good idea to look up baby car seat reviews, to see what experiences other parents have had with different brands and designs.