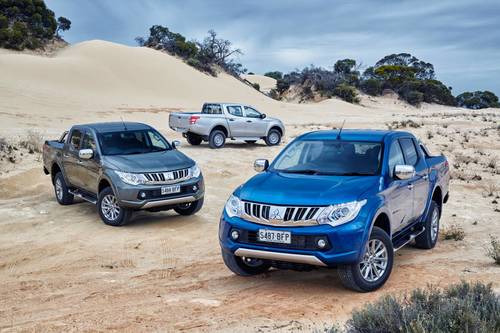 Review by John Cadogan www.autoexpert.com.au
The new Mitsubishi Triton ute is a credible new entrant among dual-cab 4×4 utes. It features a new 2.4-litre turbocharged diesel engine with 133kW and 430Nm peak outputs – not exactly class leading, but certainly up there with the top utes.
This is an all-new vehicle that delivers around a 20 per cent improvement in fuel efficiency, compared with its predecessor, and at the same time it will tow a monumental 3.1-tonne maximum load in the form of caravan, horse float or trailer. For bona-fide off-road drivers, it leads the class in terms of 'approach angle' (the angle of a hypothetical ramp you can approach without scraping the front bumper – a critical measurement of off-road capability). It also has a compact turning circle (for a ute) of 11.8 metres.
New Triton is safe, too. It's been independently assessed by ANCAP at five stars for crashworthiness, scoring an admirable total of 36.22 out of a possible 37 points in the process.
Three models are available: GLX, GLS and Exceed, in ascending order of price and features. GLS and Exceed use an advanced 4WD system with centre differential that allows the vehicle to drive in 4WD on high traction surfaces without damaging the transmission.
Mitsubishi describes the new Triton as "the most comfortable and family-friendly light commercial yet" and is clearly pitching the GLS and Exceed versions as a real alternative to a conventional wagon for adventurous families and that critical new marketing demographic they call 'suits in utes'.
On warranty and service interval, the new Triton really stacks up. Warranty is five years or 100,000 kilometres, which is very impressive for a Japanese vehicle. You'll need a service only once every 12 months or 15,000 kilometres – which means once per year for average Australian drivers. That's a huge step up from some competitors, whose service interval remains six months or 10,000 kilometres.
The new Triton doesn't out-point some competitors on power or sheer tow capacity – but the sum of its parts means it's one of the dual-cab utes you should absolutely consider if you need a hard working adventure vehicle that you can also tolerate driving in traffic every day.
More information: http://autoexpert.com.au/buying-a-car/mitsubishi-triton-4×4-review
Other articles you might like
Budget bonanza for cars
Four things you need to know about your car's tyres
4WD motoring awards