The Tesla Model X SUV combines long driving range capabilities with a number of unique features, including its distinctive falcon wing doors and a panoramic windscreen, and is equipped with smart technology that's designed to add features over time, enhancing performance and improving the driver experience.
Tesla officially added the Model X to its all-electric line-up in 2015, bringing to market an SUV that, replete with a range of high-end features, is placed firmly at the premium end of the electric vehicle spectrum.
The Model X made its local debut in 2016, and has since established a strong presence in the Australian electric vehicle market, providing consumers a vehicle that brings together premium touches and the practicality of ample interior storage space.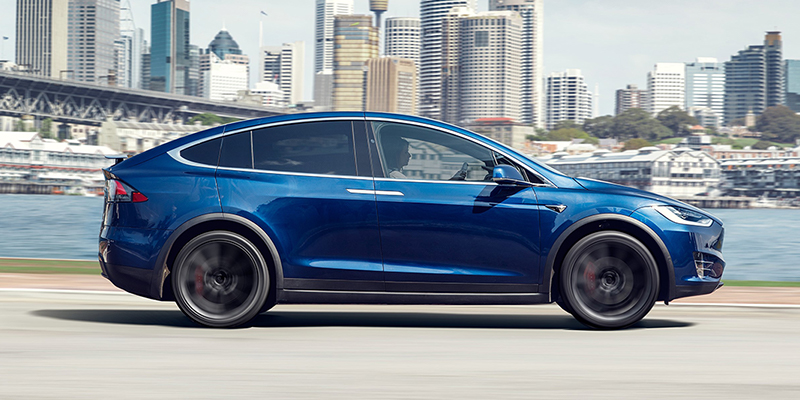 Tesla Model X 2019
The Model X is now available in the Australian market in three variants – Standard Range, Long Range and Performance – each decked out with dual-motor all-wheel-drive technology, and having varying driving range capabilities.
The Standard Range has an NEDC driving range of 425km, the Long Range 575km and the Performance 550km, with Tesla crediting the Model X's aerodynamic design as in part aiding range, describing it as "the most aerodynamic SUV in production".
The Model X additionally features falcon wing doors, which open upwards, designed to allow easy access to the second and/or third row seats, and an all-glass panoramic windscreen, while over-the-air updates and Tesla's Autopilot feature add safety and navigation features over time.
Further information on the Model X's specs can be found below.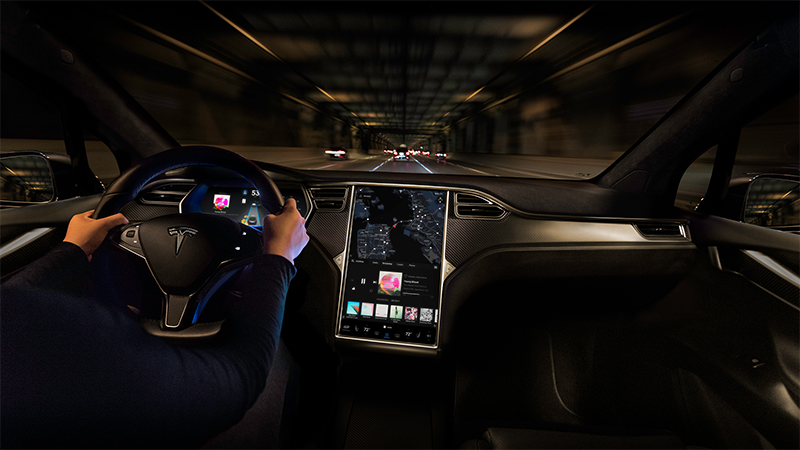 Tesla Model X Review: Smart tech and attention-grabbing features
In addition to its long driving range capabilities, the Model X brings together a number of distinctive touches, underscored by Tesla's smart technology, with Tesla describing the vehicle as blending "performance and utility with unique features".
Among these features, the falcon wing doors are an attention-grabber, with Tesla stating the double-hinged doors are designed to "articulate smoothly up and out of the way, allowing passengers to enter from both front and rear directions".
Tesla states the Model X delivers "best-in-class interior storage space", with it available in three seating configurations – comprising five, six and seven-seat options – while a trunk in the front provides an additional storage option.
Meanwhile, the Model X's panoramic windscreen stretches up and over the two front seats, featuring optimised solar tinting, with Tesla stating "passengers can experience an open and modern feel with an expansive view ahead".
Tesla Model X Pricing
The Tesla Australia website provides the following estimated personal registration drive-away pricing for the Model X (with prices starting from):
| | Standard Range | Long Range | Performance |
| --- | --- | --- | --- |
| NSW | $136,579 | $157,599 | $170,159 |
| ACT | $131,163 | $151,183 | $163,143 |
| Vic | $137,615 | $158,675 | $171,259 |
| QLD | $135,806 | $156,626 | $169,066 |
| SA | $135,855 | $156,675 | $169,115 |
| WA | $139,261 | $160,583 | $173,320 |
| Tas | $135,778 | $156,598 | $169,038 |
| NT | $134,576 | $155,196 | $167,516 |
Source: Tesla, June 2019.
The Model X is available with a range of additional features, and consumers have the option to add features during the online ordering process (including the six-seat and seven-seat interior layout options), with a breakdown of pricing provided.
Tesla has stores in Sydney, Melbourne and Brisbane, and further information can be accessed via the Tesla Australia website.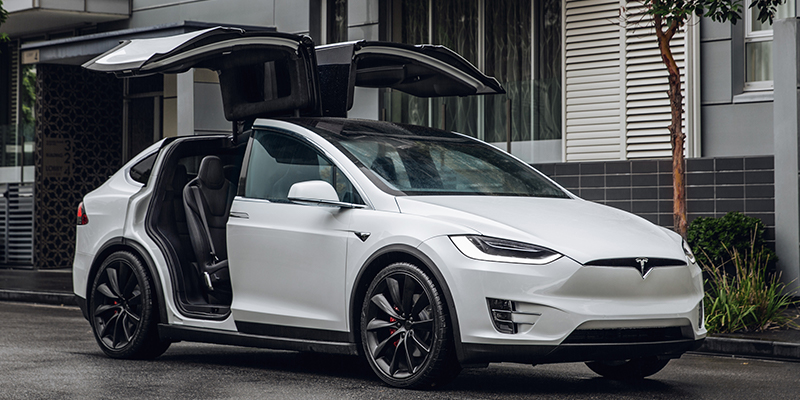 Tesla Model X Specs
Tesla describes the Model X as "the safest, quickest and most capable sport utility vehicle in history", with it featuring:
| | Standard Range | Long Range | Performance |
| --- | --- | --- | --- |
| Electric all-wheel-drive | Dual-motor all-wheel-drive. | Dual-motor all-wheel-drive. | Dual-motor all-wheel-drive. |
| Range | 425km. | 575km. | 550km. |
| 0–100 km/h | 4.8s. | 4.6s. | 3.6s. |
Source: Tesla, June 2019.
Ludicrous Mode, available with the Performance variant, delivers 20 per cent faster acceleration at 0–100 km/h in 2.9 s.
Additional Model X features of note include:
A 17-inch centre touchscreen – with over-the-air updates adding safety and navigation features, and maps and navigation providing real-time traffic-based routing.
Falcon wing doors – with a foot of clearance on either side, allowing passengers to enter from both front and rear directions, providing access to the second and/or third-row seats.
Seating for up to seven adults – available in five, six and seven-seat configurations, with an emphasis on passenger comfort.
Tesla states that having its battery located on the floor gives the Model X an extremely low centre of gravity, reducing the risk of rollover, while having no engine means its crumple zone is much larger than other SUVs to absorb the energy in the case of front-end impact.
Tesla describes the Model X as "the safest SUV ever", equipped with a range of standard active safety features and hardware, including collision avoidance, automatic emergency braking, along with a HEPA air-filtration system.
The Model X sports eight surround cameras, allowing for 360-degree vision, with 12 ultrasonic sensors providing detection of surrounding objects, while forward-facing radar see through heavy rain, fog, dust and beyond the vehicle ahead.
Tesla advises that all of its new cars are equipped "with advanced hardware capable of providing Autopilot features today, and full self-driving capabilities in the future", delivered via software updates, designed to improve functionality over time.
Remote diagnostics and the support of mobile service technicians reduce the need to ever visit a service centre, with Tesla stating that 90 per cent of the time it can remotely diagnose an issue and what is needed to repair it.
Meanwhile, Tesla states that the Model X's panoramic windscreen is the largest in production, allowing "an unparalleled view of the stars and sky above", with the Model X available with 20-inch silver wheels (with additional options available), along with a variety of interior options.
The Model X is available in the following colours: solid black, midnight silver metallic, deep blue metallic, pearl white multi-coat and red multi-coat.
How do you charge the Tesla Model X?
The Model X is equipped with a 16.5kW onboard charger, and all new Tesla vehicles come with a wall connector and a mobile connector as standard equipment, with Tesla advising that charging at home is as easy as charging a smartphone, plugging the vehicle in overnight and waking up to a full charge.
Tesla advises that the wall connector is easily customisable to almost any power supply, and recommends a 24-amp 3-phase circuit breaker or 32-amp single-phase circuit breaker (if 3-phase power is not available) for maximum charge rate.
The wall connector delivers estimated charge speeds of 15–67km/h, depending upon technical specifications, while the mobile connector, which can plug into standard 230V outlets, as a back-up charging option allows drivers to charge their car at medium-to-low speeds, providing charge speeds of approximately 10km/h.
Providing insight into the sorts of costs involved with charging, the Tesla Australia website features a charging estimator via which consumers can enter inputs to calculate the estimated time for charging, along with the cost and petrol savings.
Tesla advises that its Superchargers are available on well-travelled routes for charging while away from home – delivering energy rapidly and gradually slowing down as the battery fills, with the vehicle automatically alerting the driver when it has enough energy to continue the trip – while it also has a growing network of destination charging partners with dedicated Tesla charging.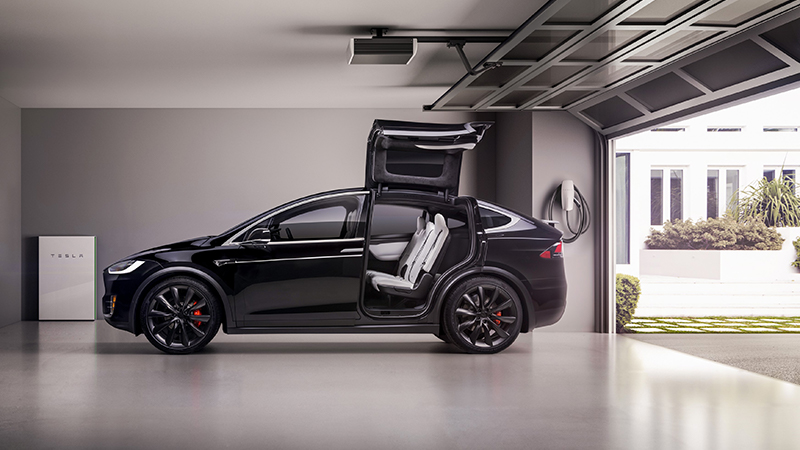 Tesla Model X Ratings
The Model X has received generally solid ratings since making its debut, and consumers weighing up the pros and cons of the SUV will be well served to assess a variety of reviews in considering its array of features.
With Tesla having released a number of variants over the years, previous Model X reviews can provide insight into the sorts of features on offer from more recently released variants, with many features having evolved over time.
Meanwhile, it is also worthwhile keeping in mind that Tesla's over-the-air software updates deliver additional features throughout the lifespan of the vehicle, designed to enhance performance and improve the driving experience.
Is the Tesla Model X worth the money?
The Model X may well present an attractive option for consumers keen to get behind the wheel of an electric vehicle with long driving range capabilities and decked out with a range of smart technology and premium features.
The Model X's falcon wing doors and panoramic windscreen help it stand out in the evolving electric vehicle market, while its long driving range will likely be more than enough to tackle both daily commutes and longer road trips.
In weighing up the pros and cons of the Model X, consumers should consider the long-term value it will deliver, encompassing the sort of running and maintenance costs anticipated over the course of ownership, and how it compares to both traditional and electric alternatives.