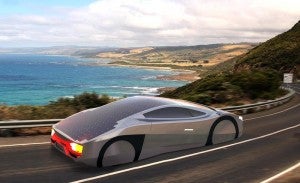 A solar sports car designed with inspiration from Hollywood disaster movies could be coming to a street near you. Well, perhaps not, but an Australian electric vehicle technology company says it's ready to release the world's first vehicle of its type.
The Immortus will be released by Melbourne-based EVX, which says the bespoke electric car was inspired by the world portrayed in post-apocalyptic movies. It's built to exhibit toughness that no other car has – endurance, claim its makers. "The ability to run on the power of the sun and store the energy for later use makes it a car of practically infinite endurance," says EVX. So you could get unlimited range from your solar sports car, as long as it's sunny!
But don't get too excited, because the modestly-named Immortus is targeted at "high net worth individuals" who already own a number of luxury cars in their collection. It's only available on a made-to-order basis and no price is disclosed.
"To make such a sports car, the traditional approach to vehicle design is no longer valid," EVX says on its website. "For this reason a new breed of automotive engineering design team was needed. The team that designed the Immortus is a mix of world solar challenge racers, with the experience of what it takes to drive a solar car across a continent, and world class advanced engineers in multiple disciplines – with expertise in engineering theory and practice, but not limiting habits from the current automotive industry."
"The Immortus is radically unique and in a class of its own. Its endurance abilities outperform all exotic sports cars on the planet."
As you would expect, the car's design was far different from that of other 'normal' cars on the road. The focus was on leanness of mass, without compromising safety and full utilisation of the sun's energy to power the car.
The Immortus is described as a half-tonne 40kW composite roadster designed to carry two people, with room for hand luggage. Fully laden, it can take its 5m by 2m body from 0 to 100 kilometres per hour (or 62 mph) in less than seven seconds.
It has a combined battery and solar range of over 550km at an average of 85km/h and a top speed of over 150km/h. And depending on conditions, it could run on an unlimited range on solar alone at over 60km/h. The advanced aerodynamics and chassis design allow the Immortus to feel and drive like a "truly nimble and balanced sports car".
Its specifications include: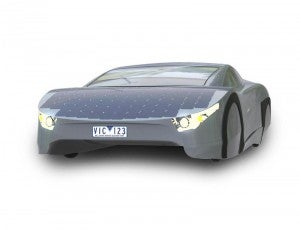 Length 5m
Width 2m
Height 1.1 m
Centre of gravity height 0.6 m
Fully laden weight 550kg (1212lb)
Wheelbase 2.5 m
Track 1.9 m
Total panel area 7m2
Cell efficiency 22%
Cell type Silicon
Battery capacity 10 kWh
Cell type Lithium
Peak output 2×20 kW
Nominal output 2×1.25 kW
Motor Type two hub motors (in the rear wheels)
With such a light body it exhibits remarkable nimbleness and response to driver input. Driving the Immortus is an experience different from all other driving experiences, says EVX.
"There is simply no other car of a comparable design and endurance on the road…"
If you get the chance to drive one, please let us know…