According to Toyota, the Corolla has pulled even further ahead in 2015, leading the pack as the best-selling car in Australia. In September 2015, the Corolla has sold over 2,400 more cars than its nearest competitor.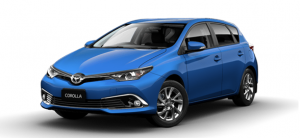 In August 2015, Corolla triumphed by topping the auto industry sales charts for the sixth time this year. Dealers delivered 3,050 new Corolla hatches and sedans in August alone.
September's sales of 2,095 sedans represent an increase of 24% over September last year.
As of August, Toyota has sold 133,059 vehicles in 2015. No other brand had reached 66,000 sales so far this year, putting Toyota more than 67,000 vehicles in the lead.
The humble Corolla looks set to follow in the footsteps of the classic Camry, which is now in its 22nd straight year as Australia's best-selling mid-size car. Toyota's top 10 selling vehicles also include the HiLux in the 4×4 space.
Executive Director for Sales and Marketing, Tony Cramb, predicted that upcoming new models, including the next generation HiLux, a new 7-seat family off-road SUV, and improved engines for the Prado and GXL, would result in another surge of customer demand. This could result in Toyota's 13th year in a row as the auto industry sales leader.
No matter what car you drive, you need good value car insurance. Your car needs protection whether it's doing a school run, tackling dirt roads, or sleeping in the garage. Compare car insurance on the Canstar website to make sure you're getting the value your premiums are worth.
If you're looking for a new Toyota Corolla, Camry, or HiLux, but don't have the cash on hand, you should compare savings accounts on the Canstar website. Use this savings plan calculator to work out how you can reach your goal of a new car sooner. You can also compare car loans if you're not willing to wait.
Other articles you might like
Five Golden Rules for Buying a New Car
Five tips to keep your car perfectly maintained
Would you buy a car parking space?
How are car insurance premiums calculated?