We're all used to opening the Uber app when we're desperate for a quick ride, but the tech giant has now revealed plans to make getting around on public transport easier, too.
Uber is introducing public transport schedules into its app so commuters can see real-time bus, train, ferry and light rail information on the go.
This is the first time Uber has integrated public transport data into its app in the Asia-Pacific region, but in Australia, it will only be available in Sydney to begin with.
Uber admits that, for many trips, it can be faster or cheaper to take public transport ahead of any other form of travel, but sometimes you're in a hurry and don't always take the time to compare trip options.
The move is apparently part of Uber's aim to become a true transport platform – from public transport to JUMP e-bikes and scooters to Uber Air. The company also says it's an important step towards making it possible for people to replace their private car with their mobile phone.
"At Uber we believe we need to help people plan travel in a way that is as convenient as taking a private car, and technology is key to helping us achieve that," an Uber statement read.
"Public Transport and Uber can be a powerful combination. We intend to keep pioneering this type of integration so that people can get safe, reliable, convenient rides without the need to rely on a private car."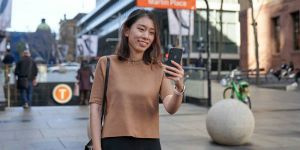 NSW Transport Minister, Andrew Constance, said it was great to see so many transport options on the one integrated platform, available at the fingertips of customers.
"The journey is no longer about a single mode of transport, it's about a combination of modes to get to you your destination in the most convenient way," Mr Constance said.
"Linking public transport options with the Uber app was only possible due to the Government's long term commitment to open data and technology and we look forward to seeing what other initiatives emerge in future."
How it works
To access the public transport information within the Uber app, users are required to enter a destination in Sydney, which will allow them to see 'Public Transport' as an option alongside other products, such as 'UberX' and 'Pool'.
Upon selecting the 'Public Transport' option, users can see fast routes, real-time schedules, prices, plus walking directions to and from stations or bus stops.
What's the catch?
While the new feature should prove useful for Sydney commuters, Canstar Blue Editor-in-Chief Simon Downes said users should be mindful that spending more on a quick Uber ride instead of waiting for a bus or train to arrive is going to be tempting.
"Uber isn't adding public transport information to its app just to be helpful, it wants to be front of mind when you're travelling," he said. "If the bus or train is running 10 minutes late and you're in a hurry, you already have the Uber app open and you're going to be tempted to book a ride instead.
"There's nothing wrong with that, of course, but just keep in mind that costs can quickly add up when you swap your bus for an Uber on a regular basis."
Picture credits: Kaspars Grinvalds/shutterstock.com