Gone are the days of fastening a dirty, old, black car tyre to a tree and creating a swing out of waste materials. These days, tyres are putting their best treads forward in dozens of different ways to glam up your garden, home and even your wardrobe.There is no shortage of used tyres, so why not consider these fabulous DIY projects? Could be a good source of hobby funds for your 'retyrement'!
For the kids
Make a simple garden swing from a tyre that's been given a colourful makeover. Design your own bumble bee or ladybug complete with happy heart faces. Or personalise each swing with the child's name emblazoned in your own unique artwork design. The possibilities are endless so let your creativity loose.
For those after a bigger challenge and that "WOW" factor from children and adults alike, it's hard to go past a horse tyre swing. A beautifully cut-out replica of a horse, complete with flowing mane will delight every child. Hopping onto the saddle and galloping away into the wind is the stuff childhood dreams are made of. The horse tyre swing requires more detailed "How To" instructions to get it right.
Kids love see-saws, so imagine their delight when you make them their very own. And see-saws don't come any more budget friendly than this little beauty. All you need is a few pieces of plywood, an old tyre and a little paint. The see-saw is light enough to move around, so if one area of your lawn is becoming worn, just relocate it to another spot. This is a wonderful project for using up scrap materials and, of course, repurposing an old tyre.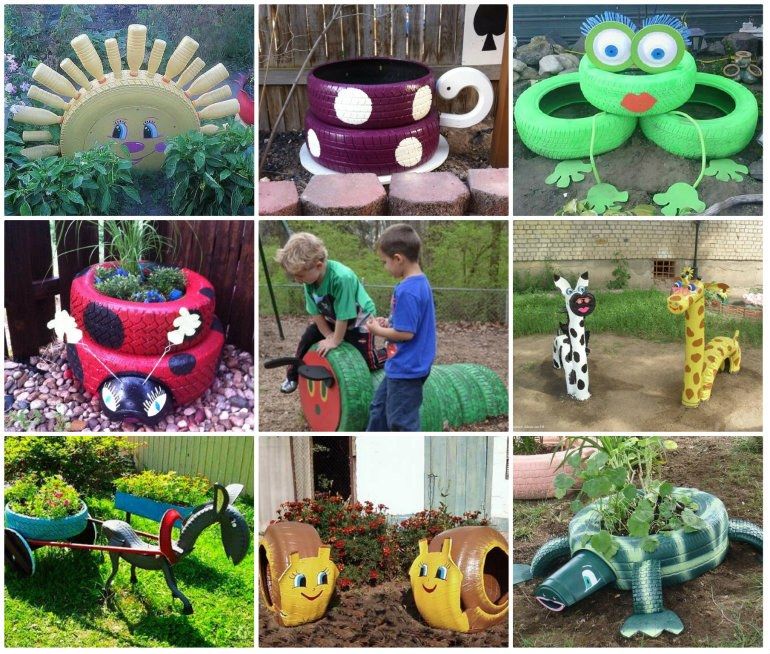 For the garden
Drab is dead when it comes to dressing up the garden. Try making your own Tyre Teacup with swan handle and bright, cheery colours adorned with polka dots or any colour design that takes your fancy.
A lime-green Freddo Frog, made from 3 tyres, tells visitors where to park without getting 'Toad".
Happy Caterpillars with their cute cut-out faces and rolled up painted tyre bodies make eye-catching garden ornaments.
A tortoise tyre or ladybug planter make colourful homes for herbs or flowering shrubs.
For the home
Tyres come indoors and make the perfect Ottoman and Tub Chair made from rope glued onto a tyre base. Hint: Use old tyres for indoor projects, as a new tyre 'gasses off' too much and will end up smelling out your home, not to mention the toxic fumes floating around. An old tyre will have already released its gases and be much safer for indoor use.
Add legs to your Ottoman or a glass top for a great coffee table.
If the natural look doesn't suit your home décor, cover your Ottoman with a pretty fabric that complements the theme of your room perfectly.
Turn a tyre tube into a fantastic Ottoman/Chair that will look amazing in your home. Inflate the tube and cover with ribbon or material in the latest designer textures and colours to liven up your room. The best part is that when you renovate down the track, you can always re-cover this Ottoman and presto, a new furniture piece.
Why pay a fortune for informal outdoor furniture when you can make your own using materials already on hand? Simply stack a couple of tyres as the base of the seat. Then attach attractively cut-out tyre rubber for a back-rest and use narrower strips for arm-rests. Use a similar two-tyre stack for a coffee table. Finish off by spray-painting in the colours of your choice. You are now the owner of a recycled outdoor setting that's completely waterproof.
Who would have thought a humble tyre could be turned into such a conversation piece? Yes, a tyre chandelier that can't help but turn heads. The ultra-crafty person can easily make a tyre chandelier, using any materials imaginable. Be careful though when dealing with electricity – always consult a licensed electrician first and stay safe.
What a surprise awaits your guests when they enter the bathroom! Yes, there's even a place for tyres here, upcycled as a highly unusual basin surround. Add a wall-mounted tap and you've got a vanity like no other.
A stack of tyres also makes a handy waste bin or toilet roll storage. Decorated in a style to suit the bathroom, these tyre-inspired fittings are fantastic yet functional.
For special occasions
Forget the Christmas Lights decorations we see every year.  Make your home stand out with a collection of Christmas Snowmen at the entrance. Nothing says fun and creativity more than this family project. Simply stack your tyres, with the wider ones at the bottom, working up to smaller tyres at the top. Spray paint the whole 'sculpture' white. Use black paint to colour in the eyes and create large buttons down the centre front of the snowmen.  Then decorate with black tyre hats, smiley faces and Christmas scarves.
For your wardrobe
Move over Prada – here comes Pirelli. There are a range of gorgeous handbag designs made entirely from car tyres which you can find on the web. These are for the seriously creative fashionistas who crave the ultimate in accessories.
Ladies, how much time do we spend trying to find jewellery that's 'different', that's not adorning everyone you meet?  Why not go all out and make yourselves some jewellery fashioned from old car tyres? It sounds crazy but there's no end to the clever designs you can make – drop earrings, chunky or elegant necklaces with matching bracelets. This is recycled rubber at its best, to dress up jeans and a tee shirt or compliment a sequinned gown. Look for more designs on the web.
When you think of footwear, you can't go past thongs for practical popularity. Gazillions of pairs of thongs have been made and worn down the ages in many countries of the world. And what better use can you make of recycled tyres? By making your own thongs out of heavy-duty tread from the tyre, you'll walk on any terrain with confidence that thorns, prickles etc won't penetrate the sole of the thong – and you can't say that about cheap, imported thongs! Follow the above link for a guide.