The ACT will be Australia's first jurisdiction to regulate ridesharing, and Canberra will be the first capital in the world to enable ridesharing to operate legally ahead of ridesharing businesses operating. As a result, Uber and other ridesharing businesses will be able to legally enter the Canberra market from 30 October 2015.
ACT Chief Minister Andrew Barr said Canberra was determined to become Uber-friendly before the service even got started in their region.
The news this week comes after its neighbour NSW has suspended the registrations of 40 UberX drivers across its jurisdiction. These cars have been taken off the road for three months, and suspended drivers caught operating for Uber will be fined and treated as unregistered and uninsured.
In the past, Uber has covered the fines and court costs of its drivers, but it has not done that this time, and has instead threatened legal action against the NSW department of roads. The suspensions have happened just weeks before a NSW government task force is to report on the possibility of legalising and regulating the ride-sharing industry in October.
Legalising Uber
The ACT's legislation will come into effect on October 30 and will legalise and regulate online transport businesses including ride-sharing businesses. This legislation shows that the ACT recognises that ride-sharing is here to stay, and its consumers need to be protected by creating industry standards.
The legislation will have several key effects:
Vehicles will have to be registered for commercial purposes.
Vehicles must pass safety checks and be fully insured with CTP (compulsory third party and property) car insurance.
Drivers will have to be accredited.
Drivers will have to pay a $50 application fee, $65 vehicle inspection fee, and $45 police check fee.
Drivers' criminal records, driving histories, and 5-year health assessments will also be checked.
Drivers will be banned from having any alcohol or drugs in their system while driving for a ride-sharing service. This is a higher standard than the legal limits required when driving a passenger for a non-commercial purpose.
Uber will be banned from 'surge pricing' during declared emergencies. They have previously been criticised for automatically initiating high prices during times of unexpectedly high demand, such as during the Sydney siege.
Supporting the taxi industry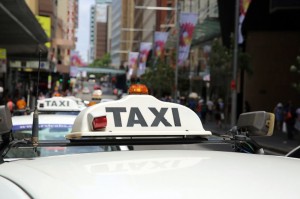 The taxi industry has for some time now been calling for ride-sharing drivers to pay the same commercial licence and registration fees they do.
In the ACT, the government has responded by requiring ride-sharing vehicles to be registered for commercial purposes – and they have gone a leap further. The new legislation lowers the registration fees required from taxis, and halves the licence lease fees for taxis and hire cars for 2016, with plans to halve them again in 2017.
Other protections the new legislation provides to taxi drivers include the following:
Only taxis will be allowed to pick up passengers in a street hail (kerbside pick-ups).
Only taxis will be allowed to use taxi cab ranks.
Fees charged on taxi and hire car owners have been reduced.
Casual dress will now be allowed for taxi drivers. Currently, taxi drivers must wear a uniform at all times, and wearing a dirty uniform is literally illegal.
ACT Chief Minister Andrew Barr said, "The ACT Government recognises that new business models may put pressure on Canberra's existing taxi drivers. These reforms champion innovation and help taxi and hire car services remain sustainable and important modes of travel in the territory."
Other states to follow…?
The ACT government's legislative move is likely to be copied by other Australian jurisdictions, where unregulated Uber drivers are already running rampant, eating into the income of taxi drivers.
Outside the ACT, ride-sharing is currently illegal because drivers are not allowed to use vehicles registered for a private purpose to drive passengers for a commercial purpose such as Uber. Passengers are at risk if they choose illegal ride-sharing, because there are currently no medical or criminal checks on drivers. According to the NSW Roads and Maritime Service, Uber drivers themselves are at risk of voiding their car insurance policies, by using their vehicles for an illegal purpose without disclosing it to their insurers.
For more information about the serious dangers that ride-sharing services pose to passengers and drivers, read this Business Insider article about the worldwide law suits against Uber, and the many countries where it has been ruled illegal.
No matter whether you'll be using your vehicle for getting yourself to work or getting someone else to work, you need a great value car insurance policy. Compare what's on the market for car insurance using our website.