The big workout fads of 2015
Posted by TJ Ryan June 5th 2015
It's been a big year already for new workout trends racing here from across the seas. Hot yoga, studio pilates, and Bounce trampolining have all taken Australia by storm, along with many others. But which fads will disappear like Zumba (so last decade!) and which are here to stay?
Body Weight Training
Body weight training topped seems to be one of Australia's favourite fitness trends in 2015. With minimal to zero equipment used, it's easy to see why this system has taken off so quickly. Using your body's own resistance to build muscle, this system includes exercises such as push-ups, planking, ab rolls, and the glute bridge.
High Intensity Interval Training
This one was a trend in 2014 and this year it came second in Australia's favourite ways to get fit. Short bursts of exercise with brief recovery periods mean you can burn a lot of calories in a 30-minute workout. Exercises include jumping lunges, burpees, mountain climbers, and plyometric push-ups.
Hot Yoga
Aiming to reduce your stress levels? This one has been very popular this year. With slow but powerful stretches improving balance, flexibility and posture, hot yoga prevents the breaking down of cartilage, joints and bones. Yoga generally is also highly recommended for conditions such as anxiety and depression, because of its focus on mindfulness and restful meditation.
Kids can even do yoga in some schools now! Most schools don't have a steam room, so this is normal yoga, practised on mats or on the floor.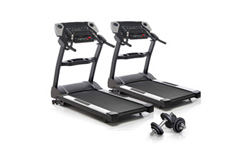 Canstar Blue Gyms – Most Satisfied Customers Award
Trampolining / Bounce
When SkyFit and Bounce opened in Australia last year, people went head over heels for them, and they are only growing in popularity this year. Just thirty minutes of jumping burns about 480 calories, which is as much as an hour and a half of walking, an hour of skiing, or nearly an hour of swimming. It's serious exercise for the young at heart.
Disclaimers should be given that it is not recommended for those with medical conditions such as cardiac conditions, joint problems, or arthritis.
Fitness classes are available to show you just how to use your muscles on the amazing bouncing floors. You don't even need to run away to the circus anymore.
Studio Pilates
The pilates reformer machine was first invented by Joseph Pilates over 90 years ago, but it really hasn't taken off in a mainstream way until the last year or two. Its ability to target specific smaller accessory muscles as well as the larger blocks of muscles make it unique in the area of exercise equipment. Focus areas include the abdominals, the glutes, the pelvic floor, and the inner thighs.
Tough Mudder
If you haven't heard of this one, you should. It involves doing a race through an obstacle course … in the mud. You heard right. The aim seems to be to get the muddiest the fastest. Stacks of Australians love the challenge of these obstacle courses as they really work you to the limit of your endurance in many different muscle areas, much like a triathlon.
Geriatric Aerobics
It's been around for a while but this one is a trend that is worth its weight in gold. Based on achieving functional fitness, this system focuses on increasing metabolism, improving balance to prevent falls, and maintaining freedom of the joints to enable more mobility. Exercises include stair steps, stretching, lifting light hand weights, knee flexing, and balancing on one leg or with eyes shut.
Boot Camp
Boot camp with a personal trainer is now considered an oldie but a goodie. Before work, after work, in the park, in the street – groups are doing this everywhere. Because of its focus on "back to basics", we judge that this is definitely one trend that is here to stay. Exercises vary from traditional exercises like push-ups and sit-ups to core training and running.
New Technology
Apps are now available for every exercise routine under the sun and people are downloading them in droves. You can track your run, time your reps, see your progress, measure your heartbeat, and set reminders to stretch at your desk when you get to work. It's a well-known fact among personal trainers that we need to be able to see our progress if we are to keep motivated, and these apps make the most of that.
The Apple Watch was expected to make huge waves in fitness training but we have yet to see the proof. For most fitness apps, you still need to use the iPhone alongside the watch, which frankly seems to be adding more unnecessary equipment to your workout.
For more information on Australia's favourite ways to get fit, take a look at (the ACSM's 2015 Worldwide Survey of Fitness Trends).
Other articles you might like
Female-only gyms: what's available?