Move over Little Shop, there's a new collectables craze at Coles – Stikeez!
After the supermarket chain's wildly successful Little Shop campaign last winter, featuring miniature versions of 30 popular grocery staples such as Weet-Bix, Vegemite, Milo and Nutella, followed by a Christmas edition in December, Coles is at it again.
This time around the promotion focuses on healthy eating, partnering with the Healthy Kids Association in an effort to influence kids to eat more fresh produce.
From Wednesday, February 13, customers can receive one free 'Stikeez' for every $30 spent in Coles stores, online, or at Coles Express.
With 24 Stikeez to collect, shoppers can expect to pay a minimum of $720 for the full set.
'Stikeez' are miniature figurines of fruits and vegetables with tiny arms, legs and faces. They come with names like Ava the Apple, Cooper the Carrot and Billy the Banana.
There are three Stikeez named after actual Coles producers, including Marie the Mango (which represents Marie Piccone from Manbulloo in the Northern Territory), Carlo the Cucumber (showcasing Carlo Pippo from Fresh at Heart in Ballina, NSW) and Sunny the Strawberry (named after Sunny Ridge Strawberry Farm in Main Ridge, Victoria).
"This campaign is all about healthy eating and trying to get kids to love their fruit and veggies," said Coles spokesperson Martine Alpins. "This is more than just about collecting Stikeez, it's about getting kids to actually want to try new fruit and veggies.
"It's a really great campaign, which is celebrating fruit and veg and bringing them to life, so that kids and their parents can be encouraged to eat more fruit and veggies.
"We know our customers loved Little Shop and we really wanted to come up with an idea that would be just as exciting – if not better – and this campaign is really going to generate a lot of excitement but also teach kids about healthy eating and get them excited about fruit and veggies."
In addition to the Stikeez collectables, customers will find a free Rainbow challenge poster in stores with a checklist, which aims to encourage families to track their fruit and vegetable intake by crossing off the fruit and vegetable colours of the rainbow daily.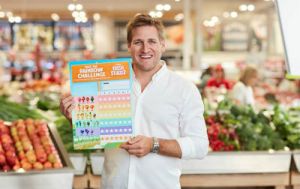 Coles Fresh Ambassador and celebrity chef Curtis Stone has also created easy-to-prepare recipes for kids to make with their parents.
"As a parent I know how hard it can be to get kids excited about eating their veggies so I'm really excited about helping to make them fun and tasty with my colourful recipes like 'broc tots', eggplant chips and rainbow pizzas," Mr Stone said.
"I can't wait to see how Aussie families bring the Rainbow Challenge to life and have fun eating delicious healthy food."
Coles Chief Operating Officer, Greg Davis, said he expects the new craze to be a hit with families.
"We know our customers love new and exciting campaigns that make shopping fun. In this case we're bringing to life our fresh produce to help parents encourage their kids to try new types of fresh fruit and veggies," Mr Davis said.
"We're thrilled to have partnered with Healthy Kids Association to create the Coles Fresh Rainbow Challenge which helps parents reward their kids for eating more healthily."
Stikeez collector cases will be available for $4, along with a range of drink bottles, snack boxes, plush toys and pouches also available for purchase.
Parents, brace yourselves – the mini collectables frenzy is about to start once again. @Coles has announced it is releasing another range of its popular "minis", themed around vegetables. More: https://t.co/JtykKuqjfP #7News pic.twitter.com/ym5qJ6vbTA

— 7 News Brisbane (@7NewsBrisbane) February 10, 2019
Coles Stikeez – 24 to collect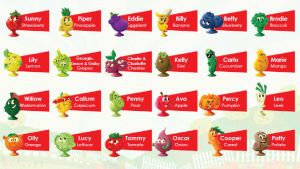 Here's a full list of the Coles Stikeez to collect:
Percy the Pumpkin
Carlo the Cucumber
Oscar the Onion
Lily the Lemon
Leo the Leek
Parry the Potato
Billy the Banana
Callum the Capsicum
Charlie & Charlotte the Cherries
Lucy the Lettuce
Betty the Blueberry
Cooper the Carrot
Piper the Pineapple
Georgie, Grace & Gaby the Grapes
Olly the Orange
Brodie the Broccoli
Sunny the Strawberry
Kelly the Kiwi
Penny the Pear
Ava the Apple
Willow the Watermelon
Tommy the Tomato
Marie the Mango
Eddie the Eggplant
For the ultimate collection, keep a lookout for a see-through Brodie, glow in the dark Carlo, a sparkly Cooper, metallic Eddie and the rarest Stikeez of them all – Golden Billy Banana! With the Golden Banana, you also score a Coles $100 voucher.

Original Author: Veronika Hleborodova