Utilities
---
Tara Donnelly
Utilities Editor

Tara Donnelly is Canstar Blue's Utilities Editor, leading the team that focuses on energy, telecommunications and consumer technology, across news, reviews and how-tos. Tara has spent more than a decade covering these topics in Australia, the US and Canada, which means she's written about countless product launches and industry changes, including the rise of 5G, Australia's ongoing NBN rollout, the recent years of energy price volatility and the rise of renewable energy sources.
Tara also has long experience in writing within the comparison industry, giving her great insights into the information consumers want when determining which plan or device will best meet their needs, while time spent in the financial sector before turning her talent to content lets her crunch the numbers on price with ease. Tara leads the coverage of Canstar Blue's ratings and awards for the internet and phone sectors and is an expert at advising consumers on how to use comparison tools to find the best power, internet or phone deal.
Her expertise has seen her appear in national media including 9 News, 7 News, Sunrise, the ABC and The Sydney Morning Herald.
Tara has a Bachelor of Communications from the University of Canberra and is passionate about simplifying complex subjects so consumers aren't just informed, they're connected and confident.
You can follow Tara on LinkedIn and Twitter and read more of Tara's published articles.
Emma Bradstock
Senior Telco Specialist

Emma Bradstock is Canstar Blue's Senior Telco Specialist, which means she covers all things internet- and phone-related, from news about the latest smartphone releases to 5G guides, hot NBN deals and mobile and internet industry news. Her specialist area is in-depth handset reviews, in which she puts new phones to the test to determine whether their specs add up to value for money. Emma also leads Canstar Blue's ratings for the tech sector and plays a key role in presenting Canstar Blue's internet and phone ratings and awards to readers.
Emma's passionate about helping consumers find a better deal on their phone and internet plans, along with explaining hard-to-understand topics and identifying products worth purchasing so Aussies can buy with confidence. Her experience in creating content for websites, social media, in email and on video allows her to provide this info for consumers in plenty of formats and on multiple platforms – handy when the topic is particularly tricky.
Emma has a Bachelor of Arts in Communications and Media from Macquarie University and over a decade of professional writing experience at print and digital media outlets and for digital agencies. 
When she isn't focused on telco content, you'll find Emma cooking up a storm or sewing her latest quilt while listening to history podcasts and heavy metal, or maybe just binge-watching her favourite shows (she has a soft spot for streaming, especially fantasy, sci-fi and all things Marvel).
You can follow Emma on LinkedIn and read more of Emma's published articles.
Kelseigh Wrigley
Energy Specialist

Kelseigh Wrigley is Canstar Blue's Energy Specialist, where she covers the retail energy market, with a focus on electricity, solar and gas. Previously, Kelseigh contributed to online publications such as Hunter and Bligh, and even had a short stint on the airwaves, reporting local news for community radio station 4ZZZ. 
Kelseigh joined the Canstar Blue team after completing a Bachelor of Journalism at the Queensland University of Technology. She has a strong understanding of the complexities of Australia's energy landscape and a particular interest in providing consumers with easy-to-read information on their energy options, with a focus on solar energy. Kelseigh also leads the coverage of Canstar Blue's ratings and awards for the energy sector and is passionate about helping bill-payers discover money-saving deals on electricity, solar and gas. 
When Kelseigh isn't busy keeping up to date with the energy sector, you can catch her curled up with a good book, baking up a storm or indulging in a few episodes of reality TV.
You can follow Kelseigh on LinkedIn and read more of Kelseigh's published articles. 
Abi Buckland
Utilities Content Producer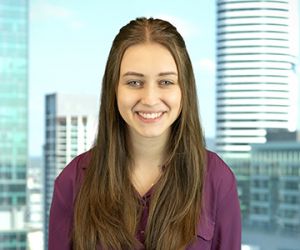 Abi Buckland is a Content Producer at Canstar Blue, where she focuses on energy topics – solar in particular – but also turns her hand to a wide range of consumer topics. Previously, Abi was a freelance social media manager and content producer for small Brisbane businesses, which included curating and sending monthly newsletters. She's always had a passion for writing, having won several awards during her schooling years, and looks for professional opportunities that further her skills with words in the digital space.
Abi joined the Canstar Blue team while completing a Bachelor of Business Management/Laws (Honours) at the University of Queensland, with a special interest in online media. 
When she's not in the Canstar Blue newsroom or studying for her degree, Abi enjoys supporting the Brisbane Broncos and catching up on the latest movies and TV shows.
You can follow Abi on LinkedIn and read more of Abi's published articles.