We already know that we should be applying sunscreen when heading out to the beach or to the family BBQ, but what about every other day? Face sunscreens are your daily moisturisers that provide the sun protection we need. But with so many sunscreen options around town, it can get a little overwhelming, so here is our guide to face sunscreen brands and products in Australia.
What's the difference between face sunscreen and regular sunscreen?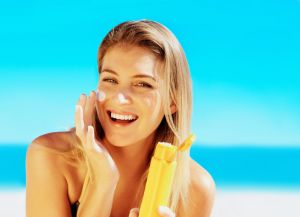 The skin on our face tends to be more delicate and sensitive than body skin, especially from any rigorous application of heavy sunscreen under our eyes. Face sunscreen is therefore formulated differently than those for the body and tends to be more easily absorbed, as well as feel lighter on your skin. It's often equipped with non-grease and non-comedogenic (not clog pores) formulas and have specific solutions for dry, oily or combination skin, helping you to not walk around looking extremely shiny.
A trend across most face sunscreens is that they also claim to act as more than just a sunscreen, with anti-aging and tinted matt finish properties. Those with acne prone skin may also benefit from choosing a specific face sunscreen that helps you avoid breakouts, unlike heavy sunscreen. Nevertheless, if body sunscreen is all you have in your bag, better to use that on your face and get a pimple compared to sun damage.
What face sunscreens are available?
There are a number of sunscreen brands that branch out into the face sunscreen line. SPF 30+ is recommended but not all face sunscreens provide this. Some lean towards being a multipurpose cream such as foundations or anti-aging creams and may only provide SPF 15+ so it is important to keep this in mind.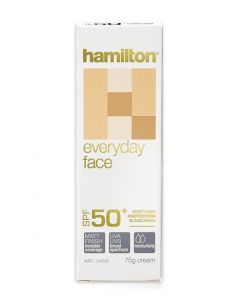 Hamilton Everyday Face SPF 50+ Sunscreen
Hamilton produces a face sunscreen that is said to be suitable for all skin types, with a UVA and UVB broad spectrum protection. It's free from fragrance, lanolin and PABA. It claims to be moisturising and contain a sheer tint for a light matt finish.
You may also be interested in:
ALDI Lacura Face Sunscreen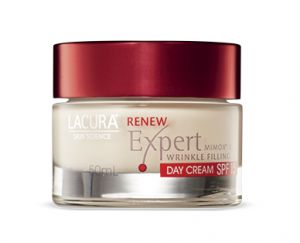 ALDI's Lacura range offers a SPF 15 'day cream' that acts as a moisturiser and sunscreen in one hit. It tends to be more of a skin cream rather than a sunscreen, yet it still contains the necessary oils and vitamins to act as a skin barrier. It contains UVA and UVB filters as well as an antioxidative protective complex that aims to help protect skin from ageing caused by the sun.
Nivea Protect & Light Feel Daily Face Veil SPF30
For another 2 in 1 face cream, Nivea Protect & Light Face Veil acts as a moisturiser and sunscreen with SPF 30 protection. Nivea claims it to be a light and quickly absorbed formula containing no solid particles and can be used daily or as a make-up base. It offers UVA and UVB protection to help fight against premature ageing and sun damage.
SPF 30
200ml bottle
Neutrogena Face Sunscreen
There are several options in the Neutrogena face sunscreen range including:
Sheer Zinc Face Lotion SPF50 (59ml): This is claimed to be a mineral based sunscreen that is hypoallergenic. It's dermatologically tested with a fragrance free and dye free formula, as well as no added parabens. It provides UBA/UVB broad spectrum protection and contains vitamin E. Neutrogena claims it to be oil-free and non-comedogenic (won't clog pores) and suggests using Sheer Zinc Face Lotion under makeup. It's also said to be two-hour water resistant.
Ultra Sheer Clear Face Lotion SPF30 (88ml): This is specifically designed for breakout prone skin. It provides broad spectrum UVA and UVB protection. It's claimed to be lightweight, oil-free and non comedogenic formula and provides a matte finish.
Ultra Sheer Face Lotion SPF50+ (88ml): Similarly to the above two face sunscreens, this Neutrogena Face Lotion provides UVA/UVB protection again skin-aging and burning rays. It claims to also be lightweight, oil free and non-comedogenic formula with a matte finish.
Cancer Council Day Wear Face Sunscreen SPF30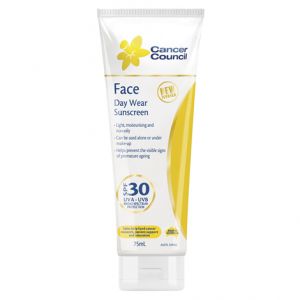 Cancer Council's face sunscreen comes in three colour variations – untinted, light tinted and medium tinted – and is equipped with aloe vera. It contains UVA and UVB broad spectrum sun protection and is suitable for all skin types. It's claimed to help prevent the signs of premature ageing and can be used by itself or under make up. It also acts as a moisturiser, claiming to provide a light, non-oily cream for use all year round.
You may also be interested in:
How to remove sunscreen stains
What is sunburn and how do you treat it?
SunSense Daily Face SPF50+ Sunscreen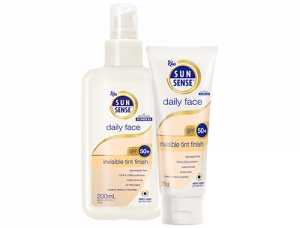 Australian owned and made, SunSense combines a moisturiser and SPF 50+ protection with SunSense Daily Face sunscreen range. It's claimed to be a light, soft formula that is oil free and non-comedogenic. It has UVA/UVB broad spectrum protection and provides a sheer tint for a matt finish. SunSense Daily Face is fragrance free and contains Vitamin B3 to help maintain the normal skin barrier function. It is recommended for combination and oil skin types.
SPF 50+
Two size options: 75g tube and 200ml bottle
Which face sunscreen should I pick?
It may get overwhelming when you walk through the ever-growing sunscreen aisle of your supermarket or pharmacy and see so many products, claiming to do so much. But if you're about to throw your hands up in the air and give up… don't. Getting sun burnt is not an option!
Australia is skin cancer capital of the world, so it's important to make a light daily sunscreen application a priority, with regular skin checks. Look out for a broad spectrum, water resistant and SPF 30 or above face sunscreen – as recommended by Cancer Council – especially if you are outside for a long period of time. Wearing face sunscreens shouldn't be a tedious task, no matter which product you choose, with a new generation of formulas aiming to have antioxidant components to help enhance your skin, as well as protect it from the sun.