The weather is warming up around the country and ALDI is right on point with its Special Buys range.
On Wednesday (24 October), ALDI will offer a number of cooling appliances to help you beat the heat this summer, without blowing out your budget.
ALDI's 5kW Split-System Inverter Air Conditioner retails for $869. It's Wi-Fi enabled, which means you can connect to your air con from your phone and turn it on remotely before you get home.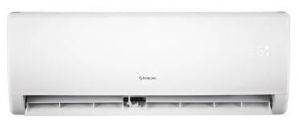 Similar models of this size from other brands typically start from $1,400. Take for example Dimplex's DCSS18 5kW that retails for $1,399, or Kelvinator's KSV50HRH 5kW for $1,549.
Expect a power consumption of 18,000 BTU from this ALDI unit, which is suitable for rooms between 30m² and 35m² in size, typically a bedroom or a small living area.
It features a sleep mode, 3D airflow, a dehumidifying function, as well as temperature sensing. It's said to produce 56dB(A) of outdoor noise level, and has 2-side drainage. This model also comes with a five-year in home warranty for peace of mind.
However, don't go rushing in straight away. This 5kW reverse cycle air conditioner has a two-star energy rating for cooling and 2.5 stars for heating, so you might like to weigh up the long-term power costs against its budget retail price.
ALDI Portable Air Conditioner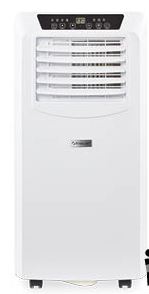 If installing a permanent unit isn't an option, ALDI is also offering a 3.5kW Portable Air Conditioner for $379. It comes with a three-year warranty and has dimensions of 794(H) x 320(L) x 364(W)mm.
Expect two speed settings, a dehumidifying function, 24-hour timer, and a window kit. It's said to cool an area of 30m² and consumes 14,000 BTU. It's designed with four castor wheels for easy movability, a control panel with an LED display, and features a full function remote control.
ALDI LED Ceiling Fan with Remote
In addition to its air conditioners, ALDI is offering a few fan options as well – one of which is an LED ceiling fan, retailing for $169.
It's a 52 inch (130cm) fan with a 30W DC motor. Expect a five-speed remote control and 1200 lumen (18W) light (cool white LED). It's available in White or Brushed Chrome and has a two-year warranty.
ALDI Oscillating Tower Cooling Fan
For a stand-up option, you'll find ALDI's Oscillating Tower Cooling Fan at $39.99. It comes with three speed settings, three wind modes – natural, sleep or normal – and has an eight-hour timer.
It also features an infrared (IR) remote control with batteries and a carry handle for ease transportation. It's stated to be approximately 910mm in height, with 70° oscillation and has a one-year warranty.
ALDI 20cm Retro Desk Fan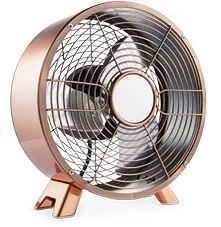 For a retro look, this retro desk fan ($24.99) from ALDI features two speed settings, a copper motor, and comes in a number of assorted colours – copper, black, white and light blue. It has three metal blades and a carry handle, plus a one-year warranty.
ALDI 40cm Pedestal Fan with Remote
One final fan in the line-up is a 40cm pedestal fan. It features three speed settings – natural, sleep and normal – and has a 7.5-hour timer. With left to right oscillation and a tilt adjustable head, it might just help you get through the scorching summer months. It comes with a one-year warranty and retails for $39.99.