Fact Checked
A lot of us want the latest and greatest, and a smart air conditioner may fit the bill. If summer in Australia means anything, it's that people are likely to be going out in droves to buy an air conditioner to escape the heat. Before the slog of Christmas festivities and vegging out in front of the telly watching cricket or tennis, it can pay to know exactly what type of air conditioner you want before you head to the shops.
So, what is a smart air conditioner, and where can you get one? Read on to find out.
What is a smart air conditioner?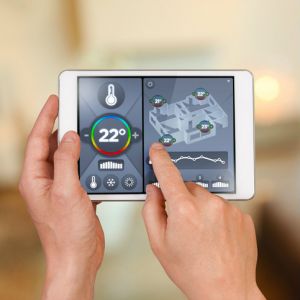 Smart air conditioners are air conditioners that are connected to the internet and are thereby controllable through your smartphone (or smart device). It's just one of the many appliances to join the 'Internet of things' (IoT) – appliances connected to the internet for maximum controllability and convenience.
What can a smart air conditioner do?
So, what can you actually do with a smart air conditioner? It varies of course model-to-model, but the general key features of smart air con are:
Human sensors that detect movement in a room and adjust temperature settings accordingly

Smartphone app to access all settings

Controllable temperature and fan speed settings

Controllable timer

Control settings away from home, so you can come home to a frosty house after a day out
How much do smart air conditioners cost?
Smart air conditioners can start at prices around the $600 mark and reach upwards of $2,000 depending on the brand and the smart capabilities. You can find wall mounted models across this price range but can also find portable models that sit around the lower to mid range of the price scale.
Who sells smart air conditioners?
A number of brands sell smart air conditioners such as Fujitsu General, LG, Samsung and Goldair. You can buy directly from the brand or from retailers such as The Good Guys, Harvey Norman and Appliances Online. 
Fujitsu General Smart Air Conditioner

The latest Fujitsu General Lifestyle Series wall-mounted air-conditioning range features a built-in wireless connection to the FGLair app which enables users to view or change the temperature, fan speed, and louvre position for multiple units. It also lets you check the individual operating mode of each unit, view individual room temperatures, set up two weekly timers, plus turn units on or off.
The range also features built-in human sensors that detect motion in a room and switch the unit to a power-saving mode after 20 minutes of no movement, and then returning to normal operation when movement is detected again. You can buy a Fujitsu 2.5kW Lifestyle Series split system air conditioner (pictured) for under $1,000. 
LG Smart Air Conditioner

LG has a range of split system air conditioners and many come with the optional add-on of making them Wi-Fi-ready. This is, of course, going to mean an extra cost but it's still an exciting proposition nonetheless. This adds to LG's suite of IoT appliances like TVs and fridges.
Many models in the range have a large cooling capacity, ideal for large rooms or areas in your home. They're compatible with Google Assistant and have built-in Wi-Fi smart control via the LG ThinQ app, allowing you to access and control your air conditioner either via voice command or with your smartphone. You can also view your weekly or monthly energy usage on the ThinQ App and access Smart Diagnosis for usage tips and useful information based on your usage patterns.
Samsung smart air conditioners

Samsung has also come to the game of smart air conditioners. Pricing is dependent on a number of factors, with its range typically priced between $1,000 and $2,500, although you'll have to visit the Samsung website for the final figure. . The smart air cons come under the GEO Series, with power capacities ranging from 2.5kW to 8kW. Its wide-intake design means it can draw more air in, which means more efficient cool air coming out, while the WindFree cooling feature quietly disperses air through 23,000 micro air holes, so there is no unpleasant feeling of cold wind on your skin.
It features Wi-Fi control that you can use from practically anywhere. You basically get the same controls as the remote supplies but on your smartphone. The Wi-Fi control allows you to:
Keep informed about what your air conditioner is doing

The air conditioner alerts you when it's due for a filter change

The smartphone app monitors energy usage and informs you of any maintenance needed
Goldair Smart Portable Air Conditioner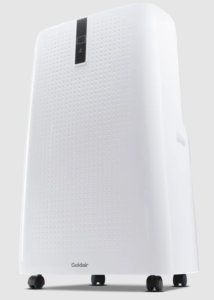 Goldair is known for its heating and cooling appliances, particularly its portable air conditioners. While its range of portable aircons is impressive in size there are only a few models that are 'smart' and range in price from $550 to $900. You can expect features including Wi-Fi enabled control from your mobile phone, 2-in-1 cooling and dehumidifying modes and voice control via Amazon Alexa or Google home.  
Factors to consider when purchasing a smart air conditioner
Before you dive head first into purchasing a smart air conditioner, there are always a number of factors that can potentially affect your decision. FIrstly cost will play a big role in a purchase decision, especially in this case given that smart air conditioners are generally more expensive than a standard air conditioner. Another factor is usability. While smart technology is helpful in a lot of ways, for those not as tech savvy it can be a bit of a hindrance. If you're still uncertain about a brand of air conditioner, compare brands below to help get you started on a decision. 
Original Author: Veronika Hleborodova