Fact Checked
When you live in Australia, a sweltering hot summer is inevitable. Many of us switch on the air conditioner to cool down but with this comes a higher electricity bill – something most people would like to avoid. One of the simplest ways to reduce the cost of running your air conditioner is to switch to an energy-efficient model, which not only saves costs but is better for the environment too. Learn all you need to know about energy-efficient air conditioners with this Canstar Blue guide.

What is an energy-efficient air conditioner?
Energy-efficient air conditioners are designed to run at a lower cost and to reduce the output of greenhouse gas emissions and other pollutants. Like most appliances, air conditioners come with an energy rating that explains how well it performs in hot, average and cold climates. These ratings are presented in the form of stars, with 10 stars the highest score an appliance can achieve.
Energy-efficient split system air conditioners
Split system units are typically the most energy efficient air conditioners you can buy. They are also a favourite among Aussie households, usually for their quiet operation and effective cooling, along with minimally invasive installation.
Daikin energy-efficient air conditioner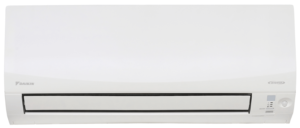 Daikin has long been an innovator in the air-conditioning game and offers a range of air conditioners with different features, technology and energy-efficiency ratings. Many Daikin models promise quiet cooling in tandem with high energy-efficiency ratings.
The Daikin 2.5kW Cora Air Conditioner has a 6-star energy efficiency rating. This model is equipped with a quiet mode, operation timers and intelligent air flow to reduce room humidity. It also features Wi-Fi connectivity and can be controlled via a mobile app. Air purification is a focus of the Cora, with a filter that eliminates odours and bacteria. This model retails for about $1,000.
Hisense energy-efficient air conditioner

Hisense Australia was established in 2006 and is a leader in energy-efficiency. Hisense  produces electronic household appliances, including air conditioners, televisions, speakers, refrigerators and laundry appliances. Its air conditioning range features energy-efficient split system models.
The Hisense 2.5kW V Series Reverse Cycle Air Conditioner has an 8.5-star energy rating. This model features HI-NANO technology that eliminates airborne bacteria and limits the spread of pollutants. Wi-Fi, Google Home and voice control connectivity allow for ease of use. The air conditioner combines DC inverter technology, an inner air duct and an advanced louvre fin to significantly decrease energy use. This model will set you back about $1,000.
Energy-efficient window air conditioners
Window air conditioners are less energy-efficient than split system air conditioners, but are easy to install and cheaper than most other air-conditioning styles. And where ducted or split system air conditioners are not an option, window air conditioners are an effective heating and cooling option.
Kelvinator energy-efficient air conditioner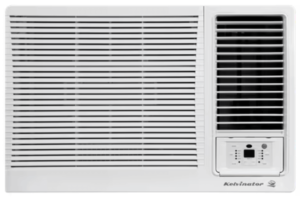 The Swedish manufacturing giant Kelvinator has been producing a range of household appliances for more than a century, including window air-conditioning models.
The Kelvinator 5.2kW Window Reverse Cycle Air Conditioner has a 2-star energy-efficiency rating and has practical features, like an easy-to-service dust filter, a 12-hour timer, an auto-restart function, and manual operation. This model retails for about $1,200.
Super-efficient air conditioners

There are a number of energy-efficient air conditioning manufacturers in Australia, with Rinnai standing out as a top performer. The Rinnai J Series, is focussed on creating comfortable, eco-friendly and energy-efficient homes all year round and features a R32 refrigerant to lower carbon footprints and reduce running costs.
Rinnai's 2.5kW J Series model boasts a 9-star energy rating when cooling. This highly energy-efficient air conditioner is equipped with adjustable air flow direction, an intuitive end-of-season cleaning function, delay timers and Super Air Flow. This model is also Wi-Fi compatible and features voice control capability. The 2.5kW J Series model retails for about $800.
Purchasing an energy-efficient air conditioner
There are many things to consider when purchasing an energy-efficient air conditioner. Chief among them will be: How fast can I recoup the cost spent on an energy-efficient model by saving money on electricity? The answer varies, but according to the Queensland Government, switching from a 3-star rated air conditioner to a 4-star model can save you an average of $134 per year.
There are several questions you'll have to weigh up, including:
Do you spend more initially on an air conditioner with a high energy-efficiency rating, and reap the rewards later with  smaller electricity bills?
Do you spend less upfront on a cheaper air conditioner, and deal with the larger power bills when they come?
There are many factors at play when it comes to deciding which air conditioner to buy. A simple place to start is to consider your budget and go from there. To help you decide which unit is the best fit for you and your home, check out some of Canstar Blue's best-rated air conditioners.
Air conditioner reviews and ratings
Original Author: Veronika Hleborodova