In need of a new set of wheels? Compare some of the best car tyre brands using our customer satisfaction ratings.
Compare brands with out ratings comparison of car tyre satisfaction.
Pirelli in the fast lane for five star tyre customer satisfaction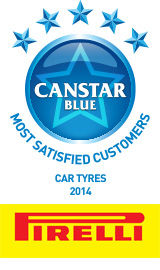 If you're in need of a new set of wheels, it might be time to compare car tyre brands with our customer satisfaction ratings. In our latest comparison, Pirelli achieved our Most Satisfied Customers Award – Car Tyres, 2014 ahead of Bob Jane, Michelin, Yokohama, Dunlop, Kumho, Goodyear, Firestone, Bridgestone and Maxxis
Pirelli is a well established name in the Formula One world, but is also a brand dedicated to the production of high performance road tyres for regular drivers. In this survey, the brand received five stars for overall satisfaction, quality of tyres, handling and noise.
Bob Jane and Kumho achieved five star ratings for the value for money of their tyres, and Bob Jane secured another top rating for new tyre warranty.
Concept tyres pave the way for safer driving
Tyre technology has been refined and developed for more than one hundred years, but new innovations could see the humble wheel make the biggest leap forward yet.
Bridgestone unveiled an airless concept tyre at this year's Tokyo Motor Show that cannot be punctured and never requires inflation. A similar model was unveiled by Hankook at a motor show in Germany, constructed from 'recyclable polyurethane synthetic materials.'
These tyres are still very much in the concept phase, as current prototypes are presently only capable of supporting ultra-light vehicles.
However, tyres similar to these are already being used … albeit not on cars. An American manufacturer is utilising airless tyres for one of its latest all-terrain vehicles (ATV). These vehicles are designed for extreme conditions, such as disaster relief and military usage.
Such innovations will come as a relief to 24% of our recent survey respondents who apparently don't know how to change a flat tyre. A similar percentage of drivers can't tell when their tyres need replacing.
While some drivers may not know a great deal about wheels and rubber, the majority of respondents (87%) agree that safety is more important than price when it comes to purchasing tyres.