Those four bits of rubber separating you and your car from the road can be eye-wateringly expensive, so it's tempting to take the cheapest option possible when you need to buy new tyres. But is it worth it?
If you're not a fastidious vehicle owner, it can be easy to let routine tyre checks fall by the wayside. With the daily commute to and from work and having to ferry the kids off to school and footy practice, it's not until you take the time to really look at your car tyres that you realise they're in fact really, really bald.
So, as any reasonable motorists would, you go to the tyre shop and try to pick out the cheapest set, so those boys in blue won't give you a defect notice. Less than $400 fitted and balanced for a set of new tyres can be an alluring prospect, but it pays to ask yourself why some car tyres are cheap, and some very expensive.
Australian Road Safety Foundation founder Russell White says that when buying cheap tyres, you are compromising on safety and your car's handling capabilities – especially in the wet. "It's like buying a cheap parachute," Mr White said.
This isn't to say that all cheap car tyres are no good, but that you probably get what you pay for – in terms of longevity if nothing else. It stands to reason that the more you are willing, or able, to spend, the better quality tyres you'll get.
Australia's Cheapest Car Tyres
If you're convinced cheap tyres are the best short-term solution for your circumstances, the following table lists the cheapest tyres from some of Australia's biggest tyre retailers, for the most common tyre size in Australia, 205/65/15.
| Tyre Brand & Model | Approx Price Per Tyre | Tyre Retailer |
| --- | --- | --- |
| Achilles 122 | $79 | Jax Tyres |
| Bob Jane All Rounder Plus | $89 | Bob Jane |
| Kumho KH18 | $95 | Tyrepower |
Prices as of March 2018
As you can see, the cheapest tyres for this common tyre size can cost under $100 each. Keep in mind that other small cars may come with even smaller wheel diameters so you may be able to find an even cheaper price. However, you'll have to ask if a cheap price is worth it, and what you're skimping out on.
What's the difference between cheap and expensive tyres?
It can be tempting to buy the cheapest set of tyres available, but you usually get what you pay for. The main difference between a cheap and expensive tyre is the rubber compound they are made of, which can affect performance – and ultimately, safety.
Generally, cheaper tyres consist of a harder rubber compound, which is cheaper to manufacture and means increased fuel efficiency by way of less rolling resistance.
This in turn allows cheap tyres to have a potentially longer life – though nothing beats a regular tyre rotation!
Simply, the less effort your car takes to move, the more fuel you could potentially save.
While some tyre companies claim fuel savings of up to 10% on their 'fuel saver' tyres, the real world figures are likely to be negligible and savings at the pump may not even be noticed! The compromise with this, however, can be reduced cornering ability and grip, and poorer wet weather capability.
For example, in Formula One racing, cars usually start with hard compound tyres, before switching to soft compound tyres to improve cornering in the crucial latter stages of the race. This is an extreme example, but the effect is similar in real-world situations.
More expensive tyres have a softer compound, which somewhat shortens their life expectancy, but their cornering and handling ability is usually superior, resulting in an arguably safer ride.
Overall, you'll have to ask yourself: Saving a few dollars, or having better peace of mind should things get out of hand on the road?
Should you buy cheap tyres?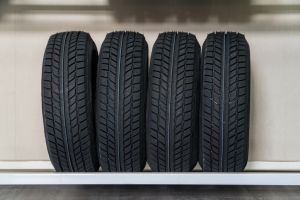 You must ask yourself if you're willing to compromise safety to save money and go longer in between tyre replacements. If the answer is yes, then refer to the table for the market's cheapest tyre offerings. Overall, expert opinion suggests that, by buying the cheapest tyres available, you are compromising on quality and potentially even safety.
"A sky driver won't just go with the cheapest parachute – they'd go for the best one they could find. It's the same with tyres because one day, your life will depend on it," Mr White said. "The tyres dictate how well your car will handle, ride and stop. Investing in a set of good quality tyres is potentially a live-saving investment."
With that said, name-brand tyres with better performance characteristics can be found for not much more than the cheapest tyres – Michelin and Pirelli entry-level performance tyres can be found from around $120 each.
If you're budget conscious, the trick is finding the middle ground that satisfies both tyre quality and your hip pocket. Car tyres don't have to cost the earth, but with a cheap no-name brand of tyre, you may not know exactly what you are paying for in the long run.