Those four bits of rubber separating you and your car from the road can be eye-wateringly expensive, so it's tempting just to take the cheapest option possible when you need to buy new tyres. But is it really a good idea?
If you're not a fastidious vehicle owner, it can be easy to let routine tyre checks fall by the wayside. With the daily commute to and from work and having to ferry the kids off to school and footy practice, it's not until you take the time to really look at your car tyres that you realise they're in fact really, really bald.
So, as any reasonable motorists would, you go to the tyre shop and try to pick out the cheapest set, so those boys in blue won't give you a defect notice. Less than $400 fitted and balanced for a set of new tyres can be an alluring prospect, but it pays to ask yourself why some car tyres are so cheap, and some very expensive. We'll come to that shortly, but first, if you're looking for the cheapest tyres around, you've come to the right place, with Canstar Blue looking at some of the cheapest car tyres available in Australia, and what you should consider when buying tyres to help you get the most value out of them.

On this page:
Where can you find the cheapest car tyres in Australia?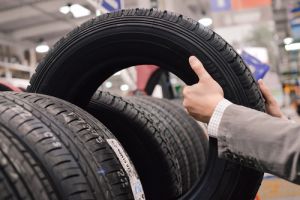 The cheapest car tyres in Australia typically cost around $80 per tyre, which come from budget brands like Achilles, Boto and Diamondback. However, better-known brands like Bob Jane and Kumho can also come quite cheap, while premium brands like Michelin and Pirelli will generally set you back around $120 per tyre.
How much a tyre will cost you comes down to a variety of areas, including brand, the size of the tyre itself, as well as what type of tyre you're looking at. While they all seem the same at face value, tyres can be quite varied, meaning doing a bit of research before heading on down to your local tyre retailer may help ensure you're really getting the cheapest option available.
Below is an overview of some of the cheapest car tyres available from major brands and retailers, with each tyre listed as the most common tyre size – 205/65/15.
| Tyre Brand & Model | Price per Tyre (RRP) | Tyre Retailer |
| --- | --- | --- |
| Goodride RP28 | $95 | Tyresales.com.au |
| Tracmax X-Privilo TX5 | $97 | Jax Tyres & Auto |
| Diamondback DE301 | $99 | Beaurepaires |
| Provato Green | $99 | Jax Tyres & Auto |
| Centara Vanti Touring | $99 | Jax Tyres & Auto |
| Kumho Sense KR26 | $100 | Tyresales.com.au |
Source: Respective websites, March 2022.
While there are plenty of other brands, retailers and car tyres available for a cheap price, Tyrepower, Bridgestone, Kmart Tyre & Auto and Goodyear require you to enter your location when looking at tyres online, meaning there may be a difference in price depending on your provider and location. Similarly, not all major retailers offer pricing online, meaning you may also have to drop into your local store for the final amount.

Shopping for tyres? Check out JAX Tyres & Auto
Have tyres gotten more expensive?
As we've seen with the recent hike in petrol prices, tyre prices have also suffered, with oil a key ingredient in creating tyres. Given the rocky car market over the past few years with COVID slowing down productions, car tyres are the next area that motorists will have to worry about forking out over for, with prices for cheap tyres jumping from under $80 to closer to $100 over recent months at the time of writing. However, despite the increase, it's still a small price to pay to stay safe behind the wheel.
What's the difference between cheap and expensive tyres?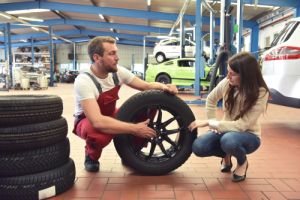 As with most things, the primary difference between a cheap and expensive car tyre comes down to what it's made of. While both are made from rubber, cheaper tyres generally consist of a harder rubber compound, which is notably cheaper to manufacture, and has less rolling resistance (which can increase fuel efficiency), although may impact on stopping ability and cornering. As a result, more expensive tyres are linked with being safer, as they are made with a softer compound, allowing you to take corners and handle wet conditions easier, although they do tend to wear quicker.
Ultimately though, it comes down to what type of tyre you're looking at, as some tyres are specifically made for certain driving conditions, with brands offering no shortage of options then next time you need a service and wheel alignment. As a result, it may be best to talk to your local mechanic or tyre retailer the next time you're in, as you may be able to find a better tyre for your car or driving habits, as well as potentially a better price.
How long should tyres generally last?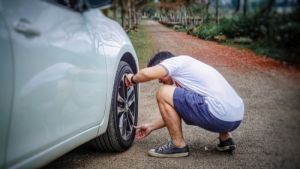 How long a car tyre should last will ultimately come down to where you do the majority of your driving, how often you're hitting the road, and how gentle (or otherwise) you are on your ride. Those who tend to rev the engine and slam on the brakes will obviously go through their wheels a lot quicker than those who keep calm behind the wheel, with those who regularly inspect and check their tyre pressure also more likely to hang onto their wheels longer than those who neglect their car.
As a general rule of thumb however, car tyres can last upwards of 40,000km according to the NRMA, providing you look after them. If you're not sure how long your tyres have lasted, you can check their condition by looking at the tread wear, which are indicators that are moulded into the tread grooves to show you when you need to replace your tyres. The minimum legal tread depth in Australia is 1.5mm, meaning if your tread grooves are exposed or worn away, it's time to replace your tyres.
Car tyre deals and promotions
There's not much better than grabbing a bargain, with car tyre retailers no strangers to flash sales and incentives to drive business through their doors. As a result, if your tyres are on the way out, it pays off to keep an eye on any deals that pop up to give you the inside lane when it comes to snagging a bargain.
Buy 3 and Get 1 Free promotions
It can be tough when it comes to buying new tyres. Do you just need the one tyre, or do you need a whole new set, and even a spare to go in the boot? While you can find a cheap single tyre, if you're looking to replace the whole lot, it may be worth keeping an eye out for the old 'buy 3 and get 1 free' promotion that plenty of tyre retailers offer. However, it may also pay off to only buy one or two and rotate your other tyres depending on the wear and tear of your wheels.
Loyalty Programs
Some tyre retailers offer loyalty programs, such as Bridgestone Benefits, delivering special deals and discounts for members, which may include a cheaper price on tyres or other services, such as wheel alignments or punctures. While it will ultimately depend on each individual store and location, being a member may save you a few dollars when it comes time to replace your wheels.
Should I buy second hand tyres?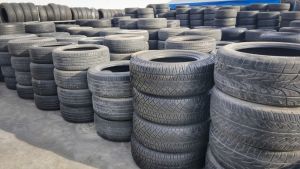 Known as part-worn or used tyres, second hand tyres can be a tempting purchase, especially when you can get the tyre you want for a fraction of the price. But you should be careful, as you may be also getting a fraction of the tyre. Below is a breakdown of the pros and cons of buying second hand tyres in Australia.
New Tyre Pros:
Maximum safety on the road
Improved traction and performance while driving
Better fuel economy
New Tyre Cons:
More expensive upfront cost
Used Tyre Pros:
Used Tyre Cons:
Uncertainty when it comes to safety and performance
Will have to replace in a shorter time period, potentially costing you more in the long run
As with any second hand purchase, the biggest issue with buying a second hand tyre is that you simply don't know how the tyre was used, maintained or stored previously. While you can inspect the tyre, there is also the risk that the tyre has been retreaded, altered or made to look like it's in better condition than it is, which means you may be putting yourself at risk by fitting it to your car.
While there's nothing stopping you from buying second hand tyres in Australia, there are a number of risks involved with doing so, meaning buying new tyres from a reputable tyre retailer is often the best – and safest – option for motorists.
You may also be interested in:
Should you buy cheap tyres?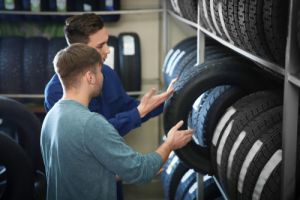 As with most purchases, the final dollar amount can be a big deciding factor in what you roll away with. In terms of car tyres, it becomes a question of whether you're willing to potentially risk your safety and performance for a cheaper initial cost, with expert opinion suggesting that buying the cheapest car tyres available may compromise your time behind the wheel.
Australian Road Safety Foundation founder, Russell White, says that when buying cheap tyres, you are compromising on safety and your car's handling capabilities – especially in the wet. "It's like buying a cheap parachute," Mr. White said.
"A sky driver won't just go with the cheapest parachute – they'd go for the best one they could find. It's the same with tyres because one day, your life will depend on it," Mr. White said. "The tyres dictate how well your car will handle, ride and stop. Investing in a set of good quality tyres is potentially a live-saving investment."
With that said, you can still pick up a name-brand tyre for not much more than some of the cheapest tyres available, meaning it may come down to where and when you purchase your next set of wheels. If you're budget conscious, the trick is finding the middle ground that satisfies both tyre quality and your hip pocket. Car tyres don't have to cost the world, but with a cheap no-name brand of tyre, you may not know exactly what you're paying for.
Picture credits: GRSI/shutterstock.com, industryviews/shutterstock.com, ilovephoto_KA/shutterstock.com, nlin.nee/shutterstock.com, New Africa/shutterstock.com
Original Author: Harrison Astbury