Fact Checked
BP drives it home as best option for fuel cards
Regardless of how often you hit the roads, or what you drive, cheaper fuel prices are something we can all agree on wanting, with high or fluctuating costs enough to drive you up the wall. In addition to being a normal household expense, fuel is often a major cost for businesses, particularly those that operate as a mobile unit or require their employees to regularly travel. In an effort to keep petrol costs down, many Australian businesses turn to fuel cards in order to save cash at the checkout, as well as efficiently manage their spending.
Offered by a variety of petrol station retailers, fuel card programs could help you save every time you fill up the car or truck, while also offering extra bonuses like Frequent Flyer points, or discounts on in-store food and drink purchases. With businesses spending an average of $1,145 per month on fuel, according to our 2021 survey – up noticeably from $928 last year – every discount and saving can help, especially when you're operating a fleet of vehicles. So, which fuel card programs are the best of the bunch?
To help you find the best option for your business or workforce, we've again surveyed more than 400 small business owners and key decision-makers across Australia to find out which fuel cards offer the best value for money, discounts and convenience for those out on the road. The brands which received the minimum survey sample size of 30 responses are featured in our results.
If you're in the market for a fuel card for your business, read on to find out just what's on offer from the brands compared, in addition to some of the other fuel programs available in Australia right now.
Best Fuel Cards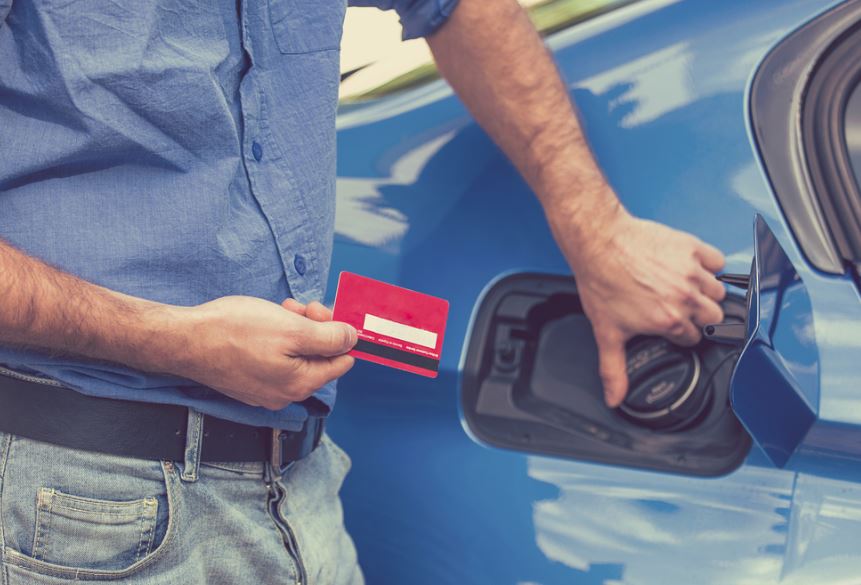 Here are the best retailers for fuel cards in Australia, as rated by consumers in Canstar Blue's 2021 review:
BP
Shell
7-Eleven
Ampol
Fleet Card
BP topped our ratings for the best fuel card, after earning the only five-star rating for overall satisfaction, alongside its five star ratings for petrol station facilities, customer service, account management, fees and charges as well as loyalty program. Shell followed behind on four stars, with 7-Eleven, Ampol and Fleet Card all finishing on three stars.
However, this year's winner wasn't the only retailer to impress business owners. Shell achieved five star ratings for both customer service and account management, with 7-Eleven the only brand to score five stars for fuel discounts. Fleet Card was rated five stars for both petrol stations available and account management, while last year's winner Ampol the only brand to finish without a five star result.
A quick point about Ampol
Before going into detail about the fuel cards offered by the companies in this review, we first need to note the rebranding of Caltex sites to Ampol. Ampol Limited, which, through a subsidiary, licensed the right to use the Caltex trademark in Australia, and is in the process of transitioning its network of over 1,900 sites to trade under its own Ampol name. Ampol says its own brand better reflects the organisation's Australian history, dating back to the early 1900's. While our 2021 consumer research on fuel cards occurred during the rebranding, Canstar Blue is satisfied that it is now appropriate to reflect the brand change in this report.
Top Fuel Cards
BP Plus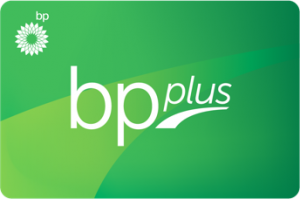 A prominent service station retailer, BP offers the BP Plus fuel card, which includes a number of discounts at over 1,400 service stations around Australia, as well as access to the BP Specialist Discount Network, with Qantas Points able to be earned on fuel and shop transactions.
Costing between $2.20 and $4.95 per card per month (depending on how many fuel cards you sign up for), the BP Plus comes with up to 51 days of interest-free credit, with the majority of discounts coming from the extended BP range and affiliates, such as BP Connect, Wild Bean Cafés, and the BP Truck Plus network. The BP Plus card also comes with Care Plus security measures, such as a purchasing limit or a PIN to ensure that your fuel cards are used correctly, with online support also available.
For those in charge of the business account, BP Plus Online allows you to manage all your fuel cards, as well as access Business Activity Statements and transaction records for when it comes time to sort out your taxes, with an auto feed function with Xero accounting software. Applications for a BP Plus card can be made online, with the BP Plus app also available to help you keep an eye on your fuel cards when you're out and about.
BP achieved five stars across multiple categories, including petrol station facilities, customer service, account management, fees and charges as well as loyalty programs and overall satisfaction, with four stars in the remaining categories.
Shell Card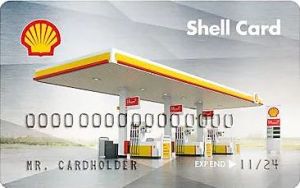 Giving motorists access to more than 1,250 sites around Australia, including 150 truck-friendly locations, the Shell Fuel Card provides a number of fuel discounts in addition to an easy way to keep track of those receipts and invoices. Costing $2.50 per month per card, you can apply for a Shell Fuel Card online.
With discounts on fuels such as Shell V-Power, Shell Premium 98, Shell Unleaded 95, Shell Unleaded 91 and Shell Diesel, you can even score flybuys points at Shell Coles Express sites, allowing you to make the most of when you need to fill up.
Some of the big advantages of the Shell Fuel Card come from the business administration side, allowing account holders to personalise each card to specific fuel types and purchases, along with offering access to previous invoices and receipts, in addition to Business Activity Statements. Shell also offers Shell Card Online to help you keep track of your account and cards, with tutorials available for those who are new to the system.
Shell earned a five-star rating for customer service and account management, with four stars for petrol station facilities, loyalty program and overall satisfaction, with three stars in all other categories.
7-Eleven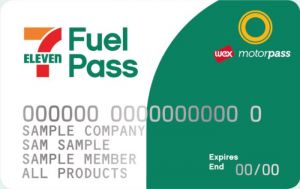 The only place where you can grab a Slurpee while filling up your car, 7-Eleven has become increasingly popular in recent years, with the convenience store a handy option for many. You can use the 7-Eleven Fuel Pass Card at one of the 550-plus 7-Eleven locations, with the card also accepted across the Motorpass network.
With no joining or transaction fee, the 7-Eleven Fuel Pass Card costs $2.50 per card per month, with an 8c saving per litre available for the first six months your business is signed up with 7-Eleven Fuel Pass, before dropping to a 2c per litre saving. There's also no lock-in contracts, and 44 payment free days for flexible payments. You also have a few card options to choose from in regards to who or what you allocate the card to. There's the 'Driver and Vehicle' card, 'Drivers Only' card or the 'Vehicle Detailed' card to help you track expenses and keep your cards secured.
For those who only want to top up at the pump, the 'Fuel Only' group will be suited to you, whereas those likely to change their oil, or make use of the car wash, may be better suited to the 'Fuel & Vehicle' group. But if you're one of those who can't pass up on a few snacks or a coffee while in store, the 'All' option gives you discounts on both fuel and in-store purchases. The 7-Eleven fuel card also provides quarterly Business Activity Statements (BAS), an annual tax summary and other reporting documents.
7-Eleven was the only brand to receive five stars for fuel discounts, and also scored three stars for petrol stations available and overall satisfaction. It was rated four stars in all remaining categories, including fees and charges.
AmpolCard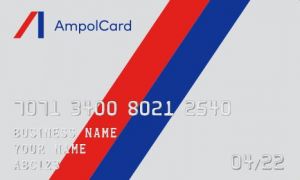 The  AmpolCard – like the Caltex StarCard – is available for use at over 1,900 locations around Australia, including Woolworths Metro and Foodary outlets for when you're looking for more than just fuel. The AmpolCard is also accepted at over 240 truck stops around Australia and offers discounts at the pump – and through affiliated services, allowing you and your fleet to keep on the move. Current Caltex StarCard holders can expect their card to remain usable but will soon receive a new AmpolCard as Ampol completes its rebranding exercise.
Its fuel discounts include 4c per litre off Amplify Premium petrol, 3c per litre off Amplify Premium diesel, as well as 2c per litre on regular petrol and diesel. Costing just $2.95 a month per vehicle, an AmpolCard may be well worth the investment for businesses constantly on the go. You can also score discounts on parking, as well as score Qantas Points and Everyday Rewards on certain purchases.
In addition to fuel and various other savings, extras such as Roadside Assistance and Services & Repairs can be added to help keep your workforce moving. While these additional extras may cost you per vehicle that you add, it may be a small price to pay for the extra peace of mind and ensure your business is kept running smoothly.
For those managing the account, AmpolCard offers full PIN security and transactions can easily be tracked and managed online, with a full record of all transactions available for you to keep track of. If you're looking to keep all your finances in one spot, you can even link your card's account to MYOB accounting software, with an EOFY statement also available to help when tax season rolls around.
Falling off top spot last year, Ampol was rated four stars for account management, with three stars in all other categories, including number of petrol stations available, customer service and overall satisfaction.
Fleet Card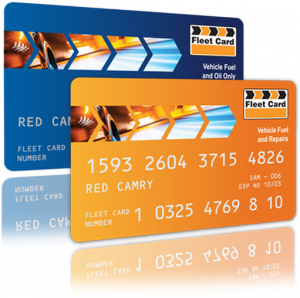 Fleet Card is available at around 6,000 fuel sites around Australia, with the card also accepted at around 6,000 motor dealerships and repair centres, helping you stay covered regardless of whether you simply need some fuel or need to fix something a bit more serious.
You can choose between the Fleet Card Orange and Fleet Card Blue options, with the Blue card more suited for those who simply need to fill up at the pump, while the Orange card is best for those who prefer the option to get a bit of work done under the hood. With the Fleet Card Mobile App available to help you find your closest fuel station, applications can be made online, with monthly tax invoices and reports also available.
The only brand to score five stars for number of petrol stations available, Fleet Card also scored five stars for loyalty program, but received a number of three star results, including overall satisfaction, as well as a two star rating for fuel discounts.
Other Fuel Cards
While BP, Shell, 7-Eleven, Ampol and Fleet Card have most Australians covered when it comes to filling up at the pump, there are a number of other service station chains that may also offer businesses a good deal.
Puma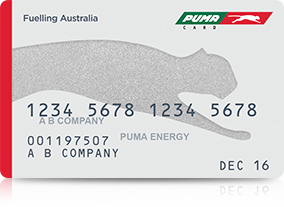 With over 400 locations around Australia, Puma is also a viable option, providing two types of fuel cards for businesses to consider. The 'Pumacard Direct' is a better option for those who exclusively use Puma service stations – coming with no transaction fees – whereas the 'Pumacard' is widely accepted at other servos, allowing more options when you're running on empty.
The Pumacard can also be used for discounts on a variety of travel options, including accommodation and parking, as well as repairs, maintenance and at tyre and auto retailers, allowing businesses to keep their fleet running while saving on costs. Your Pumacard will also be PIN-enabled, and personalised to allow fuel purchases only, or give you access to the full range of goodies available at Puma locations.
The Puma app is also available, allowing businesses to check and top up card balances, as well as view transaction history.
WEX Motorpass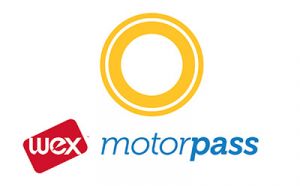 Accepted at over 6,000 locations across Australia, the WEX Motorpass is a handy card to have in your wallet. Providing a range of online services, the WEX Motorpass could be well suited to many businesses on the go.
When it comes to what's covered, WEX offers a few options. There's the 'Fuel & Oil only' option, the 'All Vehicle Expenses' options for those after oil and other services, as well as 'All Products', which will cover plenty of food and drink goodies for drivers. For those managing the program, WEX Motorpass provides Quarterly Activity Reporting, in addition to Annual Activity Reporting to help take some of the stress out of tax season, with the reports available to suit both MYOB and Reckon software.
For those not sure if their local service station supports Motorpass, WEX offers an online service which will search nearby stations for you, helping to take the stress out of the situation. Additionally, WEX also has a mobile app to ensure you're not left stranded, or to keep on top of your accounts.
See here for more on fuel card programs, including those from Coles, Woolworths and Costco.
Is a fuel card worth it?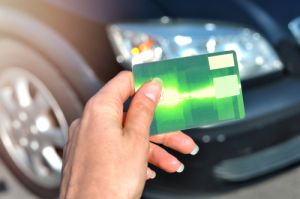 The main selling point of a fuel card is to help you save money when you go to pay for fuel, or for when you run into a bit of trouble out on the road. While some fuel cards offer discounts on fuel itself, other fuel cards offer discounts on services through affiliates in case something breaks or you need a service. With surveyed businesses spending more than $1,100 a month on fuel, finding a suitable fuel card can help you save money on fuel, as well as other products and services.
While the amount of options available may be daunting, a third (33%) of survey respondents believe that using fuel cards works out cheaper than paying for fuel every time (down from 77% last year), which means it may prove a worthwhile option to explore if you're looking to save a bit of cash. Adding that most cards provide additional security measures and administrative systems to help you run your workforce, a fuel card may even help with the day-to-day running of the business. Here are some facts our research found:
Just 16% of survey respondents said employee misuse of fuel cards is a big concern for their business (down from 42% in 2020)
28% of businesses researched different fuel cards before agreeing to one (down from 73% last year)
30% use the extra perks and features of a fuel card (down from 67% last year)
However, add in that 34% of survey respondents said that their staff have travelled less and used less fuel during COVID-19, the drop in these figures isn't totally surprising.
Another option to consider is using the company credit card for fuel purchases. Some credit cards, such as American Express, offer rewards such as frequent flyer points on purchases, meaning you can end up racking up plenty of points at the petrol station, which may help you save in other areas. The other side of this however, is that credit cards could incur a higher fee, and may not be as widely accepted as fuel cards, so it's important to look at the fine print before locking into a contract with either a fuel card or a credit card.
You may also be interested in:
Which fuel card should I use for my business?
Which fuel card you decide to whip out at the servo checkout will ultimately come down to a number of factors, including where your business operates, the number of petrol stations available to you, and how often you find yourself filling up. For those looking for a simple discount, there's no shortage of options, with both the big players and smaller names providing a way for businesses to save on their travels. But those looking for the complete package of services may have to look a bit closer, with the larger names generally offering a wider net of affiliates and tools to help you on your way.
Ultimately it will come down to your personal preferences and what you consider to be more important. While some businesses will understandably prioritise getting the cheapest deal on petrol, 27% of survey respondents said the number of locations available is more important than discounts, meaning the best fuel card will vary from business to business. However, looking into all of your options, as well as reading the fine print, may help you find one that firmly puts you in the driver's seat when it comes to getting a good deal.
About the author of this page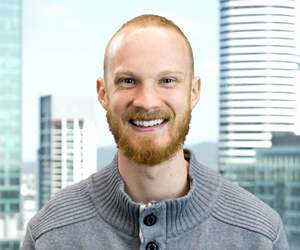 This report was written by Canstar Blue's Content Projects Lead, Dean Heckscher. He's our resident expert on all things automotive, health & fitness, streaming and more. Dean is also one of Canstar Blue's customer research report producers, helping to turn complicated subjects into easily-digestible information for our readers. He's passionate about helping consumers make better-informed purchase decisions on all manner of consumer goods and services.