So you recently got the hottest gaming console or you've moved to a new place and wondering what the internet will be like for gaming – well, before jumping into the cheapest broadband plan, it can pay to do your research. Gamers are a different breed, but still desire the same thing as every other user – a fast connection. However, it's more than just a fast connection that can make or break a gaming experience. Read on for what to look out for if you're a gamer and ideal internet plans for gaming.
Internet for Gaming – What Broadband Do I Need?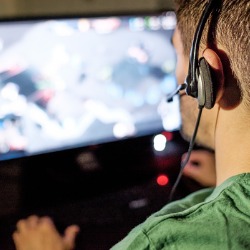 There are very few providers out there specifically offering 'gamer' plans, so a good bet is to go with a renowned provider. Aside from asking your prospective neighbour how they feel their internet is, going with a bigger provider or one that promises enough bandwidth for everyone could be a good way to go.
MyRepublic has a specific 'Gamer Pro' plan with a static IP address and speeds on the top-tier of NBN.
Service providers such as Aussie Broadband and SkyMesh generally promise higher amounts of bandwidth per user, lower congestion and so on. In the latter's case, data-free Netflix and speed boosts are also available.
Here is a selection of these providers' top-tier internet plans for your consideration:
Tips for Choosing an Internet Plan for Gaming
It's tempting to find the cheapest plan and to say 'To hell with it', but if you're serious about gaming – or just don't like lag – there is a bit more homework you'll need to do. Below are some of the factors that can affect your overall online gaming experience.
Low Latency or 'Ping' Times
At the end of the day, the internet is basically sending packets of data from the end user to the server and back again. The thing is online gaming requires this to happen really fast – faster than your everyday internet user may need. In gaming this could be the difference between winning and losing! Things that affect ping time are:
Your distance to the server: Your home may be in Brisbane, but your internet provider may route traffic through Sydney, for example. This may result in a slower ping time, and it will take longer for your online gaming movements to register on-screen (i.e. lag).
Cheaper providers often route traffic through one city only – however many other providers can route traffic through most capital cities.
More users on the one connection can also dramatically worsen ping scores.
A better ping score is more important than broadband speed. Ping scores are highly variable and as such are not as readily advertised by providers. Unfortunately, you can't really know you have a good or poor ping score before you sign up to an internet plan.
Enough Bandwidth
The '6pm slowdown' is real. Peak times – between 7pm and 11pm – can slow down speeds dramatically, as can multiple devices connected to Wi-Fi. If your housemate started streaming Netflix while gaming and your experience went south, two people sharing the connection may be the culprit.
Buying the fastest plan you can afford can ensure there's enough bandwidth to go around for everyone. Larger households will likely need faster NBN plans.
Bandwidth literally refers to having enough 'pipe' or space in the pipe for your internet speed requirements. You may have a fast ping, but if there's not enough bandwidth there's not enough 'pipe' to send those packets of data. Below are some top-tier NBN plans to ensure there's enough bandwidth to go around to support gaming, streaming and more:
Advertised Speeds vs Evening Speeds
The fastest NBN speed available to most Australians is 100Mbps downloading. However, between the hours of 7pm and 11pm, speeds can slow dramatically.
Speed is not as important as ping, but if you need to do some hefty game downloads, peak times may not be the ideal time to do so.
Peak slowdown has been so drastic that the ACCC has even stipulated that some internet providers must compensate customers for advertising speeds that were not achieved. Below is a comparison of some of the top providers' advertised speeds versus their typical evening speeds:
Provider
Top NBN Speed Tier
Typical Evening Speed
Telstra
100Mbps
60Mbps
Optus
60Mbps
iiNet
70.8Mbps
TPG
66.2Mbps
Aussie Broadband
78Mbps
January 2018
While a lower evening speed should not necessarily scare you off, it could be a good indicator of how congested each provider gets in peak times. Some providers such as Dodo, iPrimus and MyRepublic do not explicitly mention their typical evening speeds.
Distance from Exchange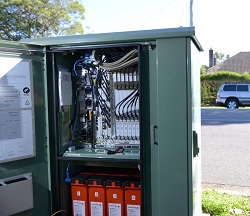 This may more specifically apply to ADSL customers, but the distance from your internet exchange to your home may affect your end broadband speed. This is because of the cabling required to go to your home.
Distances within 1km of the exchange can achieve up to the full 24Mbps speed specification.
There is a sharp dropoff with connections more than 3km away, with those 5km away achieving only around 2-3Mbps maximum.
Luckily, many suburban internet exchanges are quite close together and cast less than a 5km net. While it's hardly advisable to move house because of this, it might be a consideration when moving or buying a house to choose a new place close to an exchange!
Your Console's Speed Requirements
The two major online gaming consoles in the Xbox One and the PlayStation 4 rate minimum requirements slightly differently.
Xbox One recommends a minimum download speed of 3Mbps and a maximum ping rate of 150ms.
While PlayStation does not specify any minimums, it is reported that the minimum speeds are 5Mbps and 100ms ping.
Both companies recommend connecting via Ethernet cable as opposed to Wi-Fi. In any case, these speed minimums are quite easily achievable, but the ping scores can be blown out of the water by shared bandwidth, peak times, using Wi-Fi and so on. As mentioned earlier, a good ping score is more vital than a good download speed for playing online.
'Steam' is an online community to download games and share content, and regularly ranks Aussie ISPs. The top ranked can be found below:
Should I get an internet plan for gaming online?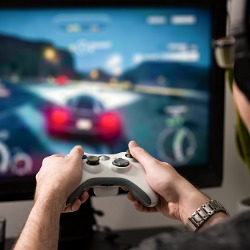 If you're unhappy with your current online gaming situation and your internet provider, it may be time to think about switching. However, you need to do a bit of homework to make sure you're just switching into another nightmare! There are a few points you'll need to consider:
Cheapest isn't always best – cheap plans often come with low data caps, slow NBN speed tiers, and only a few traffic routes (i.e. through an interstate city instead of your own).
Buying a fast enough plan for household needs can mean the difference between happiness and a headache.
Ping or latency is more important than outright download speeds.
Using an Ethernet connection instead of Wi-Fi.
While it doesn't seem like there's much you can do about slow internet speeds, there are in fact a few steps you can take before diving into the next plan to make sure you're getting what you need. While simply changing providers won't change everything, it could mean the difference between killing that guy on Call of Duty and missing him completely. It never hurts to compare your options!