Fact Checked
Aussies lean on The Man Shake as best-rated weight loss shake
Try as we might, no matter how hard we sweat at the gym, or how fresh and healthy we eat, those last few kilos just seem to stick around. And with summer never far away, many Aussies will be feeling the squeeze – literally – of trying to fit into our old swimmers. When it comes to losing weight, there are plenty of options to choose from, from the traditional blood, sweat and tears approach, all the way through to the questionable – and potentially unsafe – practices. With so many dieting fads around, narrowing down which one to pursue is almost as tough as losing weight.
One option that many people turn to is weight loss shakes, with plenty of brands making the promise to help you get your ideal body in no time – and they can even taste nice! While some consumers may be suspicious about dietary supplements – and sometimes rightfully so – many offer an easy way for Aussies to safely lose weight quickly, provided they still put the work in! But when it comes to finding the right weight loss shakes for your lifestyle and tastebuds, it's important to do your research, and that's where we come in.
To help you find out which weight loss shake might be best for your needs, we've again asked nearly 900 Australians to weigh in on the meal replacement shakes they have purchased and used in the last six months. Respondents reviewed brands on their effectiveness, hunger satisfaction, taste, variety of flavours, texture and consistency, packaging design, value for money and overall satisfaction. Those that received the minimum survey sample size of 30 responses are compared in this report.
So, what did we find? The Man Shake shook things up after being the only brand to receive a five-star review for overall satisfaction, knocking three-year consecutive champion Slim & Trim (ALDI) off the top spot. It also scored full marks for effectiveness, hunger satisfaction and flavour variety.
Shopping for Protein Supplements?
Bulk Nutrients has been rated #1 for Customer Satisfaction in the Canstar Blue Protein Supplement Category three years in a row! Offering $7 flat rate shipping in Australia.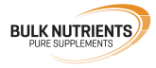 Shop Online Now
Best Weight Loss Shakes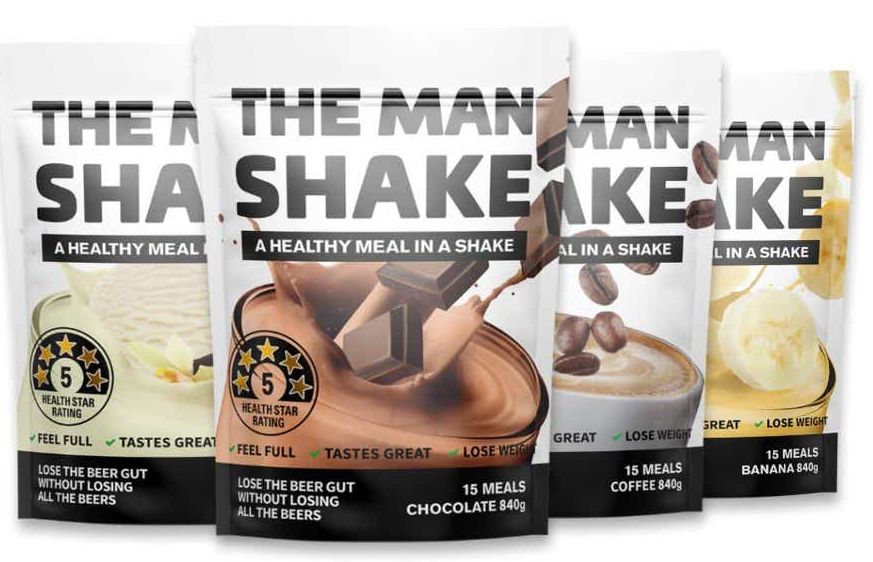 Here are the best diet shakes in Australia, as rated by consumers in Canstar Blue's latest review:
The Man Shake
Rapid Loss
Atkins
FatBlaster
The Lady Shake
Aussie Bodies
ALDI Slim & Trim
Optifast
Musashi
SlimRight (Nature's Way)
Optislim
The Man Shake trimmed the fat and became the number one pick for weight loss shakes in 2021, after being the only brand to earn five stars for overall satisfaction. The majority of brands featured scored four stars overall, except for Musashi, SlimRight and Optislim which rounded up the results on three stars each for overall satisfaction.
It's worth mentioning that while ALDI's Slim & Trim dropped a few spots, it still rated best for value for money. FatBlaster and SlimRight similarly whipped up full marks for taste and texture and consistency, with FatBlaster earning extra brownie points for flavour variety (alongside Optifast). SlimRight also made the cut in terms of packaging design, as did Atkins. Optifast also received five stars for effectiveness.
Narrowing down your options can be just as tough as shedding a few kilos, especially considering that more than half (55%) of survey respondents have tried more than one brand of diet shakes. The fact that a similar amount of people (50%) also turned to weight loss shakes as a last resort also suggests there can be even greater pressure to find a product that works, which can be tricky when all brands claim to do the same thing.
If you're looking to lose a few kilos before summer starts – or you're just interested in how weight loss shakes actually work – read on to find out what the big brands in our comparison have to offer. And we'll also do our best to answer the questions you may have, starting with the most important of all… do weight loss shakes really work?
Do weight loss shakes work?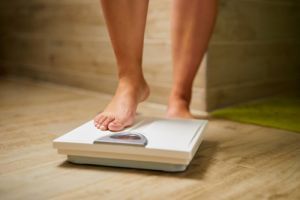 Yes, weight loss shakes can work. That's the short answer, but only if you follow the guidelines properly and really commit to the challenge. However, weight loss shakes are not a magic solution or magic diet pill that will see you shedding kilos in no time. Losing weight requires patience, dedication, and willpower.
The weight loss shakes you buy can help you along the way, but their success or failure will – ultimately – be determined by you. Stick to the advice of your chosen weight loss program – this will typically involve replacing one or two meals per day with shakes – and supplement your shakes with a healthy, balanced diet and regular exercise.
Ultimately, the best weight loss shakes should keep you full and satisfied between meals, to avoid naughty temptations. The danger of consuming shakes with very few calories (usually between 50-200 calories per serve) is that you could end up more prone to snacking or even turn to the sort of meals you are supposed to be replacing.
When asked whether they have lost weight using diet shakes, survey respondents told us:
Yes, I have lost some weight: 62%
Yes, I have lost all the weight I intended: 13%
No, I have not lost any weight: 22%
No, I have put on more weight: 3%
A quarter (25%) of survey respondents strictly adhered to their recommended program, up from 12% last year. Although it seems more Australians (44%) are snacking on foods in addition to their recommended daily intake, compared to last year (27%). More than half (57%) of respondents are also exercising regularly to support their weight loss regime.
What's in weight loss shakes?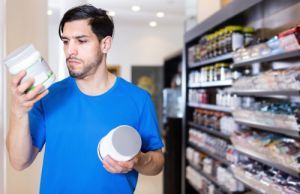 Weight loss shakes are claimed to be made with a combination of different fibres, proteins, vitamins and minerals, plus some other additives and flavours depending on the brand.
Keep in mind that it's important to check the sugar content of weight loss shakes, which can vary significantly across different products. It's the same case with protein bars. Some products are packed with over 20g of sugar per serve, while others include less than 2g. Not only is consuming an excessive amount of sugar bad for you, but it's also unlikely to suppress your appetite for long. If you want a weight loss shake that keeps you full for as long as possible, it could be worth looking at those with a large amount of protein.
How much do weight loss shakes cost?
Using diet shakes to replace one or two meals each day can prove to be an expensive way to drop the kilos. Although it seems consumers are now forking out less, our survey revealed Aussies are spending an average of $70 on diet shakes per month (compared to $98 last year).
A useful way to judge whether it's worth trying diet shakes, at least in terms of cost, is to work out how much you would normally spend on the meals that you're replacing. However, there can be a significant difference in price between brands, so make sure to check how many servings you're getting for your money. Generally speaking, buying meal replacement shakes in bulk is the cheapest way to go. Some diet drinks also come in sachets – which makes it easy to work out how many you will need for a week or month – while others come in large tubs, requiring a little more brainpower to determine how much you'll need.
Top Weight Loss Shakes
The Man Shake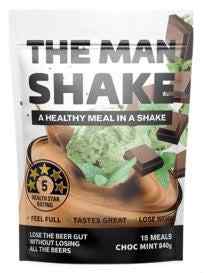 The Man Shake is described as a 'healthy meal in a shake' for 'men to lose the beer gut without losing all the beers'. It's claimed to be low in sugar to prevent energy crashes, and to contain 30g of protein to build muscle and keep you feeling fuller for longer. The Man Shake also includes 25 vitamins and minerals, as well as prebiotics and probiotics for gut health. The Man Shake is additionally stated to use an all-natural fat burner formulation that specifically targets gut fat.
You can additionally get The Vegan Man Shake for a plant-based alternative. The Man Shake is available in various flavours including cookies & cream, coffee, choc mint, banana, caramel, strawberry and vanilla.
The Man Shake was rated five stars for effectiveness, hunger satisfaction, variety of flavours available and overall satisfaction. It got four stars for taste and packaging design, plus three stars for texture and consistency and value for money.
Rapid Loss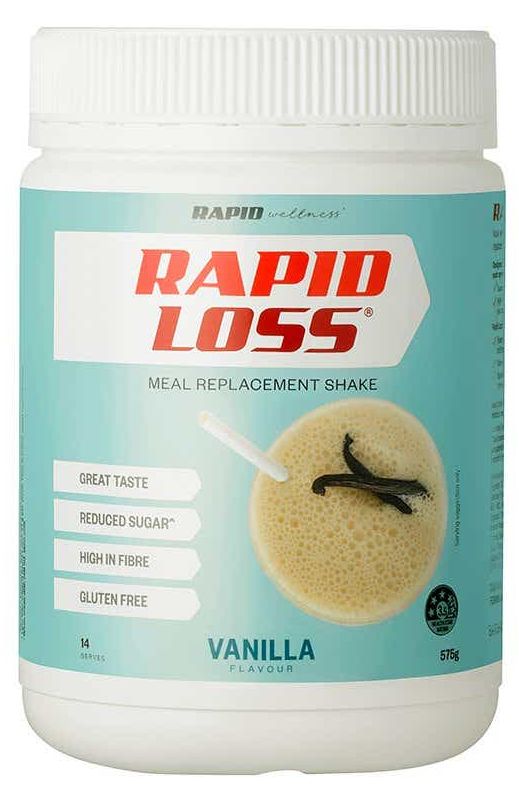 According to the brand, Rapid Loss works as a 'bridging diet' that helps you develop long-lasting healthy habits as well as lose or maintain your weight. The meal replacement shakes are designed to be used in conjunction with the Rapid Loss Weight Management Program, which encourages individuals to use tailored meal and exercise plans. Rapid Loss diet shakes can alternatively be used as a protein-rich supplement to support a healthy and active lifestyle.
Rapid Loss shakes are available in 575g and 740g tubs, in flavours like latte, choc coconut, salted caramel and vanilla. Rapid Loss also lists articles and recipes on its website for when you get stuck on your weight loss journey, with shakers and kits also available for purchase.
Rapid Loss maintained four stars in the majority of the categories, such as hunger satisfaction, taste, texture and consistency, value for money and overall satisfaction. It got three stars in the remaining areas.
Atkins

For those looking to maintain a healthy weight or cut back on the carbs, Atkins is one of the most well-known diets in the world. To help you with a low-carb lifestyle, Atkins has several ready-to-go and ready-to-mix shakes that are claimed to be low in sugar and packed with protein, according to the brand. Different diet shakes to choose from include the Atkins Protein Shake, Atkins Plus Protein and the Atkins Protein Shake Mix.
Available in 400ml bottles, Atkins Plus Protein shakes offer flavours like iced coffee, banana caramel and dark chocolate. The ready-to-drink range similarly comes in 330ml bottles and includes flavours such as chocolate and vanilla. Atkins additionally serves up 330g protein powder tubs, as well as bars, muesli, pasta, bread and crispbread.
Atkins was rated five stars for packaging design and four stars for effectiveness, hunger satisfaction, value for money and overall satisfaction. It got three stars everywhere else.
FatBlaster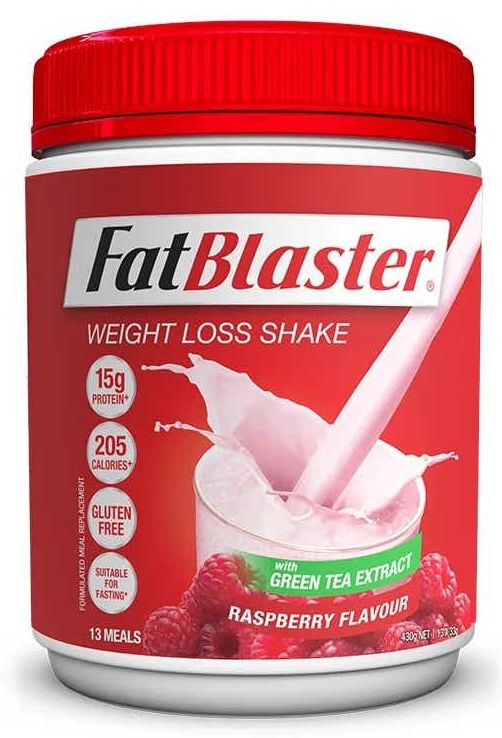 Among its many weight loss products, including Keto-Fit diet shakes, detox drinks, weight loss pills and Very Low Calorie Diet (VLCD) snack bars, FatBlaster also provides four types of meal replacement shakes. These are claimed to provide a nutritionally balanced meal replacement that's packed with protein, vitamins and minerals. Some products include the FatBlaster Weight Loss Shake, FatBlaster For Men Weight Loss Shakes and FatBlaster Platinum+ ThermoBurn Shake.
FatBlaster's 'regular' diet shake is said to contain 30% less sugar and is sold in 430g tubs. Flavours include raspberry, choc mocha, vanilla and chocolate. The FatBlaster Ultimate range alternatively comes in sachets and is claimed to contain even less sugar.
FatBlaster impressed on taste, texture and consistency and flavour variety, earning five stars for each category. It got four stars for hunger satisfaction, value for money and overall satisfaction, and three stars everywhere else.
The Lady Shake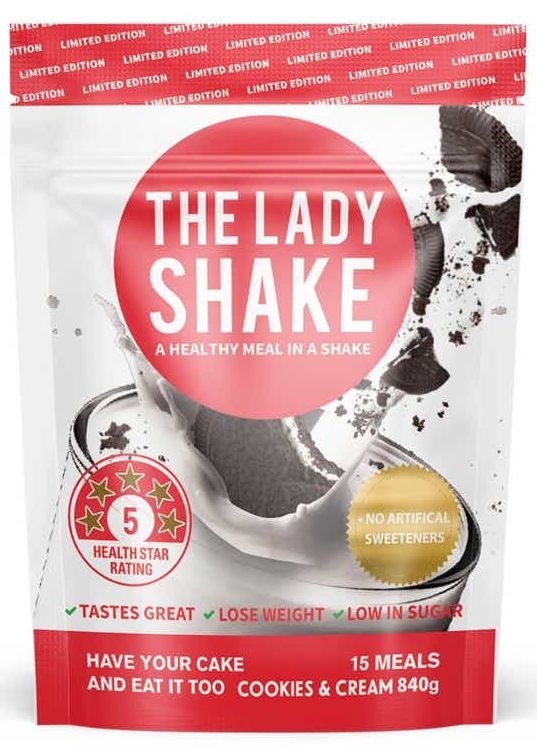 Losing weight doesn't mean staying hungry. That's why The Lady Shake offers a variety of weight loss shakes which are said to be packed with collagen protein and fibre to keep you feeling satisfied for longer. Containing 15 serves per 840g bag, these weight loss shakes are described as gluten-free and as a natural fat burner.
Several ingredients include collagen protein to make you glow, prebiotics and probiotics for mood and immunity, and 25 vitamins and minerals to meet your daily nutritional requirements. The Lady Shake is also stated to be low in sugar and high in fibre to minimise cravings and does not include artificial colours, preservatives, flavours or sweeteners. The Lady Shake is claimed to be designed specifically for women. The brand recommends replacing two meals a day, with The Lady Shake to support a healthy balanced diet. You can purchase The Lady Shake range on its website, or from Coles and Woolworths
The Lady Shake received four stars for effectiveness, flavour variety, packaging design and overall satisfaction. It scored three stars for value for money and all other factors.
Aussie Bodies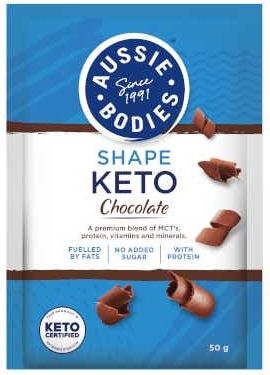 Aussie Bodies provides a range of fitness-inspired sports nutrition powders, protein bars and drinks. Most shakes are available in tub form, in sizes such as 420g, 430g, 735g 750g and 770g. Otherwise, its Shape Keto diet shakes are available in 60g sachets. This particular product is formulated according to Keto guidelines. That's a 70:20:10 calorie split of fats:protein:carbs.
For something simple, the Aussie Bodies Shape Powder is described as a low-carb shake that can be added to your daily nutrition and doesn't contain any artificial colours, flavours, or preservatives. The brand's Nourish Protein Powder also offers a vegan-friendly alternative and is stated to contain digestive enzymes and probiotic fibre for a happy tummy. Depending on which diet shake you get, some flavours offered include maple banana, cocoa bean and crisp apple mango.
Aussie Bodies achieved a split mix of scores, receiving four stars for effectiveness, hunger satisfaction, value for money and overall satisfaction. It got three stars everywhere else.
ALDI Slim & Trim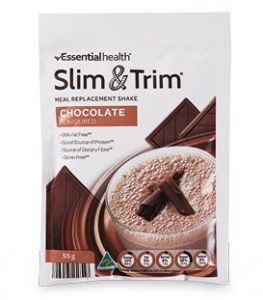 Former winner, ALDI Slim & Trim offers Aussies several types of weight loss shakes and protein supplement options for those looking to kickstart a new diet. While it may not have the range that other brands have, ALDI's Slim & Trim line does still have some classic flavours like chocolate, coffee, strawberry and vanilla.
Its shakes come in individual serving sachets (55g), so you can buy exactly as many of each flavour as you like and need, and can avoid getting stuck with a whole box or tub full of a flavour that doesn't end up taking your fancy. They're also handy to chuck in your bag or keep in your work drawer so you've always got a meal replacement shake on hand.
ALDI's Slim & Trim weight loss shakes rated best for value for money, earning five stars. It landed on four stars for the remaining categories, such as effectiveness, hunger satisfaction and overall satisfaction.
Optifast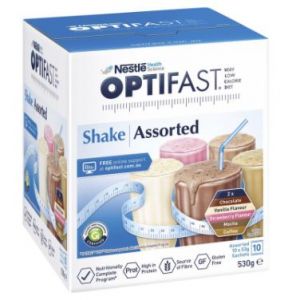 For a meal replacement shake that's suitable for the Very Low Calorie Diet program (VLCD), one option is Optifast. Its VLCD range can be consumed according to four different levels (or stages) including, the Intensive Level, Active 2 Level, Active 1 Level and Maintenance Level. The types of Optifast shakes include Optifast VLCD Protein Plus Shakes and Optifast VLCD Shakes.
Available to purchase from most major pharmacies, Optifast's weight loss shakes come in a variety of different flavours, including chocolate, caramel, vanilla, coffee, banana, strawberry and chai, with each flavour said to be gluten-free. These can be purchased as a single-flavour box of 12 or 18 sachets, or as a 10-pack, depending on the range. If you're working on maintaining muscle mass, Optifast's ProteinPlus shake is claimed to contain 40% more protein per serve. Optifast also features several meal replacement snack bars, plus new additions to its line of soups and desserts.
Optifast was one of the top performers in terms of effectiveness and flavour variety, earning five-star reviews in both categories. It received four stars for hunger satisfaction, texture, packaging design and overall satisfaction, plus three stars everywhere else.
Musashi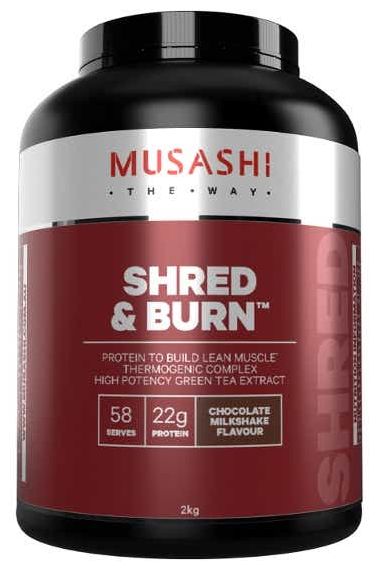 Musashi offers a variety of sports nutrition products, with many claiming to be scientifically supported and proven. The brand has four different ranges tailored to suit specific health goals, including Fuel, Bulk, Shred and Recover.
Musashi's 'Shred' line includes products like Musashi Shred & Burn Powder, a protein powder stated to help you build lean muscle. Available in chocolate and vanilla, these can be found in 340g, 900g and 2kg tubs. For busy people who need a snack on the go, the Musashi Shred and Burn additionally comes in a convenient pack of six 375ml bottles.
Musashi also offers carnitine products. Carnitine is described as an antioxidant that supposedly helps reduce free radicals formed in the body, as well as support energy production and assist with post-exercise recovery. Musashi Carnitine comes in 50g tubs (powder) and in capsule form, with each bottle containing 60 capsules. The Musashi Fat Metaboliser with carnitine is similarly available.
Musashi earned four stars for effectiveness, hunger satisfaction and texture and consistency, before landing on three stars for overall satisfaction and everywhere else.
Nature's Way SlimRight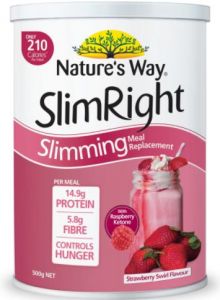 Nature's Way offers several weight loss shakes under SlimRight, namely from the Slimming Meal Replacement range. These are designed to replace one or two meals daily and are said to be a good source of protein, fibre and prebiotics. These diet shakes are also claimed to be 99% fat-free and come in classic flavours like chocolate, vanilla and strawberry.
Most SlimRight shakes are sold in 500g tubs, otherwise you can get a variety pack with 10 sachets (35g each). These can be purchased from supermarkets and various major pharmacy chains. Nature's Way additionally has several other labels under its umbrella, such as Adult Vita Gummies, Superfood and Instant Natural Protein.
SlimRight impressed when it came to taste, texture and consistency and packaging design, receiving five-star reviews, and achieved four stars for flavour variety and value for money. It ended on three stars for the other factors.
Optislim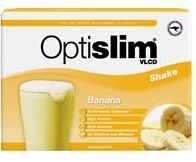 Optislim has various weight loss shakes and programs, giving you plenty to choose from depending on your body and weight goals. It caters to two types of diets: VLCD and Low Calorie Diet (LCD).
The Optislim VLCD Classic range comes in flavours such as salted caramel and is sold in boxes of 21 individual sachets. The VLCD Platinum and Platinum Plus weight loss shakes supposedly kick it up a notch with increased fat burning, reduced hunger, and higher energy levels for even faster results, according to Optislim. These are made to be mixed with milk and come in 21 sachets (25g each) per Platinum Pack or 18 sachets for Platinum Plus products.
For even more variety, Optislim additionally sells bars, soups, and even cookies among the various product lines, making it easier to grab a quick snack without worrying about your weight loss progress. Optislim products can be purchased online and in major pharmacies.
Optislim achieved four stars for variety of flavours available, before rounding up the results on three stars for effectiveness, value for money, overall satisfaction and everywhere else.
Other weight loss shakes
In addition to the rated brands covered above, there are a number of other readily available for Aussies looking to lose weight.
Celebrity Slim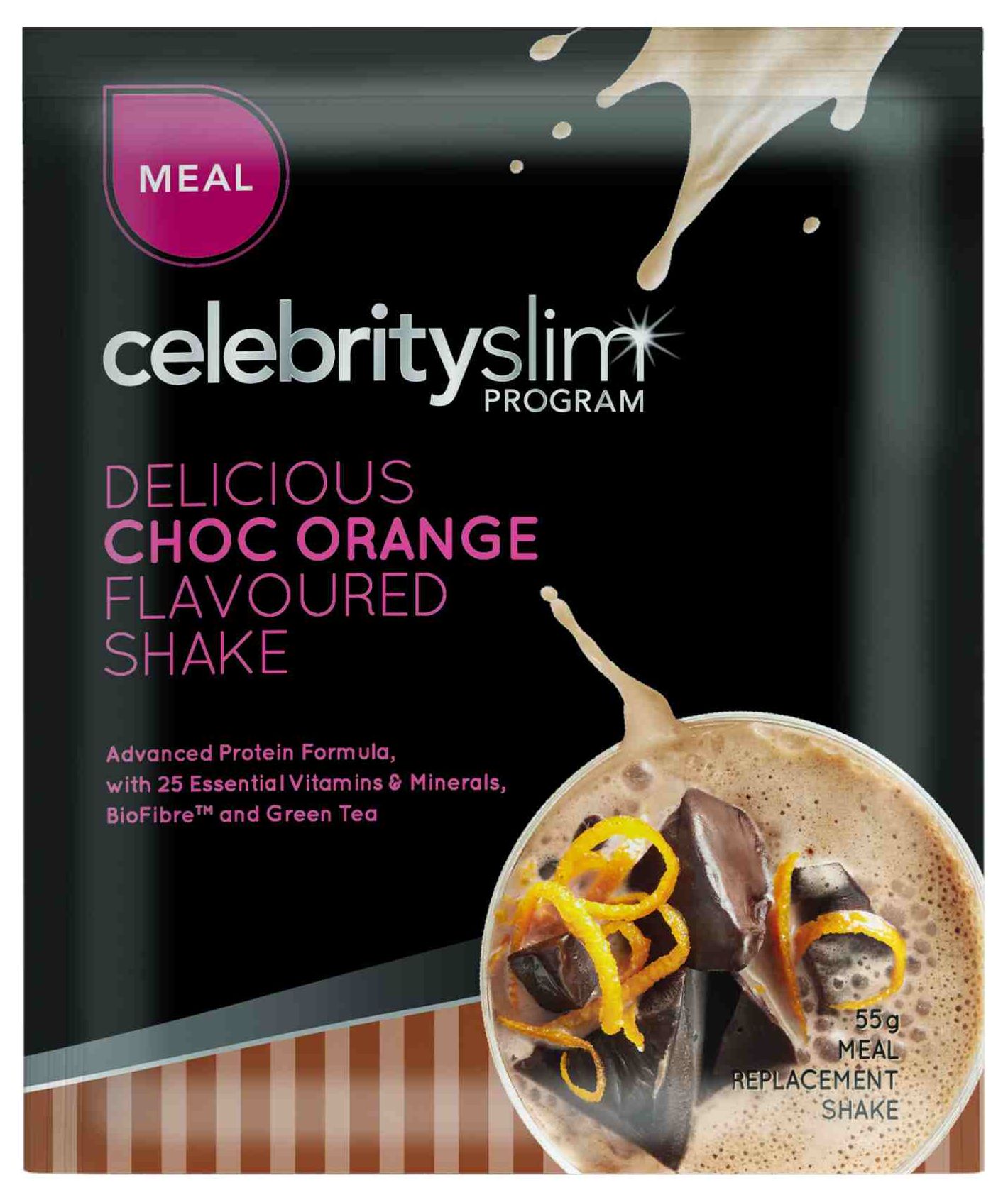 The Celebrity Slim range has plenty to offer, including Rapid Shakes, low-carb, meal replacement shakes, as well as dairy and gluten-free shakes to help suit your dietary requirements. Across the shake powder range, most varieties come in a choice of individual serving sachets (sold in boxes of single flavours or as variety packs) and tubs.
There are three phases within the Celebrity Slim diet program – Rapid, Trim, and Maintain – although you can also start at any phase. The Celebrity Slim website additionally offers healthy eating tips, recipes and meal plans, as well as exercise plans. Celebrity Slim weight loss shakes can be purchased directly from the company online, or supermarkets and some major chemists, with a store locator available on its website.
IsoWhey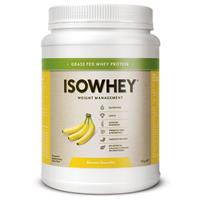 Focused on promoting healthy life choices, IsoWhey has a range of products targeted towards health-conscious people at different life stages who are looking to lead a healthier lifestyle. The IsoWhey Weight Management range is said to be scientifically formulated by qualified healthcare practitioners, who ensure you get the 'right balance' of ingredients needed to fuel your body and manage your weight.
IsoWhey weight loss shakes are available in 672g tubs and come in a variety of flavours, including Madagascan vanilla, strawberry, banana, coffee and chocolate and cookies and cream. IsoWhey alternatively offers IsoWhey sachets, with several different flavours in each box. Each packet comes with either seven, 15 or 18 sachets. Single sachets, weight loss bars, and snacks are also available.
The Australian-owned premium health and wellbeing brand encourages customers to use its products in conjunction with the IsoWhey Living Programs, which are designed to incorporate healthy eating plans and regular exercise. IsoWhey products can be found in various pharmacies and health food stores.
Which weight loss shakes should I use?
Used correctly, weight loss shakes may help kick-start your dieting journey, but experts suggest they are unlikely to take you all the way there, meaning you won't be able to solely rely on them to help you get the body of your dreams. Here are a few things to think about when choosing which diet shake to get:
Consider shakes with above-average protein content to help keep you feeling fuller for longer. Make sure to read the nutritional information on various weight loss shakes to see which products have more protein and less sugar.
If using meal replacements ─ try opting for products designed to replace just one meal per day, rather than multiple meals. This may help you become less reliant on diet shakes once the program is over, potentially reducing the chances of putting the weight back on.
Check the sugar content of weight loss shakes. The fact that diet shakes are low in calories doesn't necessarily mean they're low in sugar, so do your research before buying something you think is 'healthy', but could be loaded with sugar.
Look for brands that offer support through tailored meal and exercise plans. These plans are often developed by a team of experts, so it's a good idea to take advantage of all the free recipes, wellness articles, exercise guides and more.
Ultimately, which weight loss shakes you decide to go with – if you decide to use them at all – will come down to your circumstances and goals, as the weight loss brand that suits one person may not suit another. To ensure that you end up with the best dieting brand for your needs, our ratings provide a helpful, high-level guide, but it's also worth asking around your friends and family to get their views. And be sure to consult your GP before making any drastic changes to your diet.
Do weight loss shakes work long-term?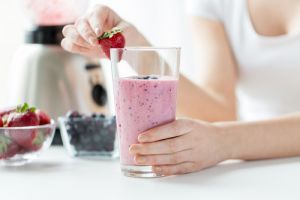 As most weight loss shakes are designed for short-term success, once you've chieved your desired weight, you'll often be left to your own devices, meaning it's on you to keep the weight off and to avoid going back to old habits. And while many brands offer programs made for weight management, these are not necessarily intended to be used for long-term weight management. After all, there are only so many vanilla diet shakes you can drink in a lifetime.
However, there is some suggestion that weight loss shakes can be an effective way to lose a few kilos in the short term, with many programs specifically designed to last about 12 weeks, helping you to lose weight in a structured way.
Overall, when used properly, weight loss shakes can be a useful stepping block for weight management due to the low-calorie, structured and convenient diet plans that come with them. It's also one way to make sure you're getting the vitamins and nutrients you need to keep your body functioning properly. But as with anything to do with fitness and your health, you'll have to put in the hard yards if you want to see the results.
About the author of this page
This report was written by Canstar Blue's home & lifestyle journalist, Tahnee-Jae Lopez-Vito. She's an expert on household appliances, grooming products and all things grocery and shopping. In addition to translating our expert research into consumer-friendly ratings reports, Tahnee spends her time helping consumers make better-informed purchase decisions on all manner of consumer goods and services while highlighting the best deals and anything you need to be aware of.
Photo Credits: Verca/shutterstock.com, Rostislav_Sedlacek/shutterstock.com, Syda Productions/Shutterstock.com, Iakov Filimonov/Shutterstock.com.