BP back with second top-rating for fuel cards
The price of fuel is weighing heavy on many Australian small businesses, so it makes sense to do whatever you can to keep costs under control. That could mean signing up to a fuel card program, to not only benefit from discounted rates, but also to keep a close eye on where every single dollar goes.
The fluctuating cost of petrol and diesel means it's difficult for businesses to accurately budget over the long-term, and even a marginal price increase can have a huge impact, especially if you have a fleet of vehicles on the roads. So which fuel card program is helping Aussie businesses to best manage their spending on fuel? For the second time, Canstar Blue has surveyed hundreds of small business owners and key decision-makers to find out, asking them to rate their service provider based on factors including fees and charges, fuel discounts, account management and the number of fuel stations they have. The survey also revealed the extent to which fuel prices are impacting many small businesses, with 69% of respondents saying the cost of fuel is a major concern to their business, while 83% closely monitor the cost of fuel and their usage. It was also found that small businesses are spending an average of $1,361 a month on fuel.
The 2017 survey again compared the three biggest fuel card operators for businesses, with BP the standout once more with five-star reviews in almost every category, including the one that matters most – overall customer satisfaction. Just like last year, BP leads the ratings from Caltex on four stars and Shell with three stars overall. To help you decide which fuel program may be the best bet for your small business, here is an overview of the three.
BP Fuel Card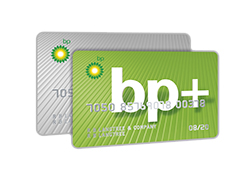 BP's fuel card, BP Plus, offers a range of control, convenience and security features to help manage your fleet. Customers can benefit from up to 51 days of interest-free credit on purchases and it enables you to consolidate all of your fuel and vehicle expenses onto one simple GST substantiated statement.
Your BP Plus account can be tailored to meet the needs of your business, allowing for purchase restrictions and customisable reporting, covering the data that is important to you. It also allow access to management and reporting tools 24/7 through BP Plus Online, which enables you to download different reports and GST statements at any time. It also enables you to manage the cards for your business online, such as adding security features to cards or ordering/canceling new cards.
BP Plus is accepted at over 1,400 BP service stations across Australia.
Caltex Fuel Card
The Caltex StarCard allows customers to save 4c per litre on all vortex premium fuels and 2c per litre on regular petrol and diesel. You can also get 5% off all in-store items. All expenses are collated in a single monthly invoice. The Caltex StarCard also has a Qantas points rewards program. If your business is eligible, you will earn 1 Qantas point every time you:
Buy 1 litre of Vortex Premium fuels
Buy 2 litres of regular petrol and diesel
Spend $1 on eligible in-store products and services
The Caltex StarCard is welcomed at over 2,000 store locations across Australia.
Shell Fuel Card
Shell's fuel card is said to be designed to give businesses a simpler and secure way to buy and manage fuel expenses, and is particularly suited to businesses with larger fleets. Customers can set up reports to monitor everything from fuel consumption to odometer entries, and they can be emailed to you on a regular basis to more accurately budget your fuel consumption.
The Shell fuel card is accepted at more than 1,000 sites across Australia, and customers can access their account online at any time. Online tools can be used to:
Order, cancel or modify Shell cards
Access past invoices
Set alerts to notify you of unusual payments
Access a host of information reports and much more
There seems little doubt that fuel cards can help businesses better-manage their fuel spending, provided you pick the right program for your specific requirements. Fuel cards can provide the convenient flexibility a business needs to keep its vehicles on the road, with bills easily paid at a later date. They can also be linked to a number of non-fuel purchase items, including servicing and repairs, and carwashes, to ensure vehicles remain healthy and professional-looking, as well as filled up with fuel. And when it comes to the bottom line, a business could also benefit from reduced fuel prices for its loyalty.
However, it's not all plain sailing. The 2017 survey discovered that one in three small businesses (35%) are in debt to their operator, while almost half (47%) have concerns regarding employee misuse of their fuel cards. But at the end of the day, seven out of ten survey respondents (71%) were of the opinion that using fuel cards works out cheaper than paying for fuel every time.